11th annual Avenue of Treats brings Halloween to local kids
Hundreds of kids donned their costumes and lined Cecil B. Moore Avenue to enjoy safe and fun Halloween festivities organized by Campus Safety Services, Jumpstart and Beech Community Services.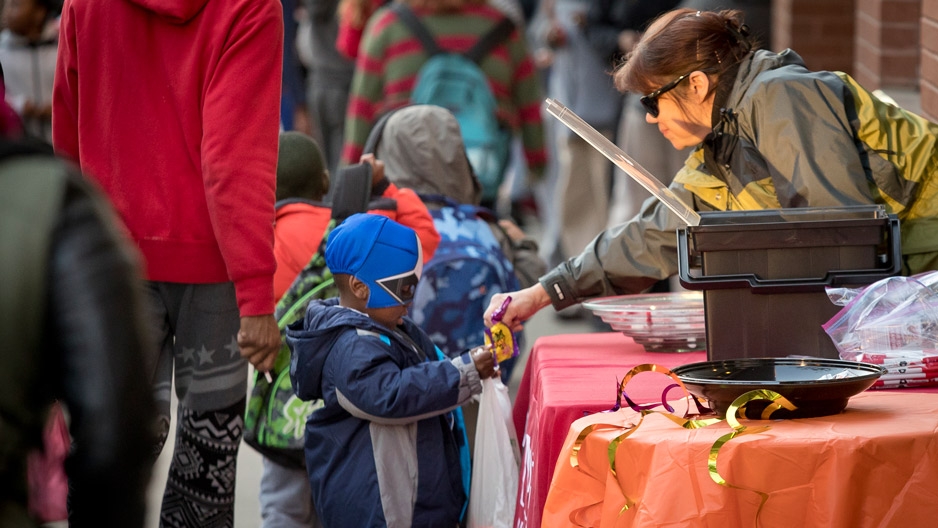 Cecil B. Moore Avenue transformed into a Halloween spectacle Tuesday night, as more than 700 kids decked out in costumes—from witches and Captain America to M&Ms and ninjas—attended the 11th annual Avenue of Treats celebration.
Temple University students from numerous organizations, including Temple Athletics and Temple Black Student Union, volunteered at the event, hosted by Campus Safety Services, Jumpstart and Beech Community Services, an organization that acts as a liaison among residents and business owners along the Cecil B. Moore Avenue corridor.
Temple's Department of Campus Safety Services also tapped several local businesses to support the event in an effort to provide local children and their families with a festive, fun and safe Halloween atmosphere.
Christine Brown, director of Beech Community Services, which founded Avenue of Treats, explained, "This is our eleventh year doing Avenue of Treats, and more and more kids and parents come out and participate. Local businesses and Temple organizations have helped tremendously in making this a safe and fun event."
Community members and Temple Police officers also provided children and parents with reflective bags bearing a list of tips to ensure children stay safe while trick-or-treating. In addition to collecting treats provided by Temple's Office of Community Relations, families explored a haunted house attraction, played laser tag and had their faces painted.
This is a great community event, and it's something we look forward to every year now."
-- Marshall Jones, parent
For the third year, Marshall Jones attended Avenue of Treats, bringing his two daughters and son to enjoy the festivities.
"Not only do my kids get to come out and experience Halloween in a safe and friendly  environment, but it also allows me to steal a Kit-Kat or Snickers when they go to bed tonight," he joked. "This is a great community event, and it's something we look forward to every year now."