Journalism alum embeds in Minneapolis for career 'highlight'—an Eagles Super Bowl
FOX 29 reporter Chris O'Connell credits Temple with his successful journalism career.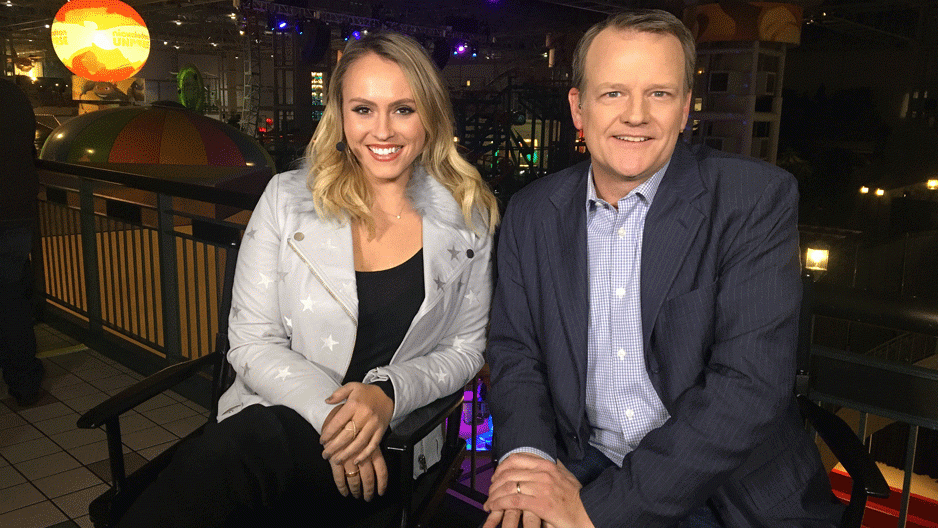 Part of what Chris O'Connell, KLN '91, loves about his job is the novelty of it all: As a general assignment reporter at FOX 29, he's never quite sure what he'll be tasked with covering.
"You don't get into this business to make money, but when it comes to a job where every single day is completely different and you learn so many different things—that's worth more than anything," O'Connell said.
And it wasn't that long ago that his next assignment might've seemed implausible, even to Philadelphia sports fans: covering the Eagles—in the Super Bowl.
"I've interviewed presidents. I've flown with the Blue Angels," O'Connell said. "But going to the Super Bowl with the Eagles will be the highlight of my career."
A lifelong Eagles fan from Delaware County, O'Connell arrived in Minneapolis Sunday and will be covering the cultural experience surrounding the 52nd championship game. Think: fans, ticket prices, ice fishing (true story).
In terms of a Philadelphia guy embedding himself in Minnesota, O'Connell seems a natural fit: Before taking his job at Fox in 2010, O'Connell worked at KSTP in St. Paul, Minnesota—a fact that likely provided him the type of confidence necessary to
sing the Eagles fight song in a Vikings bar
while covering the NFC Championship game in enemy territory.
"My job here is done," he tweeted.
On radio and on television, O'Connell has worked as a reporter, sports anchor and bureau chief in a number of markets, including in Pennsylvania, Virginia, Florida and Washington, D.C.
He chalks up his successful journalism career to his days at Temple.
"Temple prepared me for everything in my career. Unlike many universities, Temple really gave me hands-on experience to where I literally stepped into my career ready to work," O'Connell said. "That's what sets Temple apart."
That experience included studying abroad in 1990 in London, where O'Connell interned with ABC News and met the likes of Pierre Salinger, a journalist who had served as press secretary for Presidents John F. Kennedy and Lyndon B. Johnson.
O'Connell said of the profession: "It's a noble and important job, and I don't take it lightly."
That's not to say he doesn't have fun with it, too.
As he prepared to embed in Minneapolis for the NFC Championship, he tweeted:
O'Connell plans to bring more of that energy and color to his Philadelphia viewers as he reports on the fans and frenzy over the next few days and through the game.
And as someone who recalls visiting the Eagles' training camp at 10 years old with his father, he's hopeful he'll see his team clinch their first Super Bowl. He was present as a fan for the team's last Super Bowl appearance, also against the Patriots, in 2005.
"It's going to be an honor to witness history," he said.