President highlights Temple's value in testimony to state lawmakers
Vital state funding helps keep in-state tuition low.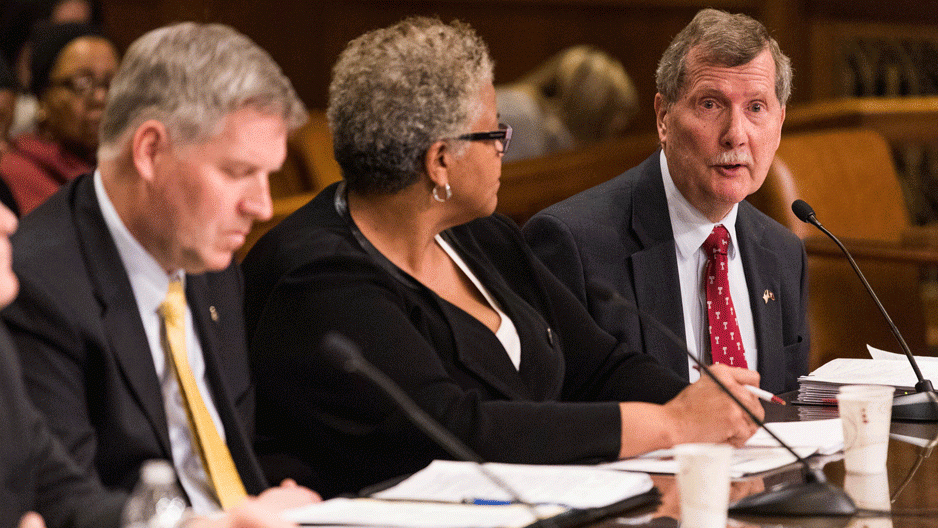 Temple University President Richard M. Englert told state legislators on Tuesday that their support is vital to help Temple offer a high-quality education at an affordable price. 
The president testified in Harrisburg before members of the state Senate Appropriations Committee to make the case for more than $150 million Temple receives in state funding. He told legislators the university works hard to ensure the money goes directly to supporting Pennsylvania students.
"Not having this subsidy would drive up tuition for Pennsylvania students," Englert said. He explained the university uses the commonwealth appropriation and leverages it into a nearly $12,000 discount for state residents. That discount would disappear if the state stopped supporting Temple.
"When compared with tuition rates from private colleges and universities, which run between $40,000 and $50,000 a year, Temple is a great value," he said in prepared testimony for the committee.
Gov. Tom Wolf has proposed keeping Temple's appropriation at $150.6 million for the fiscal year that starts July 1. The other state-related research universities–Pitt and Penn State–have also been kept at previous year's levels. The fourth state-related school, Lincoln University, has fewer reserves and is in line to receive a bump in support.
Englert said the university uses a three-prong technique to keep tuition down: maintaining as low a tuition rate as possible, investing in financial aid for those who need help, and supporting the Fly in 4 program. Fly in 4 is designed to ensure students leave with as little debt as possible, Englert said. 
"Four years ago, Temple broke ground by giving students real incentives to graduate in four years or less. We know that the longer students stay in school, the more debt they accumulate," the president explained in written testimony.
"Temple made an agreement with its students: If they met with academic advisors, registered early for classes and stayed on track, we would pay for any classes they needed at the end of four years," he said.
The first cohort of Fly in 4 students will graduate this spring, and Englert said it's clear there will be a growth in those who are successfully leaving Temple in four years. With the graduation rate going up, the amount of debt students carry is declining, compared with students from previous years. 
"What that means is simple: Fly in 4 is doing its job to keep students focused on on-time graduation," Englert said. Not only that, 124 Fly in 4 students who began at Temple in fall 2014 have graduated early.
In answers to questions, Englert explained that Temple works hard to be a valuable member of the North Philadelphia community, offering everything from nearly $70 million in unreimbursed health care to a plethora of initiatives like those in the public schools and job readiness.
"You get so much for your investment with these institutions," Englert told legislators. "This is a more than 50-year partnership. It is working. We want to keep it going."
This is the only formal public hearing for state-related schools, but Englert said he would continue to talk with elected leaders about the university's impact on the commonwealth. Those conversations are vital for making the case for Temple's students, he said.
Legislators have until June 30 to enact a budget.