Cutting-edge neuroscience and imaging facility opens at Temple
The Temple University Brain Research and Imaging Center on Main Campus extends opportunities for research universitywide.
A new, state-of-the-art brain research and imaging center on Main Campus will be a game-changer for Temple students, faculty and staff, increasing opportunities for investigation and study universitywide.
Located in Weiss Hall, the Temple University Brain Research and Imaging Center (TUBRIC) was funded with $2.4 million from the National Science Foundation. At the core of the new center is a state-of-the-art 3-Tesla Siemens MAGNETOM Prisma MRI scanner—the strongest, highest-quality scanner available commercially. 
When used in brain study, MRI, or magnetic resonance imaging, is a noninvasive way to explore the structure and function of the brain using magnetic fields and radio waves. The new scanner's magnetic gradient strength is double that of competing systems, allowing researchers to collect much more precise data at faster speeds. 
In addition to this crown jewel, the center itself offers comprehensive research services including consultations, instrument operation assistance, and data collection and analysis.
Department of Psychology Associate Professor Jason Chein, director of TUBRIC, said the innovative center and neuroimaging community at Temple was 10 years in the making. 
When Temple realized cognitive neuroscience was an area for potential growth a decade ago, the university invested $3 million in an MRI scanner for Temple University Hospital and planned to build a network of researchers across disciplines whose research involved MRI. 
"We slowly grew the neuroimaging community," Chein said. "Each year, another department would pick up one or two people, and it got to the point where we had about 15 to 20 people who conducted neuroimaging research."
It became clear that in order to continue moving research forward, the university would need a dedicated home base for MRI study, and the vision for the center was born.
The first part of this vision was to create an imaging facility that would offer a psychological environment allowing for a range of behavioral research with a broad array of populations, such as children, adolescents, older adults or people with speech-language impairments, Chein explained. 
The next part was to have it be a multifaceted center. Not only does the scanner itself offer a wide variety of imaging of the brain's wiring patterns, chemical and physical composition, but the center would offer an array of services around the imaging process, and an experienced team of around 20 investigators, their students and lab members, to implement those services.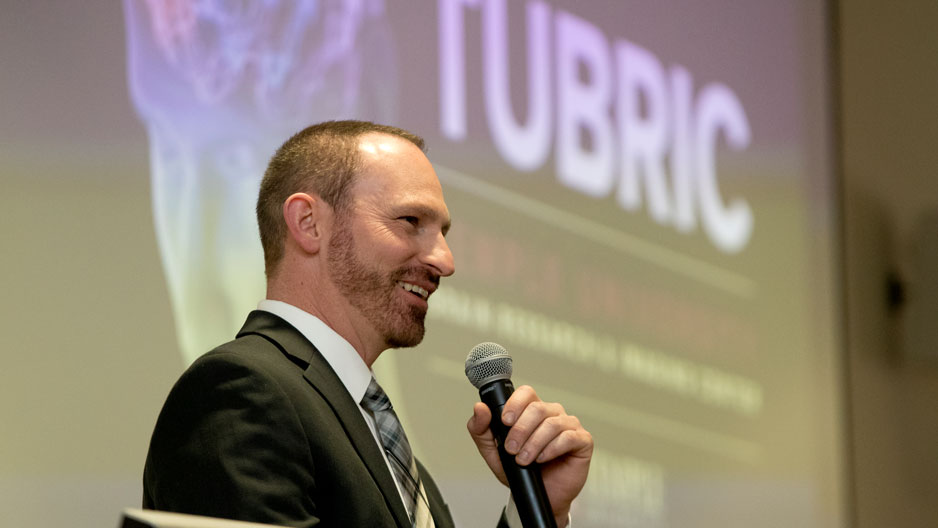 TUBRIC Director Jason Chein speaks at the grand opening of the facility.
The College of Liberal Arts has a large presence in the center, applying functional brain imaging to a range of cognitive and psychological studies. There are also researchers from the College of Public Health's Communication Sciences and Disorders, Physical Therapy and Kinesiology departments, as well as researchers from the Fox School of Business who are interested in neuroeconomics, which aims to understand economic decision-making behavior. 
The center also opens opportunities to those working in material science, biomedical engineering, physics, biology, computer science and those who do clinical work, such as concussion studies. 
"We've created opportunity that didn't exist before," Chein said. "You can imagine a problem and ask the question, 'Can the multimodal tools at the imaging center on campus be applied to answer that question?' And the answer is almost always yes."
The benefits of the new center extend to students as well. 
Graduate-level MRI training that began in the previous facility continues in the new center, and Chein envisions additional opportunities for specialized undergraduate courses, where students can learn about the process of MRI imaging as well as broader data collection and analysis.
"My hope is, as the backbone is further developed and as the basic infrastructure of the center becomes more and more amenable to welcoming others, we'll be able to support otherwise completely untapped people in our community," Chein said.

—Nicole Quaste