20/20 Scholarship graduates reflect on their time at Temple
As North Philadelphians and Temple graduates, two young alumni share how the 20/20 Scholarship impacted their undergraduate journey and beyond.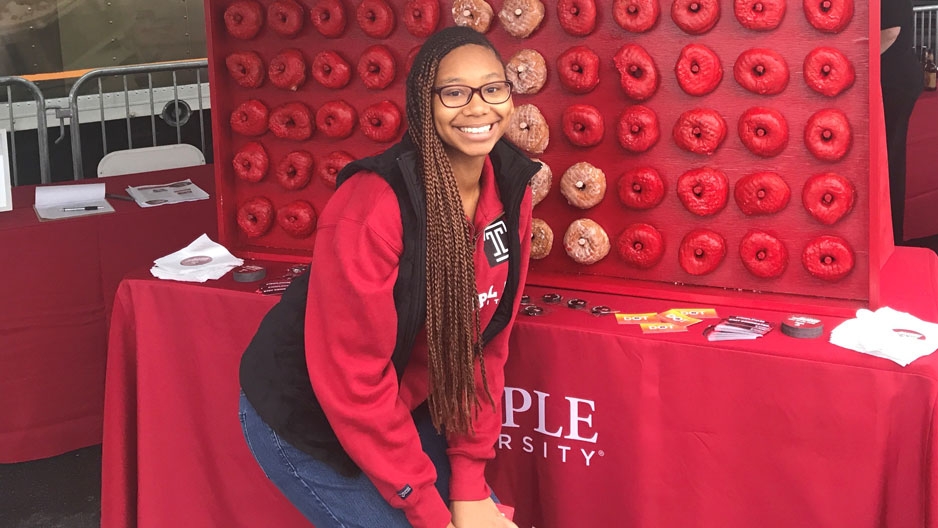 At Temple, the unique 20/20 Scholarship program recognizes future Owls who call North Philadelphia home.

The scholarships are awarded to incoming students in the four ZIP codes surrounding Main Campus—19121, 19122, 19132 and 19133. Each recipient is awarded $5,000 per academic year. By creating a scholarship specifically for members of the local community, Temple aims to increase the number of college graduates from North Philadelphia while staying true to its mission of keeping higher education accessible and affordable. Since its inception, more than 200 scholars have participated in the 20/20 Scholarship program.
 
For Temple's 20/20 Scholars, having the university as their neighbor meant Temple was always present in their daily lives.
"Growing up close to Temple, most assumed that I would want to travel and go away for college. However, Temple had my heart from day one," said Verishia Coaxum, CLA '15, a member of the first class of 20/20 Scholars.  
When she was in high school, Coaxum met a Beasley School of Law student who left a lasting impression on her. The law student volunteered as a mock trial coach, helping Coaxum and her classmates understand the legal trial process. She believes this was a defining moment—it fueled her desire to attend Temple.
Growing up close to Temple, most assumed that I would want to travel and go away for college. However, Temple had my heart from day one."
-- Verishia Coaxum, CLA '15
"[The law student] was a shining example of what it means to be Temple Made, and I wanted to be Temple Made too," Coaxum said. 
For Fatema Ibrahim, CPH '18, Temple is a family tradition. Ibrahim's twin sister, Bushra, CLA '19, is studying English and Philosophy at Temple, and her older sister, Rawan, CLA '15, was also a 20/20 Scholarship recipient. Growing up, she and her siblings often went to Main Campus to spend time together. "It was always an adventure and a bonding moment for my family," Ibrahim said.
As a member of the first 20/20 class, Coaxum strove to be a voice for local residents. "Representation is crucial," she said. "Being a 20/20 Scholar means helping an underserved community gain access to opportunities—it means giving hope to a community that is often forgotten or neglected."
Throughout her time as a student in the College of Public Health, Ibrahim gave back by volunteering at various organizations, including HMS School for Children with Cerebral Palsy, Magee Rehabilitation Hospital, Pathways to Housing and Wesley Enhanced Living Pennypack Park. She said because of the scholarship, she was able to devote more of her time to volunteer work and supporting the community. 
 
After graduation, Coaxum was invited to mentor other 20/20 Scholarship recipients, similarly to how she was mentored during her undergraduate years. The scholarship helped her develop her professional networking and communication skills, and she enjoys sharing her experiences with new scholars. "Being a 20/20 Scholar means passing the knowledge and wisdom I've gained to future generations," she said. 
Coaxum is part of the College of Liberal Arts Alumni Association, which allows her to share with other alumni how the 20/20 Scholarship impacted her. Ibrahim volunteers in her neighborhood and supports community development. 
Both women still live in North Philadelphia and don't plan on flying too far from Temple. Ibrahim is part of the College of Health's accelerated Bachelor-Master Program in Recreation Therapy, so she will return in the fall to complete her master's degree. Coaxum—who minored in criminal justice—has her sights set on law school, and she hopes to attend the Beasley School of Law.
"It was not just a four-year scholarship, but a lifetime mentorship and support system that has helped shape me into the woman I am today," she said. 
For more information on the 20/20 Scholarship, visit the university's scholarship website.
—Elizabeth Clay