Local organization offers summer learning opportunities for underserved students
ESF Dream Camp moved to Temple in 2016 to connect with North Philadelphia families.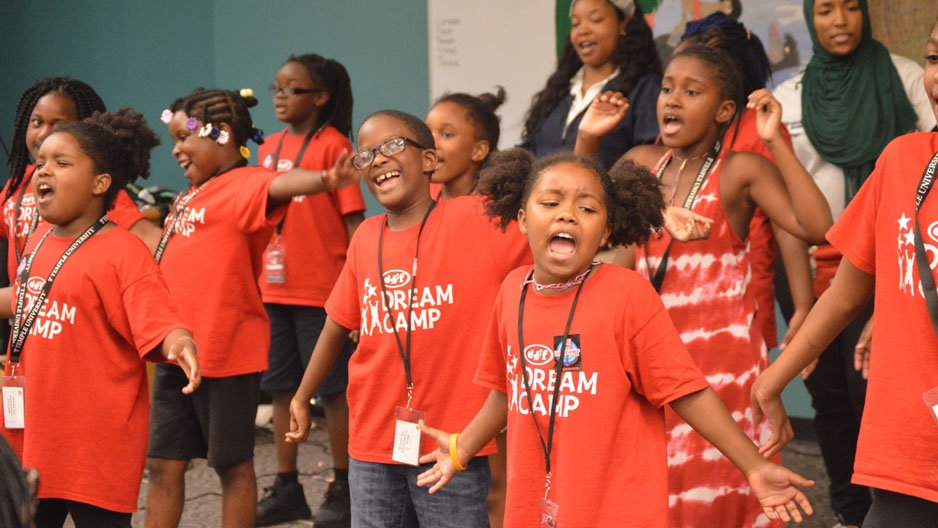 Summer slump, summer slide, summer brain drain—regardless of the name, the subject of learning loss during summer vacations has been studied for decades, and the results are always the same. Without adequate academic pursuits, students lose about two months of grade level equivalency in reading and math when they're not in the classroom.
For underserved students, summer academic decline can be even more severe. 
ESF Dream Camp tackles this problem head-on, offering year-round academic support through innovative after-school and summer programs. 
ESF came to Philadelphia in 2002 and was based at Girard College. In 2016, it relocated to Temple and began working with the Office of Summer and Special Programs in Temple's University College. Since then, University College has worked in partnership with ESF to facilitate its on-campus experience. This year, the organization has its home base in Anderson Hall with activities taking place at several locations across campus. 
"We had been looking to partner with a university in an effort to provide more opportunities to our students, and Temple University was a perfect fit for many reasons," said Natalie Padula, ESF Dream Camp program director. "[Temple's] desire to give back to the community aligns with our mission, and being on campus gives our students access to amazing facilities as well as a glimpse of what their future holds as college students."
ESF offers five-week summer programs based on grade year aimed at keeping students focused, engaged and active while on break from school. 
Day Camp is available for students in grades one through four and includes reading, music, sports, creative and performing arts, science-based discovery projects, and Junior Quest, which introduces students to unique experiences they may not have in a traditional academic environment. 
Senior Camp, for students in grades five through 11, offers academic and experiential workshops including team building, conflict resolution, lessons in leadership and more. It also offers reading, sports, chess, music production, art, dance and True Life Adventures, during which a specialist leads classes in subjects such as digital photography, cooking, business entrepreneurship and technology, including game design and creation. 
ESF programs are hands-on, energetic and holistic, focused on a wide variety of academic, personal and professional development areas. All lessons and activities are taught and led by field experts and certified teachers. 
"Dream Camp is more than just a summer and after-school program—it is truly a family," Padula said. "The students come back year after year not only because of the unique and engaging programming, but also because of the relationships they have built with their peers and their mentors." 
ESF encourages students to remain involved with the organization after completing their program. Last year, it reported an 88 percent return rate of summer camp attendees. 
"Seeing a student go from being a day camper to a Dream Camp staff member and college graduate is an unbelievably rewarding experience," Padula said. 
The program looks beyond summer months as well, with a larger mission to help low-income families break cycles of generational poverty.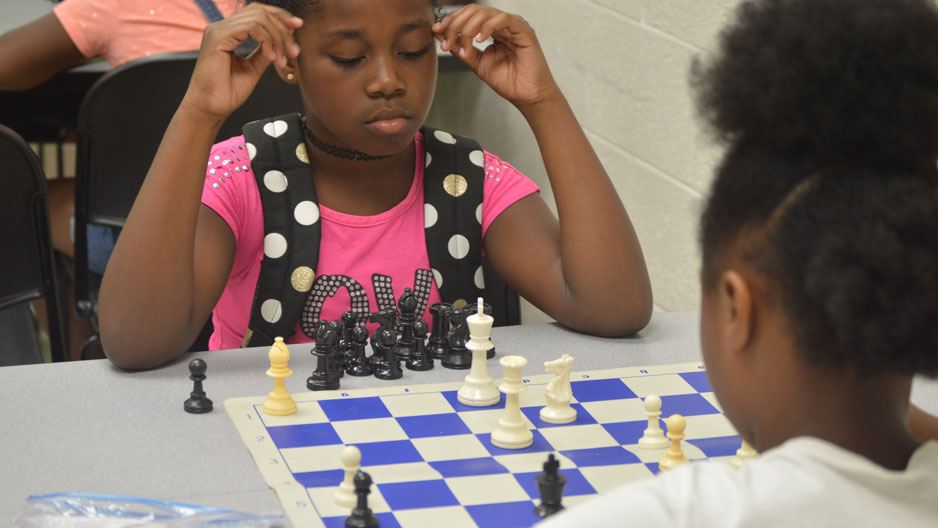 Fifth grade camper D'Miyah contemplates her next move during ESF Senior Camp Chess.
How to Get Involved 
ESF Dream Camp programs are free for students and families. Visit the ESF website to learn more about guidelines and qualifications for enrollment. There is a waitlist, and the best time to apply is January. For more information and to apply, please contact Natalie Padula at 610-922-8215 or npadula@esfdreamcamp.org. 
ESF is currently hiring for the summer, and volunteers are always welcome. Learn more at ESFjobs.com.
 
—Nicole Quaste