"Gerry" Lenfest, Temple supporter who shaped Philadelphia, dies at 88
Lenfest was a steadfast supporter of Temple who made his mark in numerous ways, including donating $3 million for the restoration of the East Park Canoe House, home to Temple's crew and rowing teams.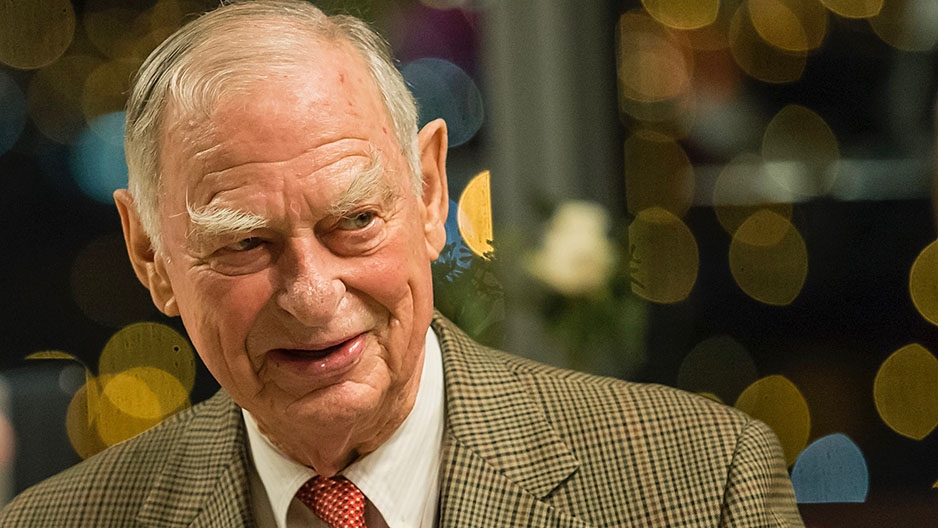 One of the region's great philanthropists and a leader in shaping the future of Philadelphia, H. F. "Gerry" Lenfest, passed away Sunday, Aug. 5, at age 88.
Among his many interests was Temple University. He joined Temple's Board of Trustees in 2013 with the support of his friend and then-business partner, the late Lewis Katz. He served on several trustee committees and chaired the board's Executive Committee. Most recently, he served as the board's vice chairman.
"Temple University, like everyone in the city of Philadelphia, is mourning the loss of Gerry Lenfest," said Patrick J. O'Connor, chair of the Temple University Board of Trustees.
"Gerry was a thoughtful man whose passion for the well-being of others drove his life. He and his wife, Marguerite, have made a significant difference at the university and in this city," O'Connor said.
In 2014, Lenfest donated $3 million to help renovate the East Park Canoe House, home to Temple's rowing and crew teams. The move saved the teams from being cut as varsity sports, while preserving a historic city landmark.
Just last month, university and city leaders gathered with students, coaches and rowing alumni to see the completed boathouse project and once again thank Lenfest for his generosity.
Video Production:
Lou Peluyera
Lenfest was active in support of numerous institutions throughout the region, including Temple, where his support has made possible the Joe First Media Center in Temple's Klein College of Media and Communication, named in honor of his mentor, Joseph First; and the renovation of Lew Klein Hall in the Temple Performing Arts Center, named in honor of Lenfest family friend Lew Klein. Lenfest and his wife also made a seven-figure contribution along with Lew and Janet Klein and Trustee Steve Charles, KLN '80, to name the Lew Klein College of Media and Communication in honor of the broadcasting pioneer in 2017.
Thanks to grant support from the Lenfest Foundation, Temple recently launched the first phase of the North Philadelphia Workforce Initiative to help local residents secure jobs that pay family-sustaining wages.
"Gerry Lenfest's impact will be felt throughout Temple for generations to come," said President Richard M. Englert. "We offer our deepest sympathies to Marguerite, the Lenfest family, everyone at the Lenfest Foundation, and all those whose life was touched by this generous man. All of us at Temple University mourn his passing. He and the Lenfest family are in our thoughts and prayers."
Temple awarded Lenfest an honorary doctorate in 2002 and presented him with the Russell H. Conwell Award in 2003. He received the Musser Award for Excellence in Leadership from Temple's Fox School of Business in 2006.
In 2017, Lenfest Circle at the base of Temple's iconic Bell Tower was dedicated to Lenfest and his wife. At the time, President Englert praised the Lenfests' commitment to education and creating job opportunities so that everyone could have lives of dignity.
Early in his career, Lenfest was corporate counsel for Triangle Publications, which owned various media, including several radio, television and cable stations, newspapers and magazines.
He went on to form his own company, which became Lenfest Communications, Inc. The company, of which Suburban Cable was a subsidiary, eventually became one of the top 12 cable television companies in the country. In 2000, he sold Lenfest Communications to Comcast Corp.
In 2014, Lenfest and Katz won an auction for the media company that owns the Philadelphia Inquirer, Daily News and Philly.com. Lenfest retained control of the company after Katz's untimely death, and then donated the company to a media institute, the Lenfest Institute for Journalism.
Memorials on Campus
Lenfest is being remembered on and near Temple's Main Campus with various tributes from the university, including at the intersection of Broad Street and Cecil B. Moore Avenue and the Bell Tower.