Temple establishes comprehensive workforce development initiative with $512K Lenfest grant
The North Philadelphia Workforce Initiative is aimed at breaking the cycle of poverty and revitalizing the community surrounding Temple by helping residents secure jobs that pay family-sustaining wages.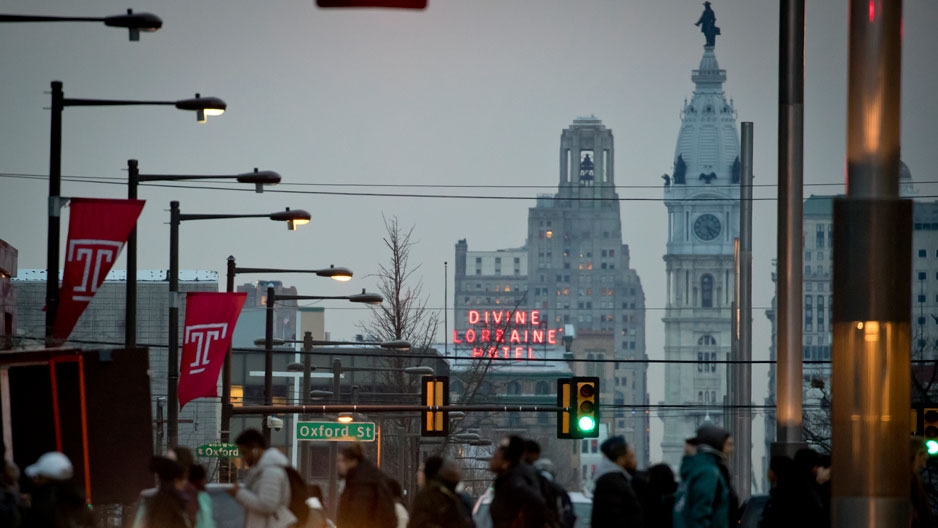 Building on a foundation of dozens of community education and employment programs, Temple University will soon launch a comprehensive workforce development initiative that will aggregate offerings, enhance resources and streamline access.
The North Philadelphia Workforce Initiative (NPWI), supported by a grant from the Lenfest Foundation, will begin its first phase this year, funded at $512,000. The initiative draws on Temple's longstanding commitment to workforce development programs that serve various groups, including adults who are unemployed or underemployed, high school students, and citizens returning from incarceration. It is aimed at disrupting poverty and stimulating revitalization in North Philadelphia by providing evidence-based career pathway programs that enable local residents to secure positions that pay family-sustaining wages.
"Temple University has a rich history of providing opportunities for education and job training to our surrounding community, but these many programs have not always been easy to navigate," President Richard M. Englert said. "This initiative is particularly significant because not only will our neighbors continue to have access to high-quality resources, but those resources will be more readily available than ever." 
The first phase of the NPWI will entail intensive research of community and workforce needs to ensure that the job training, education and professional development programs offered at Temple are aligned to meet these needs. During this phase, Temple will also work with key stakeholders to secure their commitment to developing the local workforce, as well as identify and evaluate existing programs both internal and external to the university. 
Temple plans to hire an executive director, director and program assistant to spearhead the initiative. 
Temple's current workforce-related offerings include more than two dozen initiatives that serve various needs, including exposing high school students to STEM (science, technology, engineering and math) careers and the college experience; providing job opportunities for returning citizens after release; enhancing skills for entrepreneurs; teaching English to non-native speakers; and training unemployed or unemployed adults to make them job-ready. The university recently opened the Workforce Connections Hub in the Entertainment and Community Education Center.
The hub is the only Pennsylvania CareerLink center in the state on a university campus.
NPWI's goals dovetail with Fueling Philadelphia's Talent Engine, a workforce development initiative launched by the city this year. Philadelphia recently awarded Temple
two related grants
: one to support a project that will help young adults aging out of foster care to obtain job training and employment and a second that will fund a program to train local high school students in the health sciences and help them secure jobs at Temple University Health System or other local institutions.
"The funding from the Lenfest Foundation is so timely and will enable Temple University to develop strategic, more coordinated and effective approaches to workforce development aligned with city initiatives, but focusing particularly on the North Philadelphia community," said Shirley Moy, director of Temple's Center for Social Policy and Community Development. "As one of the top employers in Philadelphia and as a key educational institution, Temple is and can be more of a key player in preparing individuals with the skills employers need, and thereby providing opportunities for individuals to earn family-sustaining wages." 
Based on the information gathered during the first phase of the initiative, NPWI will develop a strategic plan based on relevant U.S. Census and Department of Labor data; a formal needs analysis conducted in North Philadelphia; and interviews, focus groups and surveys with key stakeholders, including residents, funders, employers, politicians, public agencies, and community- and faith-based organizations. The community will be informed of this plan online and in person via town halls.
In addition to continuing to devise and improve existing workforce development programs and consolidate them into a central hub, the NPWI will develop metrics to measure program success and, eventually, establish a physical location to house all of Temple's workforce programs. The Workforce Connections Hub is an important first step toward this goal and will continue to provide career training, education and other resources in the interim.
"Since its establishment as a night school for local residents to pursue higher education, Temple has never lost sight of its core commitment to North Philadelphia," Englert said. "We are proud to continue that commitment with this significant initiative launched with the generous support of our partners at the Lenfest Foundation."