Meet Temple's "Mr. Elevator Man"
Eric Schlesinger and his wife, Shari, met on the elevator in Hardwick Hall. His recent gift will forever celebrate their cherished moment.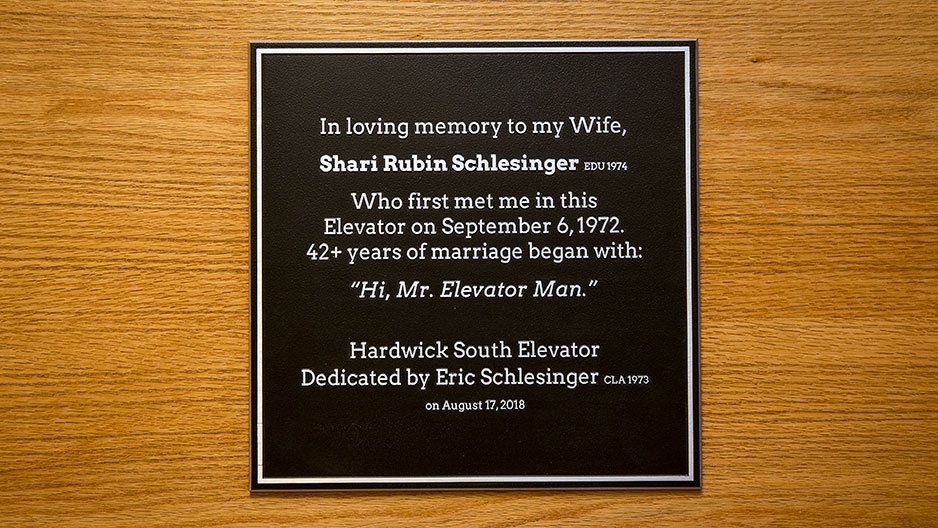 Maybe you remember where you met the love of your life, but do you remember the first words they said to you? Eric Schlesinger does.
It was September 1972 when Schlesinger, then a senior resident assistant at Johnson Hall, first locked eyes with Shari Rubin. He stood in Hardwick Hall's elevator bay and held the doors for Shari, a junior arriving for move-in day. They didn't exchange any words at first.
That changed a few nights later, when Eric and Shari crossed paths at a social event in the lower level of Johnson and Hardwick halls. 
"Shari approached me there," he recalled, "and I'll never forget her first words to me: 'Hi, Mr. Elevator Man.'"
With that fateful meeting in Hardwick Hall, Eric Schlesinger's life changed forever. That's why the alumnus will honor his wife's memory with the naming of Hardwick's elevator. During an Aug. 17 dedication ceremony, university officials will unveil a plaque that has been installed outside of the elevator. Schlesinger's gift, he said, will memorialize Shari, who died at 64 in August 2017, and also recognize the location of the couple's first encounter.
"I imagine this will be very emotional for me," said Schlesinger, CLA '73.
The Schlesingers penned the first chapter of their love story at Temple, where Eric studied psychology and Shari, EDU '74, earned an education degree. The couple married in December 1974 and shared 42 years of memories.
The two were inseparable, Schlesinger said. They were travel companions, particularly in the later years of their marriage. They cheered for Temple and its basketball program. While reminiscing about his wife, one memory came to Schlesinger's mind: When traveling occasionally from Washington to New York on business, Schlesinger made a point of calling home as his train passed through SEPTA's North Philadelphia station "because I could see our dorm building from the window seat."
"She expected those calls, each and every time," he said.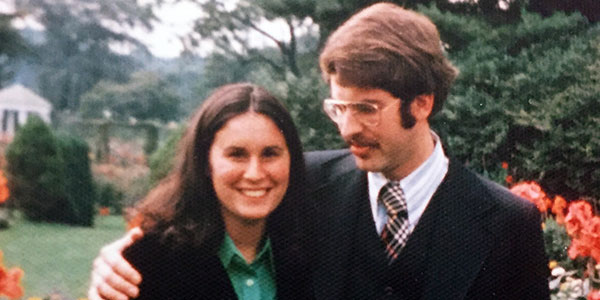 Shari and Eric Schlesinger
Schlesinger, 67, retired in 2013 after spending nearly 40 years in career counseling and human resources. His wife's passing left "a hole in my life," he said, and it got him thinking about ways to honor her memory.
"Temple University always has been a very important part of our lives," Schlesinger said. "Early on, after we graduated, we found opportunities to contribute to the university when we could. This gift is another example of that lifelong support, and it's a chance for me to celebrate my wife and my best friend."
And it's a "truly unique," gift at that, said T.J. Logan, associate vice president for student affairs. 
"It goes hand-in-glove with Eric and Shari," Logan said. "It exemplifies who they are. It's how they met. For them, a residence hall at Temple was more than a place where they went to sleep each night. It was home. It was where they changed the course of their lives."