For Temple rowers, a dream across the pond is made possible by a gift
It's been a banner year for the Temple crew and rowing teams, complete with a new boathouse, a Dad Vail win for the men's crew team and a trip to England to row in the internationally renowned Henley Royal Regatta.
If someone told Tyler Baldo, KLN '18, that less than two months after graduating from Temple, he'd be representing the crew team abroad in England's prestigious Henley Royal Regatta, he wouldn't have believed it.
But this Fourth of July, for Baldo and several other members of the men's crew team, that seemingly impossible dream was reality as Temple's rowers took to the River Thames to face off against national champion Yale University.
"If you told me my freshman or sophomore or even junior year that I'd be here at Henley today, there's no way I'd believe you, but this is what happens with hard work and all the great people who have been able to fund this program," said Baldo, who recently earned a bachelor's in advertising, as he stood along the Thames. "It's amazing what can be done."
Video Production:
Louis Peluyera
A future saved
Not long ago, the very existence of the men's crew and women's rowing teams at Temple—let alone the successful seasons both teams enjoyed this year—seemed unlikely.
In 2013, as the university hunted for cost-saving measures, both programs were on the list of athletic teams to be cut. The historic East Park Canoe House, long home to Temple rowing and crew, sat condemned on the banks of the Schuylkill, slated for eventual demolition, and Temple's rowers lived out of makeshift tents by the river.
That was until the late university Trustee H.F. "Gerry" Lenfest,
HON '02
, and his wife, Marguerite, stepped in. Lenfest, a longtime Philadelphia philanthropist, put up the funds needed to save the crew and rowing teams. He inked a deal with the City of Philadelphia to partner with Temple to
complete a multi-million-dollar restoration of the East Park Canoe House
, allowing the teams to move back into the boathouse in late 2017.
"We would not have a crew program without Gerry Lenfest," said Board of Trustees Chair Patrick J. O'Connor, HON '13. "The great tradition of crew at Temple was going to be lost in terms of intercollegiate sports, and Gerry Lenfest, in singular fashion, went to the city and convinced them that the canoe house should be used by Temple."
Members of Temple's crew team stand along the banks of the River Thames after competing in the Henley Royal Regatta.
Just a year and a half ago, the teams were still rowing out of tents, barely shielded from the conditions along the river, with no access to running water or heat during practices and races on icy mornings and windswept afternoons.
Both teams' coaches attribute their success to the Lenfests' support and the renovated boathouse.
"They carry themselves differently now. They have a home," said Brian Perkins, CLA '93, '98, head coach of the men's crew team. "They take a lot of pride in what they were given."
"To be able to train in all conditions, to be able to row outside when it's cold then come in and get warm, to have a place to do video review afterward, a place to stretch and warm up and cool down, all of those things, they're little things, but they're big things, and they all add up over time," said Rebecca Grzybowski, head coach of the women's rowing team. "It's made a really big difference."
For Perkins, being back at Henley was surreal. As a Temple rower himself, he competed at Henley in 1990, four years before the team's last appearance at the regatta in 1994. But just five years ago, Henley seemed like nothing more than a distant memory to him, and his team had no inkling they might make it there someday.
"Not only were they not born the last time we were here, but when they woke up on May 12, before we won the Dad Vails, they didn't even know this was an option," Perkins said. "We have guys who learned to row at Temple University. They didn't even know this was something they could do, so this is very exciting."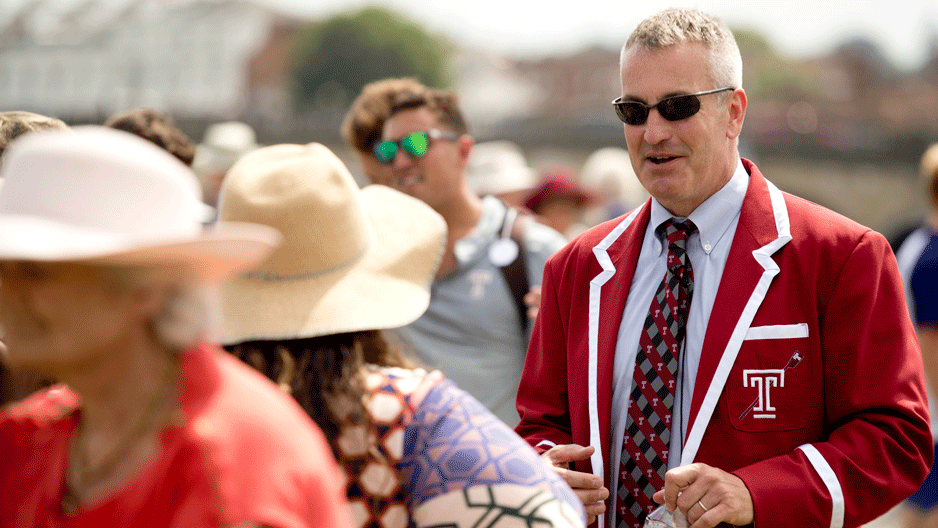 Brian Perkins,
CLA '93, '98
, head coach of the men's crew team, talks with supporters on the banks of the Thames during the Henley Royal Regatta.
International reach
The significance of the Lenfests' support hasn't been lost on Temple's rowers or their families.
"It's meant the world. I feel like just yesterday, I was showing up in August 2014 as a freshman, moving my boats out of tents on gravel, wondering what is this going to be like, and now we're here rowing out of some of the best boats you can get and this amazing boathouse," said Collin McKinney, a senior rower from Dallas, Texas, who competed at Henley. "Mr. Lenfest, I just want to say I can't thank you enough. Without you, I wouldn't be here, and I might not even be in college."
Cyrill Rothermundt, FOX '93, who rowed for Temple as a transfer student, can attest to the significance of participating in such a demanding sport. Rothermundt, who works in finance and lives in London, attended an alumni reception at a pub the night before the crew team rowed at Henley to reconnect with his old team, which he's kept track of in the decades since he graduated.
"Rowing is a tough sport. You learn lots of lessons, you create some strong camaraderie. A lot of the discipline and lots of the dedication that you have to put into the sport, you can carry forward into your career and into your personal life," Rothermundt said. "It's fantastic to know that the program lives on, and it's going to provide some great memories and great opportunities for the kids to study and learn."
Cyrill Rothermundt,
FOX '93
, of London, shows off a Temple Crew sweatshirt he's kept since his days on the team in the 1990s.
The preservation of the crew and rowing teams has impacts beyond just those who row.
For Andrew Sicko, crew has made Temple a family affair. Sicko traveled to England to watch his son, junior Mattison Sicko, compete at Henley. After his son decided to attend Temple—drawn by its crew program—his daughter, who doesn't row, followed in her brother's footsteps. She just completed her freshman year. His youngest son, who also rows, is eyeing Temple as well.
"My oldest son kind of started the snowball," said Andrew Sicko, whose family is from near Albany, New York. "It's a wonderful program. Coach Perkins is a fantastic guy. He's like having a father figure to my son right there."
The team's appearance at Henley showcases the international reach of Temple and its athletics programs, creating unique opportunities for students, said President Richard M. Englert, who traveled to England to support the team.
"For a student-athlete to be able to travel to different parts of the world and broaden his or her experience is really one of the great hallmarks of an education at Temple University," Englert said. "The opportunity for our students to broaden their experiences by coming to an international university really gives our students a leg up on succeeding in life and succeeding in their careers."
Keeping a dream alive
Beyond the reaches of Temple University and its crew and rowing programs, the East Park Canoe House renovation touches the City of Philadelphia.
"The tourism we have associated with the various regatta races that we have here, it's a big part of our attracting people to one, spend money for those races, and two, attracting young people who are interested in the extracurricular activities of our college community," said state Sen. Sharif Street, whose district includes the boathouse. "It highlights one of the city's great assets, Fairmount Park."
Rowing has a long history as a Philadelphia sport, and the city becomes a destination each spring for the renowned Dad Vail Regatta, which hosts more than 100 collegiate teams from across the United States and Canada. The Philadelphia Police Marine Unit also occupies space in the boathouse.
"It's probably one of Philadelphia's best known sports, from [Thomas] Eakins' paintings on. It's been a tremendous thing for the city," said Trustee Lewis F. Gould,
PHR '62
. "For Marguerite and Gerry to provide the funds to restore this historic building, that in and of itself is an accomplishment, but to restore it for the crew team and have the city be a partner and use upstairs for the boats and for the marine police, it's just a tremendous thing."
President Richard M. Englert and Rebecca Grzybowski, head coach of the women's rowing team, speak during a reception at the East Park Canoe House in July 2018.
The Lenfests also support the crew and rowing teams in other ways: They gifted funds to help purchase several boats for both teams, two of which are named for their granddaughters, Alexa and Olivia.
"We have a boat named the Gratitude just because of everything Gerry and Marguerite have done for the programs. We wouldn't be here without them, and we're all beyond grateful," said Grzybowski, the women's rowing team coach. "I could say thank you a million more times and it still wouldn't be enough, but from the bottom of my heart, for everything you've done to make this possible and essentially to keep the dream of Temple rowing alive, we're really grateful. From everyone at Temple rowing, thank you."