English professor prepares play for Fringe Festival
Associate Professor Lisa Grunberger's play, Almost Pregnant, chronicles the story of a woman facing infertility.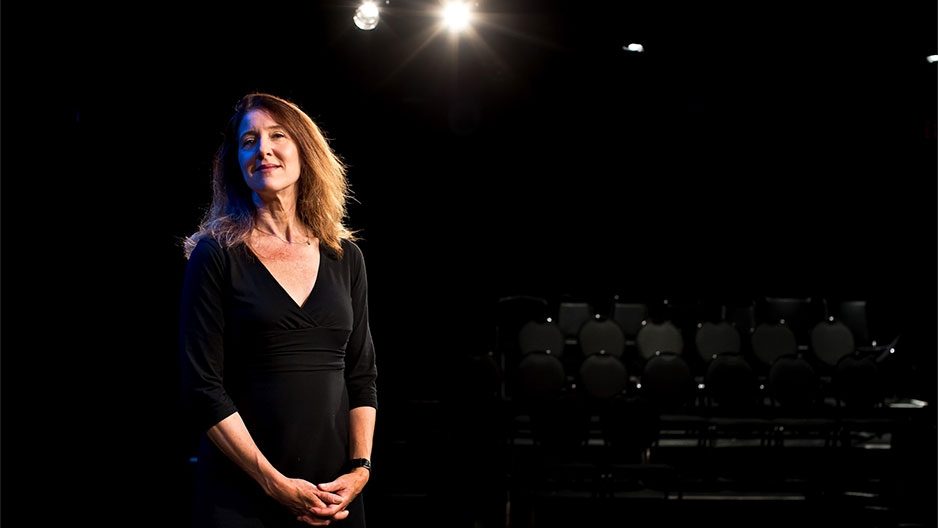 Lisa Grunberger has always viewed her decade of teaching as a performance and her classroom as a stage. 
Now, Grunberger, an associate professor of English, award-winning and New York Times published poet and author of Yiddish Yoga, will see her work on the real stage: She's preparing her play, Almost Pregnant, for FringeArts' annual Philadelphia Fringe Festival. 
Performing at The PlayGround at the Adrienne Theater, Almost Pregnant will show for six performances from Sept. 11–16.  
The comedic farce centers on 40-something Becca as she undergoes assisted reproduction treatments. A self-described "genetic island," infertility is another layer of devastation for Becca, who hopes to have the biological connection she never had. Helping her cope with the uncertainty are her two wacky sidekick puppets, played by real people. 
"It's edgy and fun and out there. It's critical of a lot of what the medical industry is doing, and the doctors who are exploitative, cold and non-empathetic to women's experiences," said Grunberger, who doubles as a narrative medicine teacher, a Temple program that integrates humanities into the medical school curriculum.
The play also features violinist Gabe Miller, BYR '18, who provides live music accompaniment and enacts an omnipotent and God-like presence on stage. According to Grunberger, Miller originally composed a large portion of the show's score. 
"His friends from Temple were saying how they were so impressed that he's riffing on very classical elements of jazz and classical music," Grunberger said.
Other than being impressive to the musically trained ear, the music also provides a Jewish folklore feel that one may find in a small Russian village. Underscoring religion as one of the central themes over the course of the 90-minute play, the Jewish protagonist questions just about everything.
"I touch upon the theological and the wrestling with God, the existential crisis that truly is, 'Can I have the baby or not?,'" said Grunberger, who holds a doctorate in religious studies and philosophy from the University of Chicago Divinity School. 
This heart-wrenching question is one Grunberger asked herself many times during her own battle with infertility. Dealing with medical treatments and anxiety over whether they would be successful or not, Grunberger comforted herself by doing what any writer does best: research and writing. 
"I was sitting in waiting rooms, and I saw that the waiting room itself is a theatrical space. I started taking notes and I started to talk to other women who were undergoing infertility," Grunberger said. "I'm a talker and I'm sort of an anthropologist in that sense." 
Determined to understand the industry of infertility from various perspectives, Grunberger conducted more than 80 interviews with patients, medical practitioners and religious figures.
Through this time, Grunberger come to understand infertility as a "silent disability" and the associated sex-based stigma that comes with it.
"You're less of a woman if you are unable to either get pregnant, or you suffer from miscarriages, or you have an inverted uterus, if somehow your body isn't working the way it's supposed to work," explained Grunberger, who led a panel discussion titled "Barren Conceptions: Pondering the Intersection of Medicine, Religion and Infertility" at Temple last fall. "The stigma is somehow in our society, that we equate the fulfillment of your womanly role and status, speaking sociologically, with being a mother."
After three and a half years of infertility treatments, Grunberger would give birth with the assistance of in vitro fertilization (IVF). At the same time, her research would also give birth to an ongoing book project, Infertility, A Quirky Primer.
"Maybe it's just my modus operandi to turn to books whenever I have hardship, whether it is my mother dying, losing an animal or trying to have a baby," Grunberger said. "Literature, words and stories are a space of healing for me."
That book would give way to Grunberger's play last year, when a traveling art exhibit about infertility came to the Old City Jewish Art Center in Philadelphia. Knowing that the exhibit was looking for "theatrical" pieces, Grunberger made a snap decision.
"Off the cuff, I just said, 'I'll turn the book into a play,'" she recalled.
With a short window to transform her heavily researched, interview-based book into a full-length play, Grunberger thought she would just have a one-woman show. But that changed when, in true Old Testament fashion, she had a dream. 
"I was in the waiting room where I met all these people. It's very awkward space of 'Am I pregnant? Am I not pregnant?,'" Grunberger relayed of her dream. "And now I'm writing and I have Samuel Beckett's play, Waiting for Godot."
In the morning, Grunberger went to her library, opened Beckett's existentialist play and was immediately struck by two of its characters, Estragon and Lucky. Inspired, Grunberger decided to scrap her one-woman show and add the comical yin-and-yang puppet characters Estrogen, the spelling changed to represent the female hormone, and Lucky, as the reminder of chance in assisted pregnancy. 
It was the comic relief in the characters of Estrogen and Lucky that Grunberger was searching for to offset the heavy subject matter. 
"There were a lot of tears and a lot of catharsis, which you want. Aristotle said that's what the theater is for, catharsis," Grunberger said of the play's opening night as part of the exhibit. "But people appreciated the humor, the levity that only the Estrogen and Lucky characters could lighten up."
A portion of the show's proceeds will be donated to Baby Quest Foundation, which provides financial assistance for those undergoing the expensive, and often not covered by healthcare, fertility treatments. 

—Andrea Cantor