Longtime ROTC administrative officer earns prestigious civilian medal
Jackie Hankins-Kent has been on staff at Temple for nearly 40 years and worked for the university's Army ROTC program for three decades.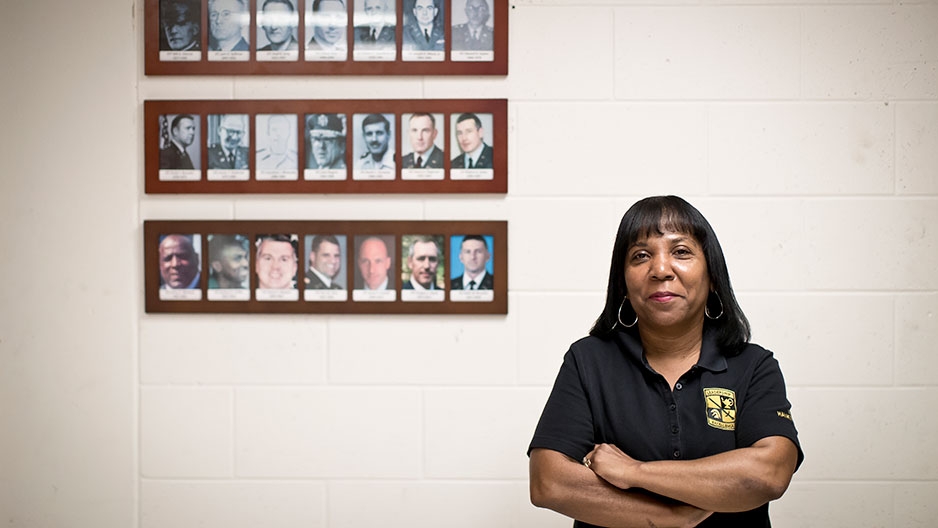 The nature of the Army is such that people come and go often, taking on various posts and roles as the government assigns.
But at Temple's Army ROTC program, there's been one constant for three decades: Jackie Hankins-Kent, the Temple ROTC's administrative officer, who handles everything from making sure gym space is reserved for ROTC cadets' early-morning trainings to helping students file paperwork. 
"Every highly functioning organization in the military has a Miss Jackie," said Lt. Col. Robert Beale, a professor of military science in Temple ROTC. "They can only function because of that Miss Jackie."
For her service, Hankins-Kent recently received an Outstanding Civilian Service Medal—the third-highest honor a civilian can receive from any branch of the U.S. military.
Hankins-Kent, one of the "Temple triplets," who has three sisters who also work at Temple, recently reflected on her time working for ROTC and her career path, which began with a position at Paley Library in 1978. 
I love the cadets. They keep me going."
-- Jackie Hankins-Kent
"It means so much to me to know that I'm appreciated," Hankins-Kent said, adding that the most rewarding part of her job is working with Temple's ROTC cadets, whom she treats as her own.
"When people ask me how many kids I have, I tell them I have 130," Hankins-Kent said with a laugh, referring to the cadets.
As she sat at her desk on a recent Friday morning, the day after a ceremony was held on campus to recognize her award, her relationship with students was evident: A steady stream of cadets passed in and out of her office, each met with her hallmark warmth and enthusiasm. 
"I love the cadets," Hankins-Kent said. "They keep me going."