Posted
September 17, 2018
Viral international education campaign #YouAreWelcomeHere expands 2019 national scholarship program
Temple University collaborates with 56 other colleges and universities to offer scholarships.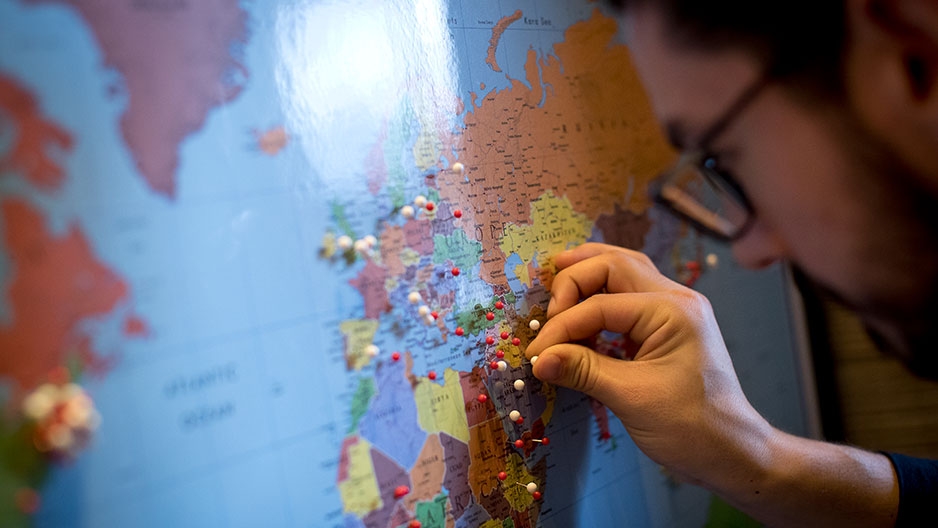 The #YouAreWelcomeHere national scholarship program to encourage international students to study in the U.S. has expanded from nine colleges and universities to 57 institutions nationwide that will now offer scholarships for incoming international students in fall 2019.
Temple University leads the national initiative, which began in May 2018 on the heels of a widespread social media campaign. To date, the #YouAreWelcomeHere program has received commitments from institutions coast to coast, from Maine to Hawaii, and from community colleges to large, public universities. 
"We are proud to lead the #YouAreWelcomeHere scholarship program and pledge our continued support of international students," said Temple University President Richard M. Englert. "This program is a commitment to diversity and a promise to create educational opportunities for students from all cultures and continents. The response to join this nationwide scholarship program has been overwhelming, with institutions affirming their dedication to cultivating a stronger understanding among cultures." 
Beginning in fall 2019, each of the 57 participating colleges and universities will offer two annual, renewable scholarships that will cover a minimum of 50 percent of recipients' tuition. These scholarships support incoming international students who are committed to furthering the #YouAreWelcomeHere message through intercultural exchange that bridges divides at their future campuses and beyond.
In addition to the participating colleges and universities, the campaign has earned support from key international education organizations, including NAFSA: Association of International Educators and the Institute of International Education (IIE).
"The #YouAreWelcomeHere Scholarship meets an essential challenge in the effort to support international and refugee students, foster intercultural understanding and develop future leaders," said Allan E. Goodman, president of the IIE. "Refugee students flee conflict zones and cross intercultural divides to continue their higher education. As a higher education community, it is our responsibility to support such great efforts and welcome refugees to safe-haven universities across the United States."
To qualify, international applicants must hold citizenship in a country outside the U.S. and also not possess U.S. citizenship or permanent residency. Interested students must apply for admission directly to one of the participating universities or colleges before completing a #YouAreWelcomeHere scholarship application. Prospective students should also submit their scholarship application directly to the university or college of choice. The application deadline for fall 2019 scholarships is Dec. 15, 2018, with awardees receiving notification by May 2019.
About the #YouAreWelcomeHere Campaign
Following expressions of apprehension by some international students about studying in the U.S., in November 2016, Temple University expanded the #YouAreWelcomeHere hashtag into an international campaign to ensure that international students at U.S. universities and colleges feel welcome in the U.S. Since then, more than 350 colleges and universities, 70 international education companies and organizations, and 20 high schools have joined. Institutions can follow the campaign on the website that Temple maintains, youarewelcomehere.org, which includes a toolkit for promoting the campaign. 
Participating Colleges and Universities
The following colleges and universities have made a commitment to the Fall 2019 scholarship: 
Adelphi University (Garden City, New York)
Albion College (Albion, Michigan)
Augsburg University (Minneapolis, Minnesota)
Ball State University (Muncie, Indiana)
Butte Community College (Oroville, California)
California State University San Marcos (San Marcos, California)
Cedar Crest College (Allentown, Pennsylvania)
Clarkson University (Potsdam, New York)
Concordia College* (Moorhead, Minnesota)
Eastern Michigan University* (Ypsilanti, Michigan)
Florida Institute of Technology (Melbourne, Florida)
Furman University (Greenville, South Carolina)
George Mason University (Fairfax, Virginia)
Hawaii Pacific University (Honolulu, Hawaii)
Hollins University (Roanoke, Virginia)
Illinois College (Jacksonville, Illinois)
Illinois Wesleyan University (Bloomington, Illinois)
James Madison University* (Harrisonburg, Virginia)
Johnson & Wales University (Providence, Rhode Island)
Kent State University (Kent, Ohio)
La Roche College (Pittsburgh, Pennsylvania)
Lebanon Valley College (Annville, Pennsylvania)
Loras College (Dubuque, Iowa)
Marian University (Fond du Lac, Wisconsin)
Miami University (Oxford, Ohio)
Michigan State University (East Lansing, Michigan)
Murray State University (Murray, Kentucky)
North Central College (Naperville, Illinois)
Northeastern University (Boston, Massachusetts)
Ohio University (Athens, Ohio)
Pacific Northwest College of Art (Portland, Oregon)
Purdue University Northwest* (Hammond and Westville, Indiana)
Rutgers University-Camden (Camden, New Jersey)
Saint Leo University (St. Leo, Florida)
Saint Michael's College (Colchester, Vermont)
Salve Regina University (Newport, Rhode Island)
Seattle University* (Seattle, Washington)
Shoreline Community College* (Shoreline, Washington)
St. Thomas Aquinas College (Sparkill, New York)
State University of New York at New Paltz (New Paltz, New York)
Temple University* (Philadelphia, Pennsylvania)
The College of Saint Rose (Albany, New York)
The George Washington University (Washington, D.C.)
Towson University (Towson, Maryland)
Transylvania University (Lexington, Kentucky)
University of Dayton (Dayton, Ohio)
University of Maryland, Baltimore County (Baltimore, Maryland)
University of Minnesota -Twin Cities* (Minneapolis and St. Paul, Minnesota)
University of Saint Joseph (West Hartford, Connecticut)
University of South Alabama (Mobile, Alabama)
University of Southern Indiana (Evansville, Indiana)
University of St. Thomas (St. Paul, Minnesota)
University of Wisconsin-Stevens Point (Stevens Point, Wisconsin)
Valparaiso University (Valparaiso, Indiana)
Wayne State University (Detroit, Michigan)
Western New England University* (Springfield, Massachusetts)
Widener University​ (Chester, Pennsylvania)
*Denotes the nine universities that made the original #YouAreWelcomeHere commitment