Temple joins largest ever US-UK Antarctic scientific field campaign
Spending up to three months on the continent, Assistant Professor Atsuhiro Muto will explore how quickly the massive Thwaites Glacier could collapse.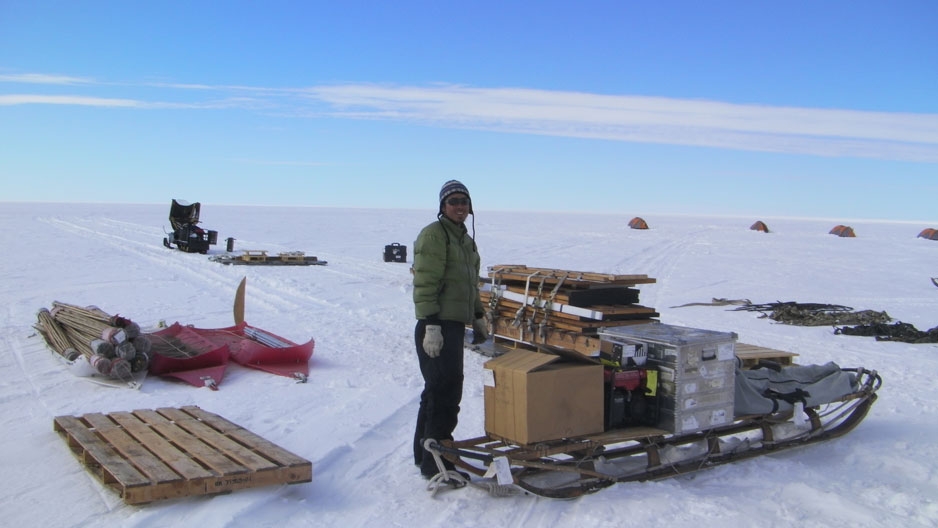 A Temple researcher will join the largest ever United States-United Kingdom collaborative scientific field campaign to investigate the forces that could eventually collapse the massive Thwaites Glacier in the West Antarctic Ice Sheet. The Thwaites already accounts for 4 percent of global sea-level rise, so scientists seek to understand how the glacier could potentially disappear in the next several decades or centuries. 
College of Science and Technology Assistant Professor Atsuhiro Muto is a co-principal investigator on two of the eight projects in the initiative, bringing in more than $500,000 in research funding to the Department of Earth and Environmental Science. His work will help scientists understand the factors that could be causing ice at Thwaites to slide into the ocean more easily and, once it meets warm waters, melt and break away more quickly. With roughly 100 scientists, the field campaign is the largest of its kind in terms of manpower. 
Muto, a glaciologist, will conduct seismic and gravity measurements to determine two critically needed data points: the bathymetry, or ocean depth, beneath the Thwaites ice shelf, the portion that floats on the water, and the consistency of the ground beneath the ice sheet, the portion that sits on the land.
"Both of these data points determine how quickly ice will move off of the land and how susceptible floating ice is to melting and thinning caused by warm oceans," Muto said. "At Thwaites, we just don't know the depth of the ocean beneath the shelf or if the land beneath the ice sheet is made of soft sediment or hard bedrock."
One obvious reason hard data for Thwaites is in short supply is that it's a remote region on a remote continent. To reach it, Muto and his team will first fly to the West Coast and then on to New Zealand. They'll then be transported by military aircraft to Antarctica's McMurdo Station and fly more than 1,000 miles to a camp at the head of Thwaites Glacier. Finally, a short hop will take them to the coastal area of the glacier. They will then spend about 50 days on the ice during both the 2019 and 2020 Southern Hemisphere summers. 
Muto, a licensed blaster, will place a series of small explosives during the first few weeks in the field. Then he will set them off and measure the seismic waves that bounce back from the bottom of the ice sheet and ice shelf, as well as from the bottom of the ocean and beneath several layers of rock below the shelf. 
Muto, who has made six previous research expeditions to Antarctica, says his team will likely encounter up to a week of white-out conditions where all work in the field stops. 
"We will be working 12 hours a day to try and stay ahead of the conditions," said Muto, who will subsist mainly on cheese, bread, salami and energy bars. "It's not as bad as you might think."
In addition to Temple, U.S. partners include the University of Alaska Fairbanks, University of Colorado Boulder and the University of Washington. The funding is for eight research projects, of which Muto is a co-principal investigator on Geophysical Habitat of Subglacial Thwaites (GHOST) and Thwaites-Amundsen Regional Survey and Network (TARSAN).

—Gregory Fornia