Posted
September 24, 2018
Temple, state help employees become homeowners
Reinstated matching state grants are bolstering Temple's Employee Home Ownership Program, which helps full-time employees purchase homes in the eight ZIP codes surrounding Temple.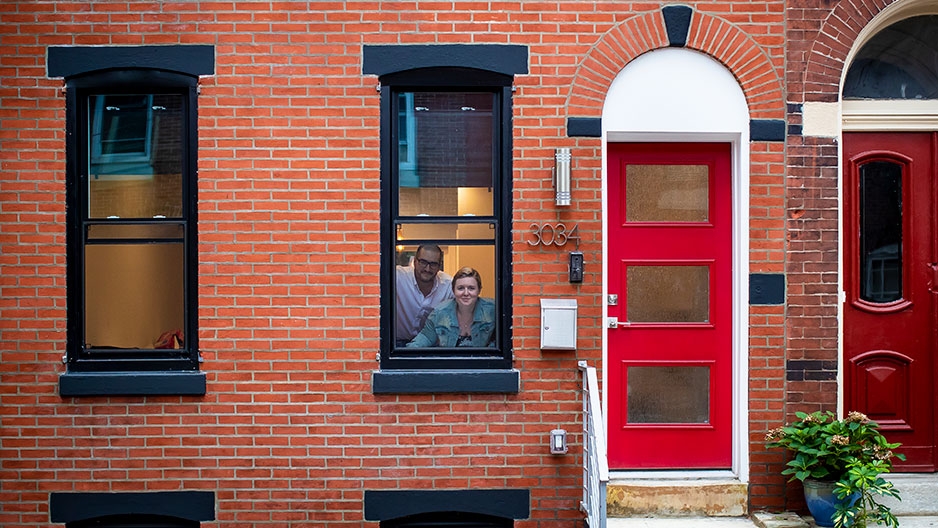 For newlyweds Tyler Kmiec and Allie Sokoloff, it was a stroke of luck that helped them purchase their dream home—and a little help from Temple and the city.
"This place was originally way out of our price range," said Kmiec, a research assistant and graduate student in the College of Public Health. "But we came to look at it one day, and the next day, the price dropped, so we made an offer. Then we found the Temple program and Home.Buy.Now."
The programs—Temple's Employee Home Ownership Program and Philadelphia Home.Buy.Now, which is administered through the Urban Affairs Coalition (UAC) and provides newly reinstated dollar-for-dollar matching grants, thanks to funding provided by Pennsylvania Housing Finance Agency (PHFA), for qualifying Philadelphia homebuyers—combined to provide Kmiec and Sokoloff, CPH '15, with $9,000 in additional funding for their down payment.
"That $9,000 was such a burden lifted," Kmiec said. "It's awesome."
Kmiec is among nearly 120 Temple employees who have received money from the university toward buying homes in eight ZIP codes surrounding Temple's Main Campus and Health Sciences Center since the program began in 2007, said Gerry O'Kane, Temple's director of benefits. Temple's program provides $4,000 or $5,000 to employees depending on the proximity of the homes they purchase to campus, and charges the employees only income tax on the funds (similar to the way tuition remission exceeding the annual federal threshold is taxed).
Philadelphia Home.Buy.Now, which UAC oversees, is a citywide initiative to encourage and make homeownership possible. Through the program, matching city funds up to $4,000 can be awarded to homebuyers from Temple and other participating employers, such as Cancer Treatment Centers of America, the University of Pennsylvania and Weaver's Way Co-op.

Allie Sokoloff and Tyler Kmiec sit at the kitchen island in their new home.
Home.Buy.Now is intended to leverage private-sector and government funding to help people buy homes in the city. Jojy Varghese, director of community and economic development at the UAC, said more than 30 institutions citywide work with the coalition to secure grants for their employees. 
Temple has long been one of those partners. 
"Temple has been on since close to the beginning as one of our anchor institutions," said Kalie Wertz, external affairs manager for the coalition.
Kmiec and Sokoloff, who married in July, used the extra funds to help purchase a rehabbed home not far from the bustling, revitalized Girard Avenue corridor in Brewerytown. After years of renting, they made settlement on the charming brick-front, open-concept home in August. They are the first buyers to receive both a Temple loan and a matching city grant via the UAC since the Pennsylvania Housing Finance Agency grant funds were recently reinstated.
"The city had to freeze benefits at different times over the years depending on the budget, and now they're back again," O'Kane explained. "The university has continued the program throughout the whole time since 2007, so some employees would receive a matching grant from the city and others did not, because it wasn't available."
To qualify for Temple's program, employees must be full-time and use the home they are purchasing as a primary residence. To qualify for the matching grant, the buyer or buyers' income must fall below the 115 percent area median income threshold, Wertz said. 
"Temple does this to strengthen the university's commitment to the community, and it also helps the employees, so they're able to invest in buying a home," O'Kane said. "This may provide an opportunity for someone who may not be able to buy a home otherwise."
Sokoloff, a nursing student at Drexel who earned her bachelor's degree in kinesiology at Temple, said the extra cash went a long way to support the couple financially.
"This allows us to have an emergency fund, which is great," she said.
Kmiec, who grew up in Delaware and attended college in Kentucky, said when he began working at Temple in 2016, he fell in love with Philadelphia. He and Sokoloff knew the city was where they wanted to settle and began house hunting as soon as they married.
"For us, the grant is doing exactly what's intended," Kmiec said. "We plan to stay awhile. We love the area, and this house just checked everything off for us."
The couple and their four cats officially moved into their home in mid-September.
Learn more about Temple's Employee Home Ownership Program and Home.Buy.Now.