Major gift endows new Katz School of Medicine chair
Temple named the first David Myers Professor and Chair in Otolaryngology-Head and Neck Surgery thanks to a generous gift from Eugene N. Myers, MED '60, and his wife, Barbara.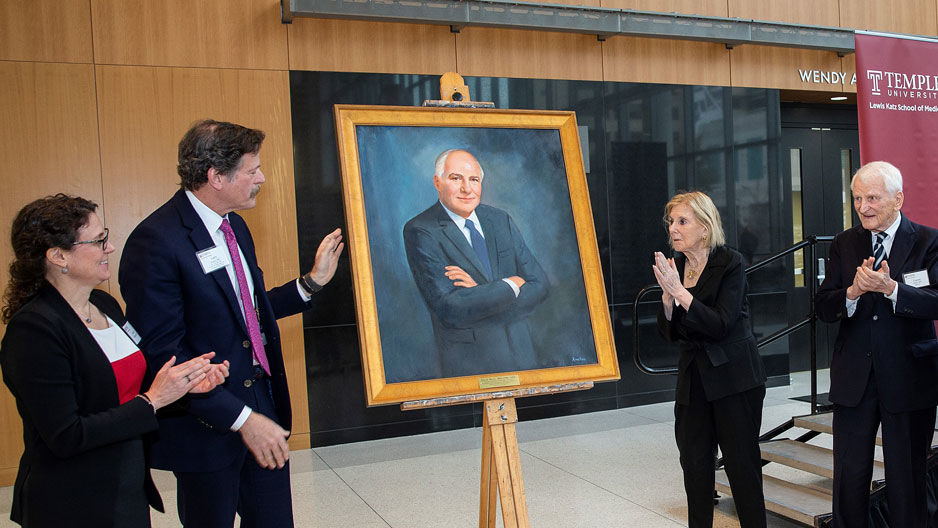 Thanks to a generous gift from Eugene N. Myers, MED '60, and his wife, Barbara, the Lewis Katz School of Medicine recently invested Cecelia E. Schmalbach as the first David Myers Professor and Chair in Otolaryngology-Head and Neck Surgery. 
The Myerses' exceptional philanthropic commitment honors Eugene Myers' father, David Myers, MED '30. The senior Myers served as chair of Temple's Department of Otorhinology for several years, reshaping and renaming the program in 1962 into the modern-day Department of Otolaryngology. A true pioneer, David Myers provided visionary leadership that allowed for the development of audiology research and otolaryngology residency training, and his vision created a lasting legacy at Temple.
 
Like his father, Eugene Myers has left his own indelible mark on the field of otolaryngology. Distinguished professor and emeritus chair of the Department of Otolaryngology at the University of Pittsburgh School of Medicine, he is a specialist in head and neck cancer surgery. Eugene Myers is a past president of the American Board of Otolaryngology, the American Academy of Otolaryngology-Head and Neck Surgery, the American Head and Neck Society, the American Laryngological Society, and the Pan American Society of Otolaryngology-Head and Neck Surgery.
 
Speaking during the ceremony, Myers noted that he and Barbara established the chair to honor his father for his service to the medical school, to thank Temple for supporting his own quest to become a doctor, and to recognize Temple for educating seven doctors and three generations of the Myers family.
 
Schmalbach, the inaugural chair holder, was most recently at the Indiana University School of Medicine, where she served as professor of otolaryngology-head and neck surgery, vice chair of otolaryngology clinical affairs, and division chief of head and neck surgery. Schmalbach also served eight years active duty in the United States Air Force at the San Antonio Military Medical Center, during which time she deployed to Afghanistan in support of Operation Enduring Freedom.
 
Calling herself "honored and humbled," Schmalbach shared her vision "to build upon the strong foundation laid by Dr. David Myers, ensuring that Temple Otolaryngology becomes recognized as one of the exceptional otolaryngology programs in the country." 
 
Larry Kaiser, the dean of the Lewis Katz School of Medicine, president and CEO of Temple's Health System, and university senior executive vice president for health affairs, was joined by guest speakers Jeffrey Myers; Alando J. Ballantyne, distinguished chair of head and neck Surgery at the University of Texas MD Anderson Cancer Center; and Brian Burkey, professor and vice-chairman of the Head and Neck Institute at the Cleveland Clinic Foundation.
 
Closing the ceremony, Kaiser thanked Eugene and Barbara Myers, noting, "Temple is enormously grateful to have you as philanthropic partners, and the establishment of this chair is a fitting legacy to the enduring ties between the Myers family and Temple."
 
Learn about opportunities to give back to Temple to support students' education and research, among other priorities.
—Gabrielle Giddings