Repaired instruments return to Philadelphia schools
Hundreds of instruments repaired as part of the ongoing Symphony for a Broken Orchestra project have been returned to schoolchildren across Philadelphia.
Video Production:
Louis Peluyera
When Heaven Skipworth, a sixth grader at the Bache Martin School in Philadelphia's Fairmount neighborhood, decided to take up an instrument, she wanted to play the trumpet.
But the school's trumpet was in disrepair. So for the time being, she had to learn the clarinet instead.
"It's hard, because [the students] come in expecting the instruments to work," said Bache Martin band teacher Vanessa Taylor. "They come in expecting the instrument to function, and then they're upset with themselves. Too often, I've had students who quit, because they just don't want to be bothered, because they're not being successful."
But Heaven stuck with her instrument lessons, and in November, thanks to the Symphony for a Broken Orchestra project started by Temple Contemporary, she was able to play a newly repaired trumpet. Temple Contemporary Director Rob Blackson and Alexa Adams, a Fairmount resident who "adopted" the instrument and helped pay for its repairs, delivered the trumpet back to Bache Martin during one of Heaven's recent music lessons.
Heaven sat in the band room at Bache Martin that morning and tried the trumpet for the first time. It's different to learn than the clarinet—brass instruments and reed instruments require quite different techniques—but after a few minutes, she was able to play the first few notes Taylor showed her.

Heaven Skipworth, left, and Zyikerra James, sixth graders at Bache-Martin School, play instruments in the band room. (PHOTO: Joseph V. Labolito)
The trumpet Heaven took home that day is one of more than a dozen instruments repaired or undergoing repairs for the Bache Martin School as part of Symphony for a Broken Orchestra. They are among more than 1,000 instruments collected from Philadelphia public schools that are being repaired and returned as part of the ongoing project, which began in 2016. To date, most of the instruments collected have been repaired and returned to their rightful homes in city schools. 
"It really winds back down to having excellent instruments that function well, so you can do what you want to do, which is teach them to read music and also play their instruments well enough to perform in a concert," said Taylor, who's been teaching music for more than two decades. 
"Nothing's worse than a screw coming out of an instrument, and you don't know where it came from, and if you dare to even take five minutes out of the lesson, all the other kids are suffering," Taylor explained. "You have normally about 35 to 40 minutes to give good instruction, and that time is reduced if you have maintenance problems that you and the kids have to suffer through."
For Taylor, the repaired instruments mean more time to teach music. She sees most of her students for only one session each week, as she and other teachers juggle demanding schedules largely dictated by benchmark testing.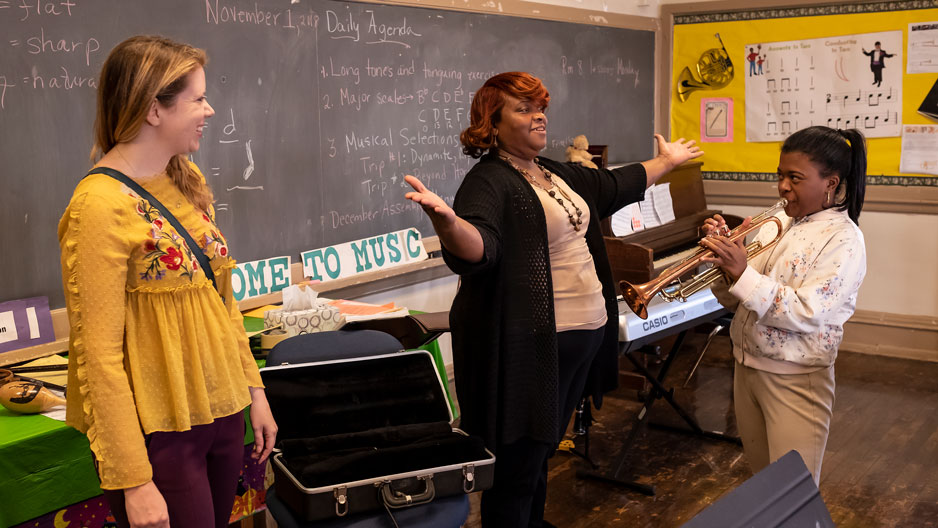 Band teacher Vanessa Taylor, center, guides student Heaven Skipworth, right, in her first try at the trumpet as Alexa Adams, a Fairmount resident who "adopted" the trumpet as a donor so it could be repaired, listens. 
"Time is precious to me," Taylor said. "I love spending time with kids, and I'm happy to see them."
Adams said she read about Symphony for a Broken Orchestra in the Philadelphia Inquirer and felt compelled to get involved.
"I thought it was such a neat idea to take these broken instruments and make something again that's useful for students, rather than just having them go to waste," Adams said. "It was really important to me to support a local school, so I looked up the website and specifically asked for an instrument in a neighborhood school."
Adams joined Blackson to deliver the trumpet and a repaired saxophone back to Taylor at Bache Martin. She watched her gift in action as Taylor gave Heaven her first trumpet lesson.
"It was such a cool experience to see her face light up," Adams said of Heaven. "It's just such a wonderful experience to be here and see that. So little can do so much."