Laborers break ground on $22 million training center on North Broad
The Laborers' District Council and Temple University are collaborating to bring jobs to North Philadelphia.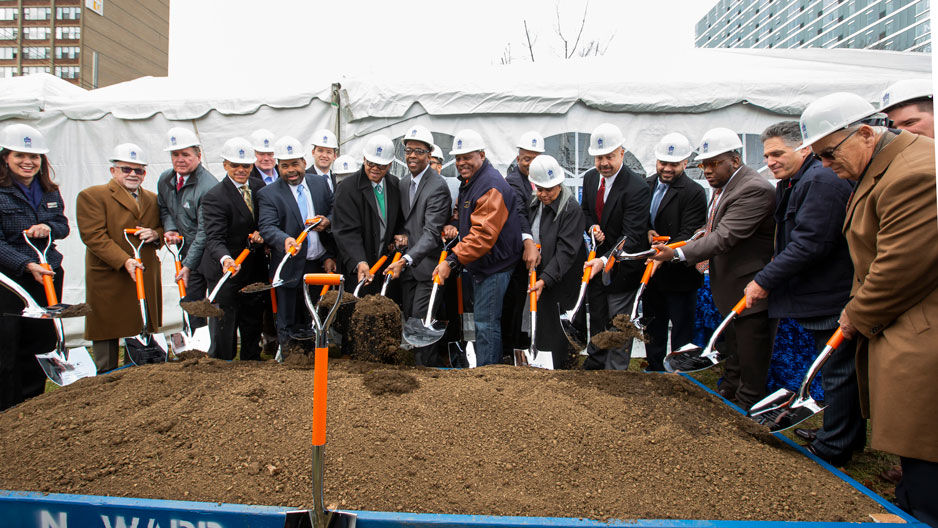 For North Philadelphia's aspiring laborers, pathways to better jobs are coming closer to home—and local politicians, building trades workers and university partners are cheering the opportunity.
The Laborers' District Council (LDC)—the only majority black buildings trades union in the city—held a jubilant groundbreaking ceremony for a $22 million, 66,000-square-foot training and learning center Dec. 6. The three-story facility at Broad and Thompson streets, which borders Temple University's soccer field, will provide technical training geared toward the next generation of professional construction craft laborers.
Temple University will serve as an educational partner at the center to increase learning opportunities for LDC members and the surrounding community.
"Being just blocks away from each other presents a greater opportunity to align our workforce development efforts," said Shirley Moy, who leads Temple's Lenfest North Philadelphia Workforce Initiative. Moy said she's excited about the center's proximity to neighbors and the increased potential of connecting them to the building trades. 
"North Philadelphians ultimately want to get a job that pays well," Moy said. "Through Temple's Lenfest North Philadelphia Workforce Initiative, I think we can help prepare individuals for the pipeline into this career, support them through the training period and leverage our relationship with construction companies to hire them."  
Bill Bergman, Temple's vice president of public affairs, agreed. 
"This is about the future of North Broad Street and all the people around it," Bergman said. "We are absolutely excited about this opportunity to become a partner with the laborers, and we welcome them to the neighborhood."
Representatives from labor and local government underscored the importance of bringing the LDC, which until now has conducted trainings in the suburb of Exton, into the heart of the city.
"We need this more than we need fresh air," said Patrick Eiding, president of the Philadelphia Council AFL-CIO, which represents more than 100 local unions.
"When I was told that there was some conversation about bringing [the LDC] to this location, I said, 'When can we start digging?'" said City Council President Darrell Clarke.
Clarke pointed out that this is the latest of several major developments on North Broad Street, including the Divine Lorraine, which reopened in 2017, and the Met, which reopened Dec. 3.
"This is special because it's about people," Clarke said. "It's about those individuals aiming to have family-sustaining opportunities."
"I love it," said Shalimar Thomas, executive director of the North Broad Renaissance. "This means continued growth and development for North Broad and a level of excitement that we can continue to build on." 
Samuel Staten Sr., a local labor leader who passed away in 2016, was said by many to be looking over the groundbreaking in spirit.
"Mr. Staten worked for this his whole life," said John Dougherty, business manager of the Building and Construction Trades Council. "This is a dream come true."
The building will be named for Staten's son, Samuel Staten Jr., who, like his father, found the stability of both employment and leadership in the building trades.  
—Andy Lochrie