Receiver snags surprise scholarship
Temple's smallest football player is earning big recognition in an extraordinary year.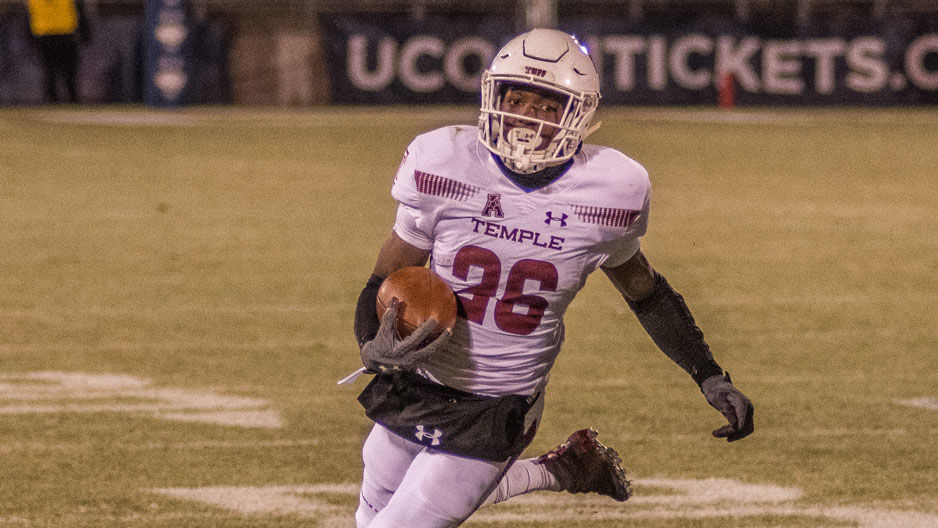 Wide receiver and Northeast Philadelphia native Travon Williams isn't the most well-known member of the Temple football team. In fact, he's tied for the shortest at 5 feet, 8 inches tall. He's also less than half the weight of the team's largest player and only recently began to see significant game time.
However, the redshirt junior's performance on the field in a historically strong season for the Owls just earned him a full scholarship for his remaining time at Temple as he pursues undergraduate and graduate degrees in physical therapy.
With the excitement of Temple's fourth consecutive bowl game on the horizon, we talked with Williams about his future, his pride representing his hometown and his reaction to his scholarship announcement that went viral on social media after the Owls' 27-17 win over the University of South Florida (USF). 
As a walk-on player in a very competitive environment, what has your mindset been as you've worked your way into more game time?
They always say this is an effort-based organization. My mindset has just been to go attack each day. After every practice I call my dad, and he always asks, "How'd you practice?" and I just always go as hard as I can, because I don't want to hear, "So what, you're just out there wasting your time?" I always go as hard as I can no matter what.  
What have been your most exciting moments on the team so far?
I think a big moment personally was just scoring a touchdown this year and how excited everybody was. But every time I see Isaiah [Wright] run a punt back or a kick return back, it gets me excited. When Ventell [Bryant] broke all the Temple receiving records, that was a big moment in my life because we are so close. And we were in Houston—my grandma's from Texas, so she was at the game bonding with his family, and after the game, she was like "Tra, do you know No. 1?" I'm like, "Yeah, the guy who got the records? Yeah, that's my guy Ventell!" 
When Coach Collins asked you to stand up in the locker room after winning the USF game, what did you think he was going to say? And how did it feel to be recognized with a scholarship?
I thought he was just going to congratulate me for having two catches in the first half. That's all.  I was surprised and excited and happy and everything else in the world. And it's just like now I don't have to pay for grad school next year. That's major for me.
A lot of what I talk about is education, because at the end of the day, I'm 5 feet, 8 inches on a good day. My NFL chances are already slim because of my height, but I know there are people in the NFL who are going to need a physical therapist, so that's what I'm going to school for.  
How did your family react?
My mom, my grandma and everybody else was crying over the phone. "Oh my god, Tra, congrats! I see you on the TV!" My dad had a little different reaction. For him it's relief. It's like, "Phew." Your spot is kind of secure for a little bit. 
What's next after the scholarship? You mentioned you might quit a night job?
I was at work last night! I was there until 12:05. Right now I still have to pay rent for December and pay a little bit more school from this semester. So I'm still working until January. When the scholarship kicks in, that will all be reevaluated. 
Do you have any advice for teenagers in the neighborhood who are striving to come to college or play sports like you have?
I just want everybody to know that school is where it's at. The only reason I play football in college now is because I was smart enough to not pay more than I could afford to come here. Being good in football is fine—God gave you that—but if you don't use your brain that God gave you, he will take everything away. Injuries are inevitable. You can't play football until you're 100. So at some point you're going to have to get a job or do something to manage your money. If you don't have that background and that knowledge, then it's all going to be for nothing.   
How does it feel to represent your hometown on the field?
When I scored the touchdown I threw the 215 [area code] up. Tyliek [Raynor] did that also earlier in the year at Navy. It's just like a lot of kids from our city don't make it to this stage, so when one of us gets a chance to shine, we always try to make sure we put the city on the map. Like you see Meek Mill—every time he gets to do something, he always talks about Philly. That's all I'm trying to do, just trying to have a positive mindset for the people from Philly. 
Several other guys on the team are from North and Northeast Philly, and a lot are from the suburbs. Do you feel there's a lot of Philly pride on the team?
Yeah, I do. Our stadium is super big, so it doesn't always look like it's packed all the time, but you can see people come out for us. My freshman year, it was super packed for Notre Dame. But you've got to remember, it's a 70,000-seat stadium—it's not a college stadium—so even when it looks empty, it's still crowded to us, because the people in the surrounding areas always come to support us. 
Do you have family, friends or neighbors who come to your home games?
My dad still lives in the house in the Northeast where I lived when I went to high school. He's at almost every game. My uncle lives literally a five-minute walk from [our football practice field]. He's always there. A lot of my high school coaches are there, which is crazy for me. A lot of my college friends. My best friend from second grade was at the USF game and was literally calling me from the train and was like, "You just got a scholarship in the locker room?" 

—Andy Lochrie