Engineering students improve urban farm in senior design project
Two cohorts of senior Temple engineering students have been working to design and implement sustainable improvements at an urban farm that serves the community in North Philadelphia.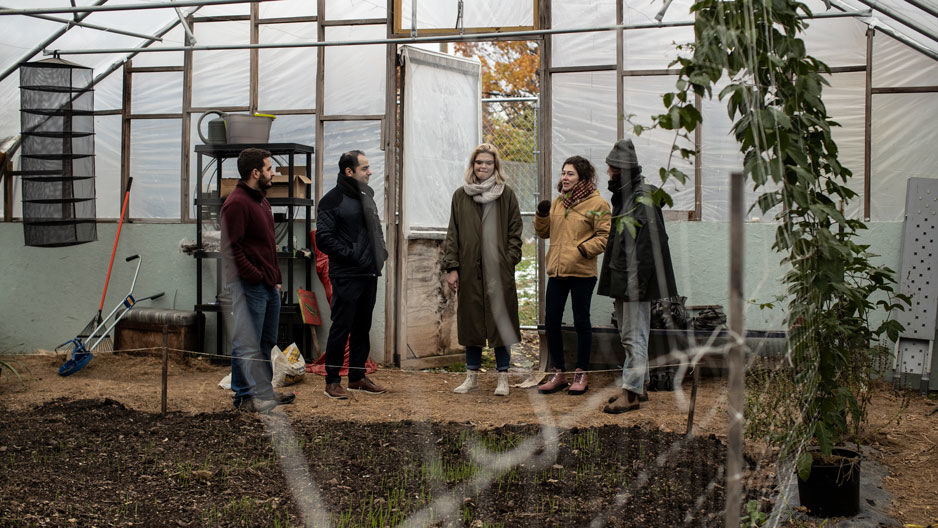 As a Temple student living just southeast of Main Campus, Brett Riley, ENG '18, would often ride his bike past an urban farm at 8th and Poplar streets, in North Philadelphia.
Seeing the farm's high tunnel—a simplified version of a greenhouse—in serious disrepair got the mechanical engineering major wondering: What could he and his fellow engineering students do to help create an effective, sustainable structure on that farm, which provides access to fresh produce and education to the community?
Now, about two years later, the high tunnel has become the center of two dovetailing engineering senior design projects—for Riley's cohort and for the cohort graduating at the end of the fall 2018 semester. Riley connected with the farm's managers, including Farm Education Director Marta Lynch of the Federation of Neighborhood Centers (FNC), the nonprofit that runs the farm. Riley then rallied his fellow students to make his vision a reality, devising and building sustainable solutions to enhance the high tunnel's functionality.
"A high tunnel is the most important tool to have in urban farming, especially with climate change," Lynch explained, adding that before the Temple engineering students got involved, the high tunnel at FNC's farm was usable, but that its extensive damage from vandalism and weather made it far less effective.
Riley's cohort worked to install solar panels so that the high tunnel can be powered. They also added insulated walls, implemented roll-up sides as a passive ventilation measure, and installed a rainwater catchment system with filtration and tanks to collect a water supply for the farm's crops.
Justin Guiliano, ENG '10, helped the students to survey the area for stormwater management using a drone and 3-D scanning technologies sponsored by the engineering firm AECOM. 
The current cohort is continuing to build on that work, implementing a switch system for the water catchment tanks, and evaluating the structural loading—or capacity to withstand climate influences like snow and wind—of the high tunnel roof.
"We drew the high tunnel in civil engineering software and simulated different forces at key locations around the roof to determine if it's going to fail," said Katia Yakubova, a senior civil engineering major on the project's current senior design team.
Yakubova also devised plans to correct slopes at the site to mitigate pooling of water around the edges of the high tunnel that threatened to introduce rotting to the crops inside. 
Sarah Watts, a senior mechanical engineering major on the current team, has been working to improve the high tunnel's ventilation.
For me, this was a great opportunity to feel like I'm giving back a little bit to the community. As someone who's studied and worked at Temple, I'm very happy we had this opportunity."
-- Rouzbeh Tehrani, assistant professor of civil and environmental engineering
"It's not great to have stagnant air," Watts explained. "I used flow simulations in engineering software to figure out the best methods for ventilation."
She and the other students are currently waiting for parts, including fans, so they can build a better ventilation system for the structure.
"High tunnels are important because they extend the growing season and provide greater control over growing conditions, which creates the opportunity to increase crop production." Lynch said. "It's that much more food that goes into the community."
FNC's urban farm hosts a farmstand from 3–6 p.m. Wednesdays during the growing season, providing affordable fresh (non-certified) organic produce to local residents. Leftover crops, Lynch said, are often donated to organizations for soup kitchens and other programs that help food-insecure community members. Beyond that, FNC also runs educational programming for local elementary and high school students as well as PowerCorpsPHL. Lynch said she plans to eventually use the Temple engineering students' work as a vehicle to teach local kids about engineering and sustainability.
"For me, this was a great opportunity to feel like I'm giving back a little bit to the community," said Assistant Professor of Civil and Environmental Engineering Rouzbeh Tehrani, ENG '13, who serves as the faculty advisor for the urban farm project. "As someone who's studied and worked at Temple, I'm very happy we had this opportunity."
Tehrani said the project has been generously supported by donors, including those who gave about $3,000 through an OwlCrowd campaign for the project. Others have provided services, such as drone surveys of the sites, or donated materials, including batteries and solar panels.
He echoed Lynch's vision of eventually using the project as a way to connect Temple with local communities, further bridging Temple and its Philadelphia neighbors, particularly through education for youth.
"It's a way for us to introduce high school students to Temple," Tehrani said. "The dream is to make sure we have well-structured platforms like this to engage more students from the neighborhood." 
—Morgan Zalot