Temple University offers OWLcard on iPhone, Apple Watch
Students, faculty and staff will be able to use their mobile OWLcards to access buildings, purchase meals and more.
Video Production:
Louis Peluyera & Gina Poulos
Temple University students, faculty, and staff can now add their OWLcard identification cards to iPhone and Apple Watch, allowing them to access buildings and facilities, purchase meals, use campus printers and much more with only their Apple devices.
"We are delighted to introduce a new way to use OWLcard to members of our Temple community," said Cindy Leavitt, Temple's vice president for information technology services and chief information officer. "OWLcard Mobile on iPhone and Apple Watch combines added security with the element of convenience. We are proud to be one of the first schools in the nation to roll out the program supporting iPhone and Apple Watch, positioning Temple as a leader in shaping how mobile credentials can be used in a campus environment." 
Members of the Temple community can now place iPhone and Apple Watch near card readers to enter buildings, use meal plans, make purchases with Diamond Dollars, print documents or use a computer in the TECH Center, and beyond. It will be available immediately on the Main, Health Sciences Center, Center City, and Ambler campuses.
OWLcard Mobile on iPhone and Apple Watch also provides an extra level of security, requiring two-factor authentication on the device to keep the credentials and its information secure. Students can even use OWLcard Mobile to suspend or delete their physical card if they misplace it.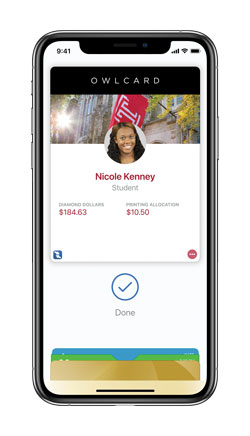 "Students have embraced tapping their physical OWLcards for purchases, building access and more," said Scott Brannan, director of Temple's OWLcard office. "Our card readers are now able to interpret the digital credential on iPhone or Apple Watch so they can get around campus with only their Apple devices. Students can also enjoy peace of mind knowing their OWLcard credential on iPhone and Apple Watch is protected with two-factor authentication."
The digital credential works just like a physical OWLcard, which will still be accepted.
OWLcard Mobile in Apple Wallet works with iPhone 6 and later, and Apple Watch Series 1 and later. To get started, users must first verify that their devices meet these and other compatibility specifications. Learn more about OWLcard Mobile's availability, which includes compatibility with Android devices. For assistance setting up the service, contact the OWLcard office at owlcard@temple.edu or 215-204-3140.