Englert promotes Temple's mission, success in Harrisburg
President Richard M. Englert highlighted Temple's mission for accessible higher education, Fly in 4 and the forthcoming Charles Library during his address to Pennsylvania lawmakers.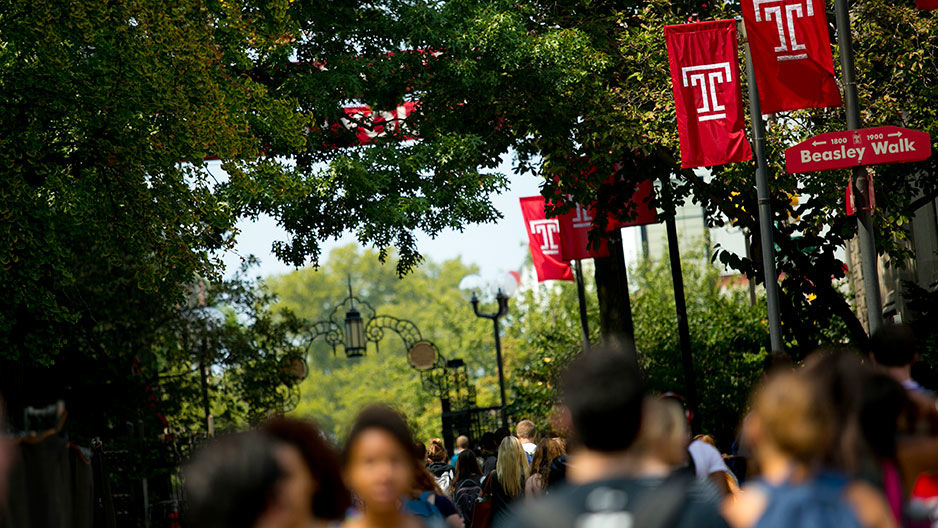 President Richard M. Englert promoted Temple's mission and successes while making the case for continued commonwealth support before state senators during the annual hearing for state-related university leaders in Harrisburg.
In responding to questions, Englert recounted how Temple's founder, Russell Conwell, wanted the university to serve working class and middle class families. "That mission continues today. Temple is designed to offer promising students of all backgrounds an opportunity to become tomorrow's changemakers," he said.
Englert noted in prepared remarks that the state's appropriation of $155 million in turn generates $267 million in reduced tuition for students who are Pennsylvania residents. "Few investments have a more significant and transformative impact on the lives of Pennsylvanians as they seek access to education and employment," he said.
Gov. Tom Wolf has proposed that Temple receive approximately $155.1 million in commonwealth support, the same amount allocated last year. Temple has asked for just under $166.9 million. While the amount requested is an increase from the current allocation, it remains below the $186.3 million the university received a decade ago.
During the hearing, Lehigh County Sen. Pat Browne, LAW '93, chair of the Appropriations Committee, said he anticipated the state would create a higher education commission that would review where state tax dollars were going and the impact those dollars have on the commonwealth. Using performance indicators would help members be "more confident that the dollars were going where they needed to go," he said.
In making the case for the university, Englert emphasized areas like improvements in the four-year graduation rate through the Fly in 4 initiative. 
"In the four years since our Fly in 4 program launched, our on-time graduation rates have increased 11 percent—a significant shift—and our program participation has grown to 94 percent in our latest incoming class," Englert said. 
"And while increasing our four-year graduation rate was our goal, nearly 300 students did even better, graduating ahead of schedule in just three or three and a half years. That includes 123 early graduates in 2017, and an additional 175 early graduates in 2018—a substantial increase in just one year," he said.
In addition, the university just added a new component to helping first-generation students finish on time: The Broad Street Finish Line Scholarship. Named after the iconic thoroughfare that runs through Main Campus, the plan will allot $1.5 million from existing endowment funds to help new and current students stay on course for graduation.
Englert also highlighted several other university initiatives for legislators, such as:
Connecting economically disadvantaged Philadelphians to family-sustaining jobs through the the Lenfest North Philadelphia Workforce Initiative, made possible by the ongoing philanthropic support of the Lenfest Foundation.
"While this work is still in the early stages, the progress we make in this regard has the potential to transform the lives of people most in need," said Englert.
He noted the university is working with the the Laborers' District Council—the only majority African American building trades union in the city—on its North Broad Street training and learning center. Temple University will serve as the educational partner at the center to increase learning opportunities for LDC members and the surrounding community. 
Creating a library fit for the 21st century, funded in part by the commonwealth and a $10 million gift from Trustee Steve Charles. 
"As we evolve our campus to meet the needs of students in the 21st century, this new library is emblematic of Temple's future and the high-quality education that we offer." Englert said. 
Offering greater access through the Temple Option, which allows students whose potential for academic success is not accurately captured by standardized tests an opportunity to receive a Temple education. Englert said Temple Option students make up about 18 percent of the entering class and their performance is as strong as that of other students. 
—Ray Betzner