Mom, daughter face cancer, conquer degrees together
Annette Cruz and Thatyana Morales, mother and daughter, faced Cruz's cancer together. This month, they'll celebrate earning bachelor's degrees together.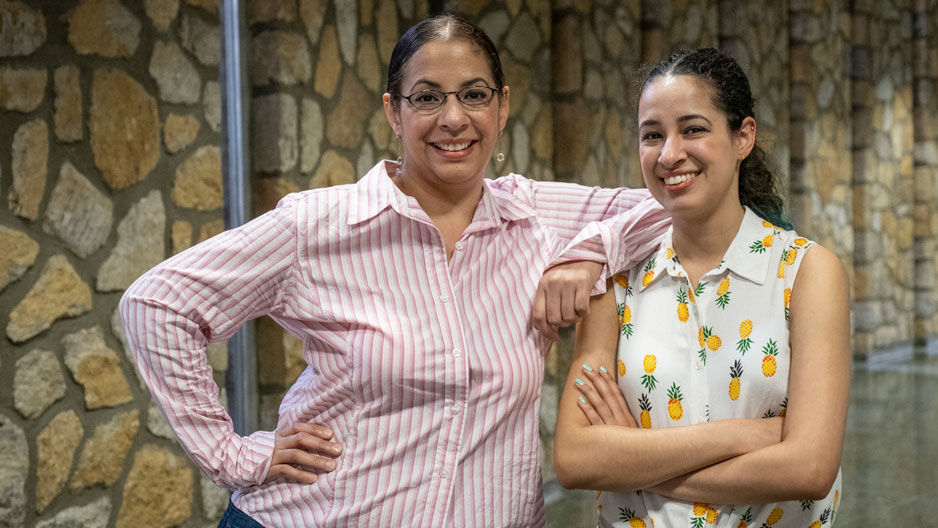 No one can predict the struggles they'll face on their journey through Temple University. But for Thatyana Morales and her mother, Annette Cruz, late nights and deadlines were the least of their worries.
 
Together, the graduating seniors—Morales with a bachelor's in computer science and Cruz with one in English with a focus on creative writing—faced Cruz's metastatic breast cancer.
The day Cruz was accepted to Temple, the disease she struggled with 10 years prior had resurfaced. But she was not going to let cancer slow her down. On her first day of class, Cruz had a biopsy, telling her doctor, "Please hurry up. It's my first day of class, and I really need to be there."
Early in that first semester, doctors discovered that Cruz's breast cancer had spread to her lungs. She could either work or go to school as she underwent intense treatment, but not both, they told her. 
She chose school. 
"I don't want to look at how serious this is," Cruz told her doctor. "I want to look at my goals—I'm graduating."
While taking classes, Cruz began a regimen of chemotherapy and surgeries that would have put most people out of commission, but not her. Her strong will, however, sometimes caused her to butt heads with Morales, her daughter, who worked toward her degree at the same time.
She's a warrior. She's at the center of my Temple experience. Not what I expected when I started here."
-- Thatyana Morales, Class of 2019
"Once, my pain was so bad that Thatyana refused to take me to school. I said, 'Drive me to school or you'll be punished until kingdom come!'" Annette recounted. 
"She pulls that card a lot," Morales added. "What can I do?" 
As a caregiver and daughter, Morales felt the weight of cancer, too, and began falling behind in some of her classes. Motivated by her mother's tenacity, she wasn't going to let anything get in her way.
"She's a warrior," said Morales, who will be the student speaker at the College of Science and Technology's graduation ceremony. "She's at the center of my Temple experience. Not what I expected when I started here." 
After graduation, the journey will continue for the two. Cruz is looking to pursue a master's in creative writing. She will also continue volunteering at the Kensington neighborhood library where she teaches writing skills to children in her area.
"These kids really need guidance. I want to create workshops and offer them to schools to help kids learn," Cruz said. "And of course, drag my daughter in with me as well."
 
Morales will continue school after graduation in May, working toward a master's through the College of Science and Technology's 4+1 computer science program. She will also begin working full-time at Protiviti, a global consulting firm where she interned last summer. One of her research projects at Temple, which used smart watches and machine learning to help people quit smoking, is motivated by—like her mother's work—a strong desire to help people. 
Their journey is far from over, but the mother and daughter agree their experiences at Temple made them stronger.  
"We didn't do it alone," said Cruz. "It was family and a crowd of Temple people that helped and pushed us both to be our best."

—Adam Zajac