Library logistics: How staff will prepare to move more than a million books
The move from Paley Library to the new Charles Library this summer will be a big one. But Temple Libraries staff—and a few dozen supplemental workers—are prepared for the task.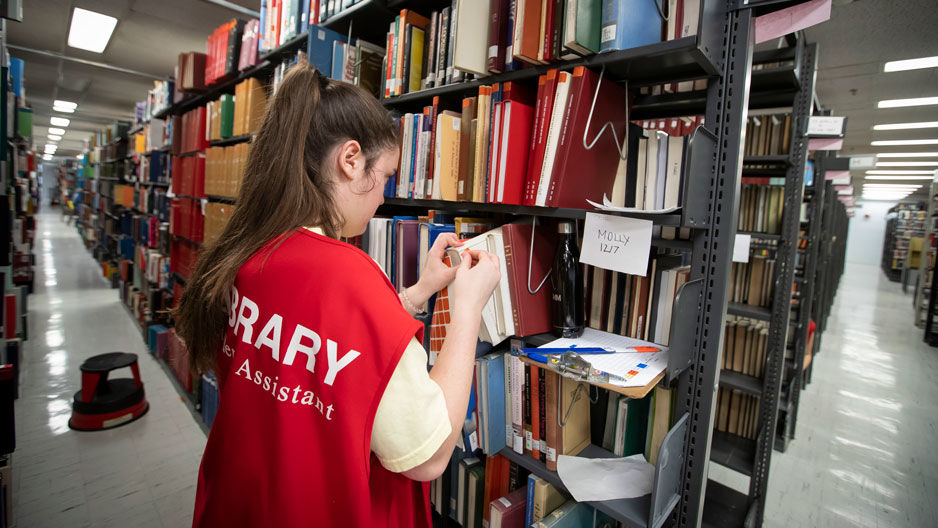 A road closure temporarily prevented vehicle access to 13th Street, giving way to nearly 100 people pushing hand trucks and carrying cardboard boxes. It was part of an intricate, if unscientific, effort to relocate thousands and thousands of books into Temple University's new library.
This was the scene in 1966.
Back then, more than 500,000 volumes traversed what is now Polett Walk, heading from their former home at Sullivan Hall and into the newly completed Samuel L. Paley Library. University employees teamed with professional movers to transport the books a mere tenth of a mile.
"It's kind of funny," said Sara Wilson, CLA '14, '17, Temple's library outreach and communications administrator. "We moved from Sullivan to Paley, and now we're taking a lot of those same books those same few feet."
The move from Paley to Temple's transformational Charles Library begins in earnest this month, after Paley closes its doors to the public May 9. A similar method of moving the books will be employed, Wilson said, with "sheer brawn" carrying a majority of them into their new home. Like the move into Paley, the move out of it will require roughly 100 people—if not more. 
"We'll have 20 temporary staff, 30 full-time staff, about a dozen people from a moving company, and about 30 students working full weeks from mid May to the end of July," said Richie Holland, Temple Libraries' director of administration. "A workforce of about 80 students currently working part-time on move-related tasks also will contribute to the effort."
This time around, however, the university is moving far more books than it had in its collections a half-century ago. Roughly 1.5 million volumes will be loaded into the library's automated storage and retrieval system (ASRS), with a total capacity of nearly two million books. Already, 1,000 books are loaded into the ASRS—colloquially referred to as the BookBot—for test runs of the device to train library staff on how to operate it.
This is just one facet of what Wilson called "an unusually complex move."
"The size of our collections contributes to the complications, as do the value and fragility of the materials," she said. "The Special Collections Research Center, for example, started getting ready for the move in 2011, from strategizing where everything would go, taking inventory, and so on. The heaviest lift, so to speak, is initially loading the books into the ASRS, and that's the step we are rapidly approaching."
The ASRS requires that books be sorted based upon their physical dimensions. 
"Daily, we go upstairs with rulers and measure every book and apply a sticker that correlates to its size," Wilson said. "This process is ongoing, even as books are being returned. Before they go on the shelf, they are stickered."
"We've had to remove books that might present problems due to incorrect call numbers," said Sandi Thompson, head of the Temple Ambler Campus Library and a Temple Libraries employee since 1969. "This is one aspect of the work being done behind the scenes by this tremendous team."
To prepare for the move, library staff this semester incrementally reduced access to the resources of the Special Collections Research Center and hours of availability for its reading room. That's because the transportation of the center's materials require special considerations, like acid-free boxes and folders, and precise control of the temperature and humidity of the storage spaces. Managing inventory remains critically important, too, as SCRC materials are bound for one of four locations: roughly 13,000 feet of books and archived materials in Charles Library's basement; 3,000 feet of books in a rare book vault; a special aisle of the ASRS holding up to 18,000 feet of materials; and a library depository at Kardon-Atlantic.
Justifiably, the center's director, Margery Sly, has referred to the move as "a Jenga-like process."
"I knew a new library was part of the plan when I was hired eight years ago," she said. "It's been an amazing process, and we are very much looking forward to our work in Charles Library, serving our patrons, teaching classes, bringing in new collections and more."
For while the allure of Charles Library is palpable, members of the Temple community will miss what Paley provided for more than 50 years. Wilson often occupied Paley in her time as a Temple PhD student. She even recalls joining her father, Marty Wilson, CLA '00, on trips to Paley as he completed a doctoral degree in history. 
"I remember being upset that Paley's books weren't all children's books or The Baby-Sitters Club books," she said, laughing. "Beyond that, I grew to love this building. I was on Temple's Student Library Advisory Board for a reason. It's a very impressive space.
"From those who study in the stacks to those who find comfort underneath the mezzanine staircase, our students have made Paley their own," she continued. "I know Charles Library will allow them to do the same."

—Christopher A. Vito