10 construction projects happening at Temple this summer
Upgrades and renovations are taking place across Main Campus as the university continues to grow and improve.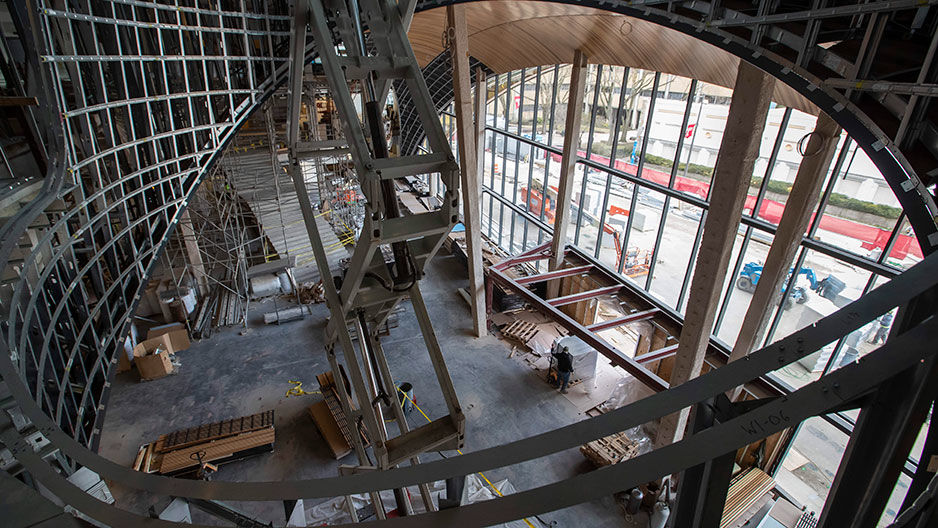 From a new library readying for its grand opening to routine maintenance and fresh coats of paint, changes at Temple University are afoot. Transformational construction projects across campus are in varying stages of completion, while others are in store for the near future. 
Here are 10 projects worth keeping an eye on, this summer and beyond:
Charles Library
Positioned at the heart of Main Campus, Charles Library is slated for substantial completion by the end of July.
Staff will begin moving into their new home, which includes the relocation of nearly 1.5 million volumes from Paley Library to Charles Library. The books will be loaded into the BookBot robotic retrieval system, which has a capacity of approximately 2 million books. Of note, the library also will feature Stella's Café, serving La Colombe coffee and products. 
Charles Library will open to the public in August, with a grand opening slated for September.

A Dematic BookBot inside Charles Library (PHOTO: Betsy Manning)
Anderson-Gladfelter renovation
Beginning this summer, a lengthy construction project at the College of Liberal Arts (CLA) will get under way.
Of most significance to the wider Temple community, Polett Walk—connecting 11th and 12th streets—will be closed to pedestrians from June 2019 until the Fall 2020 semester.
When completed, the project will create a new home for CLA's professional development and academic advising center on Gladfelter Hall's first floor and a courtyard and iconic lobby for Anderson Hall. Additionally, the outdoor space above Anderson and Gladfelter halls is being reimagined to construct an elevated green space, complete with outdoor seating and meeting spaces.
More details on this project are forthcoming.
Independence Blue Cross (IBC) Recreation Center
The IBC, located near 15th Street and Cecil B. Moore Avenue, will close from the end of the Spring 2019 semester through the summer months for a complete renovation and upgrade of the recreation facility. The project includes: a locker room renovation, with new fixtures, showers, and lockers; the addition of two individual gender-inclusive shower rooms; reconfiguration of open areas to provide more equipment; and replacing nearly all strength and fitness equipment. Faculty, staff and students looking for a place to work out this summer are encouraged to use Temple University Fitness or the Aramark Student Training and Recreation (STAR) Complex.
Wachman Hall
Beasley's Walk, from Wachman Hall to Montgomery Avenue, will be closed from late summer into the fall semester. The rear entrance to Wachman Hall will remain accessible to the Temple community throughout the duration of the project, which will upgrade the loading dock behind Wachman.
Hello, old friend
Landscaping in Founder's Garden will further beautify one of the campus' most iconic green spaces and bring about the return of a familiar face. The marble Alumni Owl, a fixture at Founder's Garden from its dedication in 1988 to 2016, will be installed at the southeast corner of the garden and visible from 13th Street.
On the ground
Upgrades to the landscape brick and paver design will require the closure of Liacouras Walk, from Polett Walk to Norris Street, for the duration of the summer. Only the elevated walkway and ramps will remain open, allowing access to retail and office spaces along this stretch of Liacouras Walk.
Elsewhere on Liacouras Walk, similar paver design upgrades will commence between Montgomery Avenue and Founder's Garden. This project will not necessitate closure of Liacouras Walk, though the university community can expect temporarily enclosed sections of the walkway.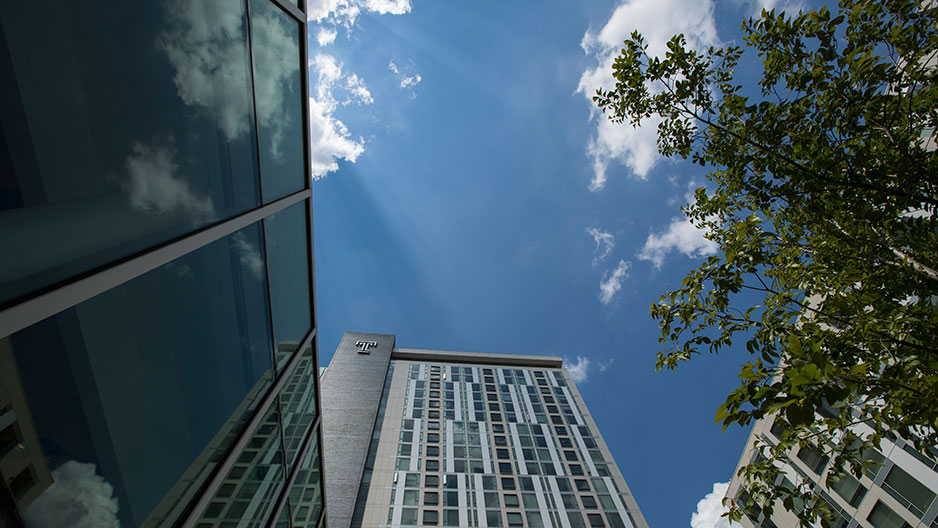 Morgan Hall (PHOTO: Betsy Manning)
In the residence halls
An interior painting project in the south tower of Morgan Hall will be underway through the summer months, following a similar project last summer in Morgan's north tower.
At 1300 Residence Hall, a major multiphase initiative for aesthetic upgrades will begin this summer. The project includes new floor finishes, ceiling and lighting upgrades and fresh paint throughout the hall.
Exterior work
Façade upgrades and exterior work, none requiring interruptions to regular service and access, will be made to the following buildings:
1700 North Broad
Annenberg Hall
Bell Building
Liacouras Center
Shusterman Hall
Tomlinson Theater
Coming soon
Temple's Board of Trustees approved a capital expenditure request to renovate Paley Library into the future home of the College of Public Health. The university is in the process of appointing a design firm that will advance this project. For Fall 2019, Paley will continue to house the advising units for CLA and the College of Science and Technology.
Noteworthy
A multiphase project on the lower level of Mitten Hall will begin, focusing exclusively on the Office of Human Resources. This will include a complete upgrade and renovation of the existing space, creating individual offices and an open-office concept in other areas.
The university expects periodic closures of Speakman Hall's 13th Street entrance as the School of Sport, Tourism and Hospitality Management concludes overhead work in its lobby.
Pearson and McGonigle Halls will receive upgrades and renovations to their heating, ventilation, and air conditioning systems. No interruptions of service are anticipated.

—Christopher A. Vito