Temple partners with Philadelphia Orchestra on 2019 China tour
Temple's involvement with the tour is one of many milestones in the university's long and fruitful partnership with the country, launched 40 years ago.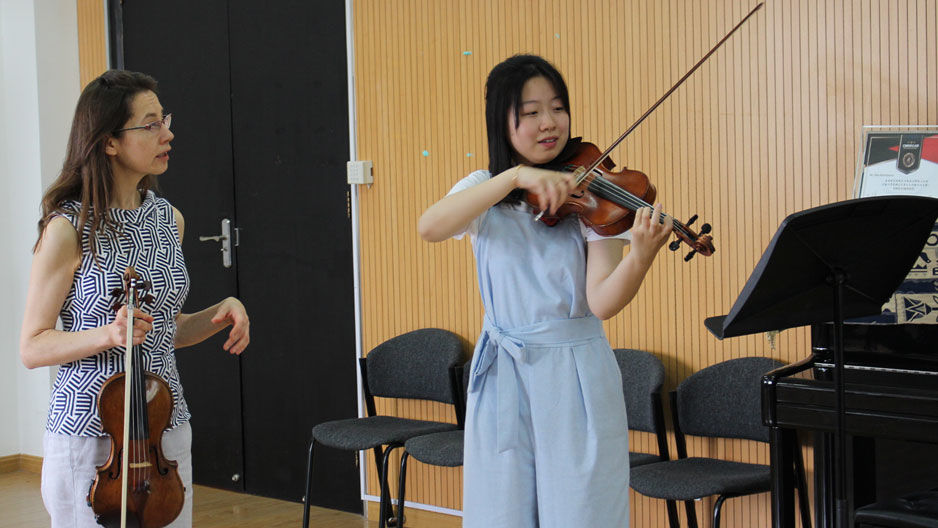 Four decades ago, Temple bestowed an honorary degree upon Deng Xiaoping, one of China's most revered leaders. The degree was the only honorary degree the late Deng ever accepted, positioning Temple in a unique role in the opening of U.S.-China relations at the time.
So it was only appropriate that now, 40 years after Xiaoping's degree and pivotal visit to the U.S. in 1979, Temple served as the higher education sponsor for the Philadelphia Orchestra's 2019 Anniversary Tour in China.
The five-city tour, led by acclaimed Philadelphia Orchestra Music Director Yannick Nézet-Séguin made stops in Beijing, Philadelphia Sister City Tianjin, Hangzhou, Nanjing and Shanghai between May 17 and May 26, playing to sold-out crowds.
A Temple reception for alumni, partners and government officials preceded the concert in each city. Overall, more than 200 guests, including university presidents, high-ranking government officials with responsibilities in education and professional training, and alumni donors, attended Temple's events.
Temple Vice President for International Affairs Hai-Lung Dai emphasized the meaning of the sponsorship for Temple. "Deng Xiaoping started the reform and openness movement after his historic visit to the U.S. in 1979," Dai said. "The Temple degree was the only honorary degree he ever accepted. Shortly afterward, Temple started to significantly engage with China."
Zhang Jianguo, former vice minister of the Ministry of Science and Technology and administrator of China's State Administration of Foreign Experts Affairs (SAFEA), who attended the reception in Beijing, pointed out how Xiaoping elevated the importance of introducing overseas intellectual talent to assist China's advancement.
As part of this educational exchange, "During the past two decades, SAFEA helped Temple establish relationships with a group of Chinese universities," Zhang said. Those universities include Tsinghua University, Renmin University and the Chinese University of Political Science and Law.
"So far, almost 1,600 individuals from China's government and public sectors, including judges, prosecutors, legal officials, law professors and lawyers have graduated from Temple law programs in China," Zhang added.
The Philadelphia Orchestra has its own illustrious history with China beginning in 1973, after U.S. President Richard Nixon's historic 1972 visit to Beijing, when the orchestra, then under the direction of Eugene Ormandy, conducted its first tour of China. This year's tour marked the Orchestra's 12th tour of China, the most of any U.S. orchestra.
At Temple's pre-concert celebration in Shanghai, Philadelphia Orchestra President and CEO Matias Tarnopolsky, in attendance with Executive Director Ryan Fleur and Chairman of the Board Richard B. Worley, noted the influence and strength of the Temple-Philadelphia Orchestra connection.
"Our wonderful shared city is enriched by our educational and cultural institutions that are part of its fabric—Temple University and the Philadelphia Orchestra," Tarnopolsky said. 
The tour included Philadelphia Orchestra members teaching master classes at Shanghai University, a longtime partner to Temple, and at another Temple-connected institution, the Central Conservatory Prep School in Beijing. 
At both locations, Temple adjunct music professors served as coaches—in Beijing, French horn player Elizabeth Starr Masoudnia, and in Shanghai, violinist Elina Kalenderova. Half of the Boyer College of Music and Dance faculty are also Philadelphia Orchestra members.
The players coached the students in auditioning and in the subtleties of playing music that transforms a musician from technician to artist—conveying emotion, perfecting technique and timing, telling the story behind the music, and tuning in to the cues of fellow musicians.
"[These are] our first master classes about music pieces, and it's very helpful to have this deeper understanding. The teachers are very professional and full of experience about dynamics and rhythm," said third-year Shanghai University violin major Zhu Xinyi, adding that the instruction from the professional musicians enabled her to envision what it would be like to be in an orchestra.
The experience was equally invigorating for Kalenderova, an orchestra violinist and adjunct instructor at Boyer. "What's inspiring is that these young musicians want to know as much as possible, that they are disciplined and willing to resist the seductions of modern life," she said.
Shanghai University Music Professor Sha Xiao Cao, a violin professor and a virtuoso, who supervised the master class, thanked Temple for supporting the experience for her university's students. "We hope to have many other opportunities to connect," she said. 
Sha attended the Shanghai reception with her father, Cao Peng, one of China's most famous conductors, who at age 94 is still conducting. One of Sha's former teachers was Temple's own Eduard Schmieder, a violin professor.
The master classes and the enthusiastically received concerts highlighted how people from different nations can connect through music.
"In this challenging time of U.S.-China relations, Temple's sponsorship of the Philadelphia Orchestra's tour provided excellent opportunities to promote goodwill and understanding between our two societies," Dai said.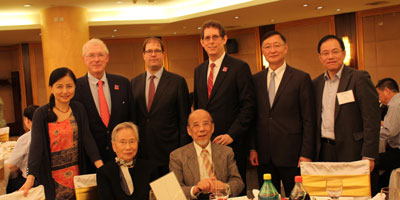 PHOTO: At the Shanghai reception, Shanghai University Professor Sha Xiao Cao (left) and her parents (seated); (standing, left to right) Philadelphia Orchestra Board President Richard B. Worley, CEO Matias Tarnopolsky and Executive Director Ryan Fleur, Temple Vice President of International Affairs Hai-Lung Dai (second from right) and Liang Chen, FOX '90, CEO & executive director of board, Allianz China Life Insurance (right).
—Lisa Z. Meritz