Eight global game-changers from Temple earn Fulbright Awards
Eight Temple students and graduates have been selected for the distinguished honor that will allow them to pursue research and teaching opportunities internationally.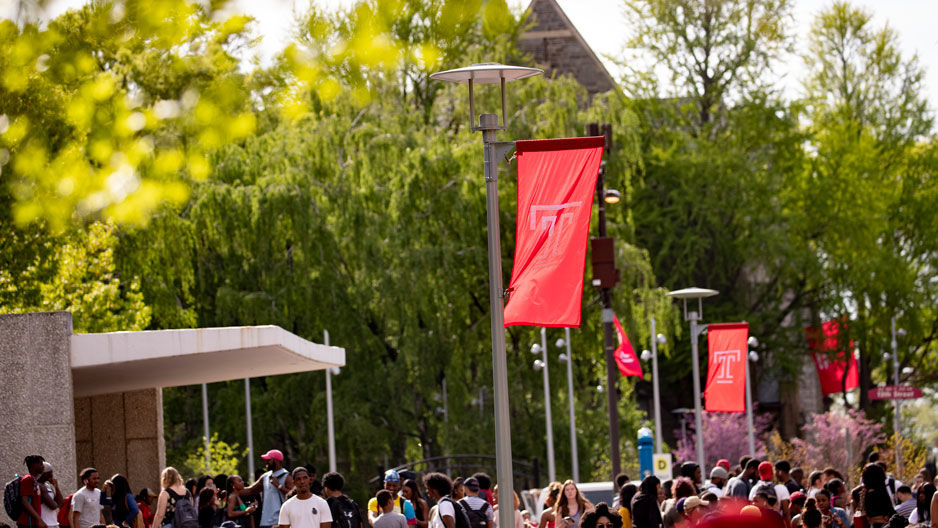 Several Temple students and graduates will venture to locations around the globe—from the Caribbean coast of Nicaragua to the cultural hub of Macau, China—to make an impact through the Fulbright U.S. Scholarship program.
After two consecutive years of being recognized as a top producer of Fulbright Scholars, Temple University is home to a new crop of recipients of the prestigious awards, who will continue their work in arts, research and teaching on an international scale.
Fulbright grants enable students and recent graduates to travel to locations worldwide to become immersed in foreign locales, where they receive funding to complete arts or research projects, or teach English. At the core of these endeavors lies the fundamental value of increasing intercontinental and intercultural understanding and collaboration.
Here are the plans for Temple's newest Fulbright Scholars:
Marlise Brown, graduate student, Tyler School of Art: With years of teaching experience as both an educator at the Philadelphia Museum of Art and an instructor of undergraduate courses at the Tyler School of Art, Brown, who is pursuing her PhD at Tyler, will travel to Germany to conduct research with a renowned specialist in her field of art history.
Ephraim Clay Hadly, CLA '19: Hadly,  who recently graduated with dual majors in German and history and a minor in anthropology, will combine his fascination with archival and left-wing studies by conducting a research project on the historical study of the Infoläden (anarchist information shops) and community centers in Germany.
Levi Krum, CLA '19: As a resident assistant and Owl Team leader, Krum has contributed to Temple's mission of impacting students' lives. Krum is moving forward with his geography and urban studies bachelor's degree by taking his ambitions to the small city of Macau, China, where he will work in the English department of Macao Polytechnic Institute.
Eli LaBan, KLN '17: A producer of multiple documentaries, videos, photos and marketing materials for a variety of organizations around the world, LaBan will return to the Caribbean coast of Nicaragua to build on several years of collaboration with indigenous communities fighting to preserve their cultures.
Timothy Loftus, graduate student, College of Liberal Arts: Loftus, a PhD student studying religion, has logged several significant achievements throughout his academic career, receiving a University Fellowship, earning a Foreign Language and Area Studies Award for Hindi language and completing four years of Sanskrit study at the University of Pennsylvania. With his Fulbright Award, he will continue his language studies and conduct research for his dissertation on Ambedkarite Buddhism and its relationship to modern Buddhism and Buddhist studies.
Amma Prociuk, CLA '17: Prociuk has already made strides to benefit Spanish-speaking communities. She helped pilot a Spanish language program for employees at Congreso de Latinos Unidos, where she works as a grant writer. Her Fulbright will support a teaching assistantship in Brazil, where she plans to engage more deeply with the community and local culture by taking university classes in Portuguese, as well as a samba class or two.
Elizabeth Claire Rose, graduate student, Tyler School of Art: Rose's artistic research recently received support by the Matthew Hansen Endowment from the Wilderness Institute at the University of Montana, the Mid America Print Council and Southern Graphics Council International. Rose, who has a bachelor's in fine arts with a minor in wilderness studies from the University of Montana and is pursuing a master of fine arts in printmaking at the Tyler school of art, will continue her artistic journey in Poland through her Fulbright award.
John Felipe Ranjo, CLA '18: Ranjo, who holds a bachelor's degree in Spanish and a certificate in geographic information systems from the College of Liberal Arts, was awarded a Fulbright English Teaching Assistantship in Colombia. Ranjo has declined the award to pursue other ventures.

This year's cohort reflects the variety of awards Fulbright offers, with three research grants, three English teaching assistantships and two arts grants. These eight Fulbright finalists are all capable of speaking the language of their host country, or have studied a similar language. Rose, for example, has studied Slovak and Ukrainian and will study Polish on her Fulbright, and Krum will have the opportunity to use both his Chinese and Portuguese in Macau. 
In addition to this cohort, four Temple alumni were selected as Fulbright alternates, meaning they will be awarded the grant if a finalist chooses to decline their Fulbright grants in one of their host countries.
Temple's Fulbright alternates include:
Tirzah Sheppard, CPH '19: Sheppard, a recent graduate who majored in public health and minored in Spanish, has been selected as an alternate to the Fulbright Research grant in Panama.
Michelle Ferguson, CPH '19: As a linguistics major, Ferguson is an alternate for a Fulbright English Teaching Assistantship in Hungary. She will be in the College of Education Teaching English to Speakers of Other Languages (TESOL) program starting in August.
Navya Reddy, FOX '19: Reddy, an international business graduate, is an alternate for the Fulbright Binational Internship Program in Mexico as an alternate.
Christopher Dawson, CLA '12: A 2012 Temple graduate, Dawson is an alternate to the English Teaching Assistantship in Brazil.
"The mission of the Fulbright is to increase understanding between people of the United States and people of other countries through exchange," said Barbara Gorka, director of Scholar Development and Fellowship Advising at Temple. "All of our Fulbright recipients have a history of engaging with their communities, whether here or abroad, and will make excellent cultural ambassadors for Temple and the U.S. while abroad."
Throughout the years, Temple's Fulbright awardees have taken their talents to dozens of locations overseas, including Argentina, the Dominican Republic, Ireland and Mongolia.
If you are a Temple student or graduate and are interested in pursuing a Fulbright Award, connect with Scholar Development and Fellowships Advising.
—Nicholas Eiser