10 resources anyone can access at Temple
From health care and public safety to job training and entertainment, explore which Temple resources will serve you.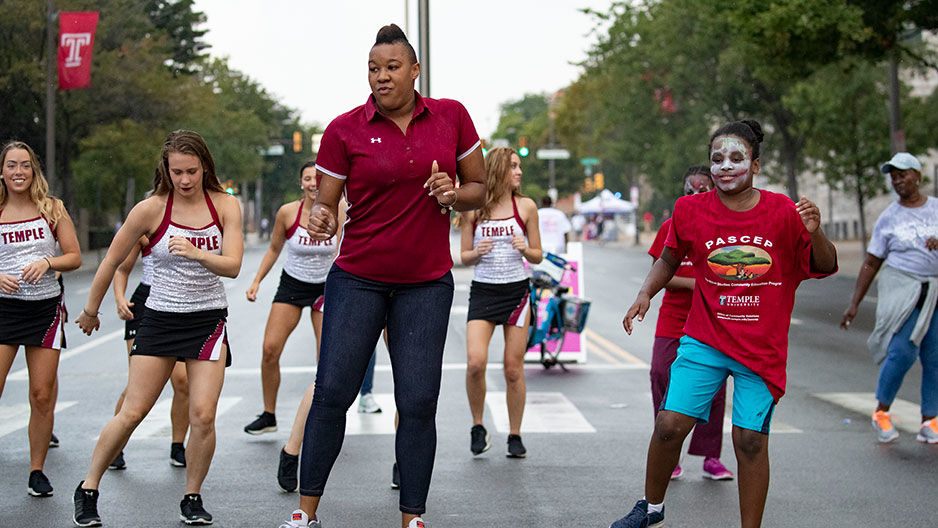 If you attended this year's Philly Free Streets and stopped by Temple's Main Campus, you had the chance to experience and explore a wide variety of services that Temple offers to the community at large.
But if you didn't make it to the event, don't sweat it: Temple's resources are available year-round to our neighbors and other community residents—and many are offered at no charge. 
Here's a list of some of the many resources and programs Temple has to offer. 
1. Plant, grow and cultivate your own produce at Temple Community Garden
Kick back and relax on Temple Community Garden's Adirondack chairs, designed by Temple alumnus Mario Zucca, TYL '03, and painted by Philly Free Streets 2019 visitors. This student-run vegetable and flower garden is stocked with free produce, and if you're in search of something specific, you can even donate seeds to plant something of your own. Let your ingredients flourish in a local space dedicated to their prosperity.
Diamond and Carlisle streets 
Garden hours: Fridays, 3–5 p.m. 
2. Speaking of fresh produce … 
Farm to Families is a partnership between Temple University and The St. Christopher's Foundation for Children to provide boxes of fresh produce, nutrition information and access to cooking demonstrations to those facing health issues and food insecurity. Find out if you're eligible by contacting or visiting Temple University Hospital for a patient intake.
3. Jumpstart your career
Shirey Moy, the executive director of the Lenfest North Philadelphia Workforce Initiative (LNPWI), prepped Philly Free Streets visitors for their professional careers. Moy and her team promoted the offerings the LNPWI by helping attendees set up LinkedIn profiles, conduct mock interviews on the sidewalk and create email accounts. This initiative collaborates with local employers, North Philadelphia residents, and Temple University to offer job training and career readiness opportunities. Open to youth and adults, LNPWI strives to prepare individuals for viable employment for years to come.
4. Affordable dental care
Your pearly whites are in good hands at the dental practices and clinics at Temple University's Kornberg School of Dentistry. Receive cleanings, full examinations and X-rays, implants and other dental care. 
This is just one of the many services offered through Temple's Health Sciences Center, a hub that comprises all of Temple's health care services, including the Lewis Katz School of Medicine, Maurice H. Kornberg School of Dentistry, the School of Pharmacy, the College of Public Health, Temple University Hospital and its affiliated physician practices.
5. Dance to PASCEP … and learn new skills
The Pan-African Studies Community Education Program (PASCEP) provides low-cost, non-credit courses that anyone can take. If you attended Philly Free Streets, you may have caught instruction on Ngoma African line dancing, one of the many courses offered through the program. 
Not only is Ngoma: Dance Movement of the Heart (PASCEP0700) offered as a course, but PASCEP students also have access to a variety of other classes, including: Exploring Entrepreneurship: Changing Your Hobby to a Business, Hip Hop Therapy, Women's Self Defense: Mshindi Vita Saana, Crochet Basic and Beyond, How to Publish Your Book and How Do I Use This Phone: Androids and iPhones, just to name a few.
 
The foundation of PASCEP is to promote a continuation of learning, including GED preparation and professional development programs. Explore your options and achieve your ambitions.
215-204-1993
6. Live a healthy lifestyle with Temple
Temple Health offers a variety of programs for community members that provide resources to help achieve and maintain a healthy lifestyle. Community members have access to Temple's Diabetes Program, Diabetes Prevention Program, TRUST Clinic (Temple Recovery Using Scientific Treatments), Smoking Cessation Program and much more.  
7. Our library is your library
Temple's brand new, state-of-the-art Charles Library is weeks away from its grand opening, and we welcome bookworms, students and any Philadelphian in need of a space to explore the vastness of our collection and engage in meaningful discovery. The new library, opening this fall, is accessible to the public, just as Paley Library was.
8. Attend a performance at TPAC
Temple Performing Arts Center, or TPAC, hosts events year-round in its historic church-turned-theater space on North Broad Street. TPAC showcases both university-affiliated and community-partner cultural and artistic performances, including the weekly public "Rite of Swing Jazz Cafe" every Thursday afternoon during the academic year. Check the events calendar to stay updated. 
215-204-9860
9. Learn first aid
Get certified in CPR and first aid through Temple University Emergency Medical Services (TUEMS). The student-run volunteer group is also on call, ready to assist Main Campus and the surrounding area with non-emergency medical issues.
215-204-4804 (TUEMS non-emergency)
215-204-1234 (TUPD emergency line) 
10. Get connected
Temple's Office of Community Relations leads the university's efforts in connecting the community with university resources like health and wellness initiatives, education and scholarship opportunities, and workforce development support. 
215-204-7913
—Nicholas Eiser