Student Success Center offers customizable academic support
For students of all disciplines and learning styles, the Student Success Center offers a suite of academic programs tailored to facilitate academic achievement.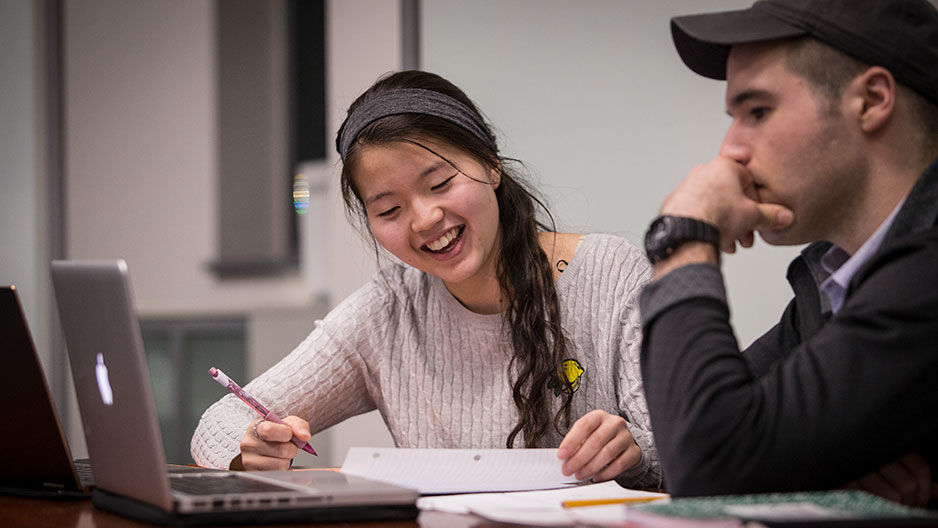 With the opening of Charles Library this fall, the Student Success Center (SSC) will open in a new space designed to facilitate learning in many forms.
The center, dedicated to providing support and helping undergraduate and graduate students perform their best in academic pursuits across disciplines, offers a wide variety of programs, including writing support, STEM (science, technology, engineering and math) tutoring and group study sessions. The SSC aims to provide tailored support to students that reaches beyond conventional teaching methods.
"At the Student Success Center, our goal is to make sure that students can get the most out of their academic experiences at Temple," said Assistant Vice Provost Lori Salem, director of the SSC. "We aim to give students tools that will help them succeed in their courses, and beyond that, we also hope that students who use our services will come away with a better understanding of themselves as learners."
In relocating from its former home in Tuttleman Learning Center to Charles Library, the center will make its debut as a collection of programs intended to provide customizable academic services that reach far beyond the classroom, so students can achieve the highest level of academic success.
All students are welcome and encouraged to explore what the SSC can offer them. Read on for details of the center's programs.
STEM Learning Lab
In the STEM Learning Lab, student tutors provide one-on-one tutoring. Whether a student is looking for help figuring out how to solve a particular problem in a math or science class or support in gaining a better understanding of a whole concept they're having trouble grasping in class, the tutors in the STEM Learning Lab are trained to provide collaborative support to enhance learning. 
The best part? They've been in the shoes of the students they're tutoring. STEM tutors have mastered course concepts and developed foundational knowledge through their own experiences taking the courses for which they provide academic support. 
"I am there saying, 'I get where you're at, because I took this class a semester ago, or a year ago, and I am on the other side—and you will be, too, and here is how I got there,'" said Megan Leham, a senior biology major and STEM tutor. "My main goal as a tutor is not to get a lot of problems done but to feel like the student gains more understanding and can reproduce what we accomplished on their own."
For students seeking a more collaborative study environment instead of one-on-one tutoring, the STEM Learning Lab also hosts exam reviews for larger groups of students, offering an opportunity outside the classroom to learn alongside other students taking the same courses. This alternative promotes students working together and learning from each other while collectively working toward success on exams. 
We aim to give students tools that will help them succeed in their courses, and beyond that, we also hope that students who use our services will come away with a better understanding of themselves as learners."
-- Assistant Vice Provost Lori Salem, director, Student Success Center
Language Lounge
The Language Lounge offers programs to support both international students in getting acclimated to life in the U.S. and students studying foreign languages. 
"The main driving force of the program is to help students in all aspects of language," said Liz Ursell, assistant director of the Language Lounge.
Beyond international students and students studying foreign languages, the lounge is also open to anyone interested in exploring language learning. Whether a student is pursuing Chinese studies and aims to master the language, or plans to study abroad in Rome and wants to learn everyday conversational language before traveling, the Language Lounge is able to provide assistance and practice. 
Ursell understands the variety of elements to consider in order to truly grasp a language and all its intricacies, including casual conversation, fluency, formal writing, pronunciation and slang. The Language Lounge covers all of those topics, and much more. 
Working closely with Temple's Office of International Affairs, Language Lounge staff members work to ensure a smooth transition for students who come from overseas to study at Temple, providing services to help them adjust to life in the U.S. Conversation partners, dumpling-making events to celebrate the Lunar New Year and traveling into downtown Philadelphia for American culture immersions are a few of the many opportunities offered through the Language Lounge.
The Writing Center
Everyone writes, and all writers can benefit from getting friendly but critical feedback on their work. Whether they are writing a research paper, a lab report, a literature review, a short story, a cover letter or a dissertation, students can come to the Writing Center, and the tutors will help them revise and enhance their work.
"It is important to have an extra set of eyes on your writing," said Pamela Jackson, a geography and urban studies major who has frequently used the center for more than two years. "They have often helped me brainstorm and find unique ways of expressing my ideas." 
Jackson is approaching her final semester and encouraged all students to take advantage of the Writing Center while they can.
"The writing tutor asks me questions like, 'What's at stake?' so I can get to the heart of the problem and articulate the main point to my audience of readers," said Eloise Murphy, a doctoral student who utilizes the center. "I will complete my PhD this fall. I could not have written a dissertation without the time, energy and support of [Student Success Center Associate Director] Lorraine Savage and the Writing Center."
The center offers one-on-one tutoring assistance, brainstorming sessions and an open environment that encourages growth in writing style. Like all programs at the SSC, the Writing Center offers customizable services tailored to what each individual student may need. Ballpoints at the ready, the center supports students throughout the writing process, from the initial brainstorm to the finishing touches.
Academic coaching
The customizable experience offered within the SSC is further extended with the availability of academic coaching that helps students build their skills and attack their coursework strategically.
"We have the whole student in mind," SSC Associate Director Lorraine Savage said, adding that academic coaching in the SSC focuses on skill building. "We approach it holistically."
The goal among academic coaches is to get to know students' academic performance in-depth by assessing test-taking strategies, delving into students' organizational skills and more. 
"I help students learn to advocate for themselves, utilize the resources available on campus, and to manage their time efficiently," said SSC Academic Coach Brittney Williams. "It's about finding what's most effective for you. Students teach me how to be flexible."
From time management skills to organizational methods and study strategies, academic coaching provides students with the tools they need to thrive academically.
Peer Assisted Student Session (PASS) Program
The Peer Assistant Student Session, or PASS, Program is a group-focused program where students learn via lessons creatively crafted by peer leaders. 
The peer leaders in the program are students who have previously taken the courses on which they are teaching sessions. Courses typically covered in the program are foundational courses that have high enrollments and are often challenging for students. 
To ensure their knowledge is accurate and up-to-date, peer tutors go the extra mile, sitting in on the course they are teaching each week. PASS leaders generally make announcements during classes about the sessions, so students are informed. 
"I actually sit in that lecture along with the students and sort of relearn the material," said Adeloa Olabinjo, a PASS leader. "At first, people think that I'm a TA or just someone with a lot more authority or knowledge than them. But once they realize that I'm a student who took the same class just like them, the environment becomes a lot more relaxed and productive." 
Olabinjo, who is approaching her third semester in her role, went to PASS sessions herself for her anatomy class, and they inspired her to give back as a leader.
These sessions give students a chance to educate their peers and to provide a smaller interpersonal teaching experience that, for some students, can be lost in a large lecture hall. 
Graduate Services
Pursuing a master's or doctoral degree brings with it considerable pressures, and many tasks to juggle, from studies to finances to self-care. Graduate Services in the SSC provides support for graduate students from their surrounding community to help them reach the milestone of earning their advanced degrees. 
Together, students pursuing graduate education in myriad fields have an opportunity to convene and complete work towards their programs through drop-in sessions specially tailored to graduate students. Students can come to the Student Success Center to advance their research in a distraction-free space, while receiving support from their peers. With weekly group meetings, colloquia, and writing and research retreats, the SSC provides various modes of academic support for graduate studies.
Sign up for the SSC's newsletter here, and check out its YouTube channel.
—Nicholas Eiser