Temple welcomes inaugural #YouAreWelcomeHere scholarship recipients
Ayna Mammedova, of Turkmenistan, and Andres Mondragon, of Peru, begin their Temple studies.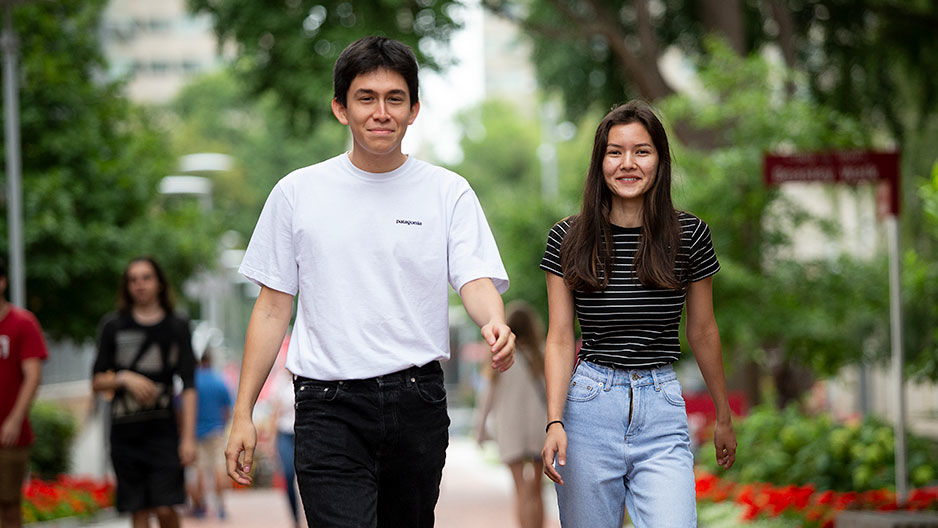 Andres Mondragon grew up in Lima, the coastal capital city of Peru, more than 3,500 miles from Temple University's campus. For Ayna Mammedova, nearly 6,400 miles separate Philadelphia and her hometown of Mary City, Turkmenistan.
Mondragon and Mammedova both enrolled at Temple, sight unseen. The two young adults from two different continents share one reason why they chose Temple.
"It's accepting of international students like me," said Mondragon.
"I chose Temple because I know I'll feel welcome there," Mammedova said.
Mondragon and Mammedova are Temple's inaugural recipients of the #YouAreWelcomeHere scholarship. Beginning this year, Temple and more than 50 other colleges and universities across the nation will offer two annual, renewable scholarships that cover at least 50 percent of recipients' tuition.
The program began in 2016 as a social media campaign to affirm to international students that U.S. institutions are safe, friendly and committed to their development. The campaign turned viral in 2017 and spurred the creation of scholarship programs at Temple and colleges and universities throughout the U.S. Temple was one of the first nine universities to make an initial commitment to the #YouAreWelcomeHere movement and, until this May, had spearheaded the national initiative.
"At Temple, we are so proud of the global diversity of our students. I was thrilled to see the #YouAreWelcomeHere campaign both start here and spread nationally," said Temple President Richard M. Englert. "I'd like to personally welcome and congratulate Ayna and Andres, the first recipients of our new #YouAreWelcomeHere scholarship. This scholarship program makes a Temple degree more accessible to deserving students from around the world. We are so happy to have Ayna, Andres and all of our international students who contribute to a university-wide intercultural exchange."
Mondragon and Mammedova expressed a commitment to their communities, at home and in their new home in Philadelphia—a characteristic of their applications that helped set them apart from their peers, said Martyn J. Miller, Temple's assistant vice president for international affairs.
"Andres aims to use his education to help his society become a more progressive place through diverse means, and Ayna proposed to share her culture with others here at Temple through her volunteer position with EducationUSA," Miller said. "Both students demonstrated clearly that not only have they already been leaders by example through the programs they have developed, implemented, and participated in within their local schools and communities, but they also convinced me that they will be able to demonstrate that leadership once they are at Temple."
Getting to know Andres Mondragon
Andres Mondragon celebrated his 19th birthday on June 24. Just four days later, he made his first visit to Temple. By then, he already had decided Temple was the place where he would continue his education. An only child, Mondragon said his decision to leave Peru and study in the United States is one shared by a handful of his peers.
"I have a circle of friends all going abroad to study," he said. "It has been a dream of mine to do the same since I was 8 years old. One of my best friends is enrolling at Temple, too, which is very important. Leaving home, I expect, will be a difficult experience. Having someone with whom I am familiar will help."
Mondragon will major in actuarial science at the Fox School of Business. Its designation by the Society of Actuaries as a Center of Actuarial Excellence aided his decision. Also, Mondragon said, he felt compelled to pick a major that will provide an education with practical outcomes.
In Peru, Mondragon has observed inequities in business opportunities for men and women. 
"Women, especially entrepreneurs outside of Lima, do not have the same economic advantages as men," he said. "My country is very centralized in Lima and, for those outside of it, there are underdeveloped areas and an inequality for its citizens. I grew up in a home where women are my role models, including my mother and grandmother. My father works very hard, and I've learned a lot from my mother and grandmother. They are my inspiration."
The #YouAreWelcomeHere scholarship will allow Mondragon to focus on his education, rather than juggling his academic commitments with an on-campus job.
"#YouAreWelcomeHere shows Temple cares about its international students," he said. "It was the only university I applied to that offers this scholarship. I knew I was inclined to choose a university like this. And the scholarship is a lot of money, and it will help greatly. My family and I are very proud of that and it will help me focus on my studies."
Before applying, I watched a lot of videos about #YouAreWelcomeHere. I was a bit nervous about the application process. Now, I am calm and confident. I know Temple is welcoming me. The university is so kind with its international students, and I am proud to be one of them."
-- Ayna Mammedova, #YouAreWelcomeHere scholarship recipient
Getting to know Ayna Mammedova
Ayna Mammedova was born in Balkanabat, a western city in Turkmenistan a short drive from the Caspian Sea. As a young girl, she and her family moved to Mary City, the nation's second-most populous city, known for its dry, hot weather.
"It's hot, but not humid like what I expect I'll experience in Philadelphia," she said with a laugh.
Mammedova celebrated her 18th birthday on Aug. 26, the first day of classes in the new academic year. She will major in biochemistry at the College of Science and Technology. She chose her major after finishing in second place regionally in a chemistry Olympiad organized by the Ministry of Education of Turkmenistan. She also is involved in her hometown's American Corner. Offered through the American Councils for International Education, American Corners throughout Turkmenistan provide sources for learning the English language, such as books, Internet access, visual presentations, and more.
"Almost all regions in my country have a corner," she said. "We organize activities for visitors to improve their speaking and writing skills. We have Undergraduate Cohort Advising for school students and Prep4Success for school graduates. These are academic programs for college preparation, from which I graduated."
Mammedova's goal is to earn both bachelor's and master's degrees in the United States and bring her academic and professional experiences to Turkmenistan.
"It's not a common major, and I want to contribute to biomedical research on common diseases," she said. "Most of the deaths in Turkmenistan are because of common diseases like cardiovascular disease. I'd like to, in some capacity, contribute to the prevention of those deaths."
While studying at Temple, Mammedova will live with her cousin, Gozel, a fellow CST undergraduate. Without her, or the #YouAreWelcomeHere scholarship, pursuing a Temple degree might not be possible.
"Before applying, I watched a lot of videos about #YouAreWelcomeHere. I was a bit nervous about the application process," Mammedova said. "Now, I am calm and confident. I know Temple is welcoming me. The university is so kind with its international students, and I am proud to be one of them."
—Christopher A. Vito