Alumnus funds ethics education for dental students
Larry Stone, a 1973 graduate of the Kornberg School of Dentistry, hopes his gift will help dental students feel more comfortable making ethical decisions in the ever-changing world of professional dental practice.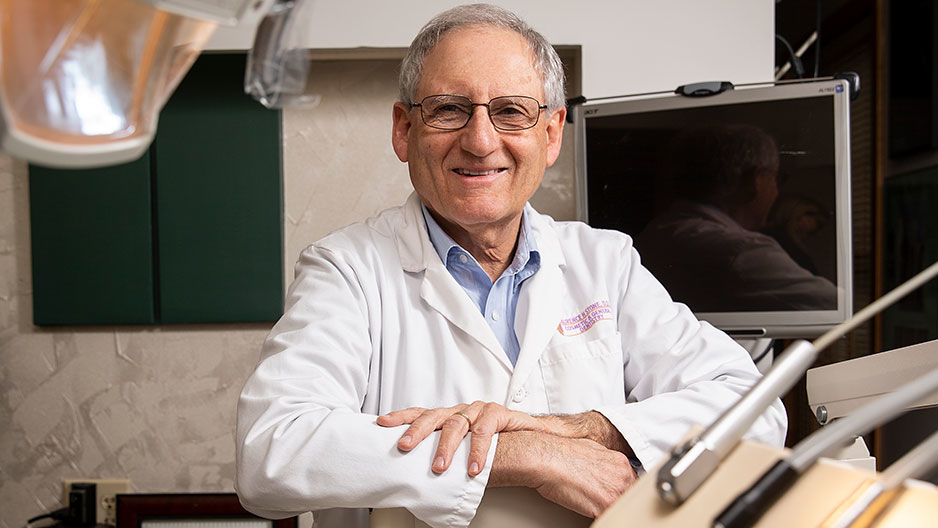 Since he graduated from Temple's Kornberg School of Dentistry in 1973, Larry Stone has watched his profession change significantly.
"Everything about dentistry is different today," Stone said. "The only thing that hasn't changed is humanity."
Stone, who continues to work part-time out of a dental practice he formerly owned in Bucks County, said that along with those significant changes in technology, care delivery, insurance, and practice management, ethical dilemmas for dentists have increased. So he decided to make a substantial gift to his alma mater to support additional education focused on ethics for current dental students.
Stone's gift will fund a seminar and program for students at Kornberg during which they will compete in solving hypothetical ethical dilemmas in order to win scholarship prizes. "I'm hoping that it will give them some guidance or reassurance to make decisions going forward, when they get out of school," Stone explained.
Stone's Temple roots run deep, so the gift to Kornberg was a natural addition to his already extensive history of giving back to the school that he credits with helping to shape his life. Stone previously established an endowed scholarship at Temple's Boyer College of Music and Dance named for his father, David L. Stone, an accomplished pianist and professor of music history who was the founding dean of the College of Music (now Boyer).
Following his father's Temple roots, Stone attended Temple for part of his undergraduate degree, competing on the track and cross-country teams, and then returned to Temple's later to study dentistry at Kornberg.
"I come from a family of musicians," Stone said, adding that his mother was also a gifted pianist and music teacher. "But I didn't get that gene. I got the dental gene."
A close neighbor, Leonard Abrams, DEN '55, inspired Stone to pursue dentistry as a career. The late Abrams was a renowned periodontist for whom an annual distinguished speaker lecture at Kornberg is named.
"He informed me that I was going to dental school, and that was the end of the discussion," Stone recalled of Abrams. "And I thought this is perfect for me. I get to work with my hands and use my interest in medicine and biology. It was like an arranged marriage that worked out."
Stone said it feels natural to continue to give back to the university that shaped his life and career even before he became a student.
"I've been very fortunate," he said. "I'm a Temple guy, and I'm happy to pay it back."