Professor's novel garners national media acclaim
Long Bright River, by Associate Professor Liz Moore, has been highlighted in the New York Times and on Good Morning America.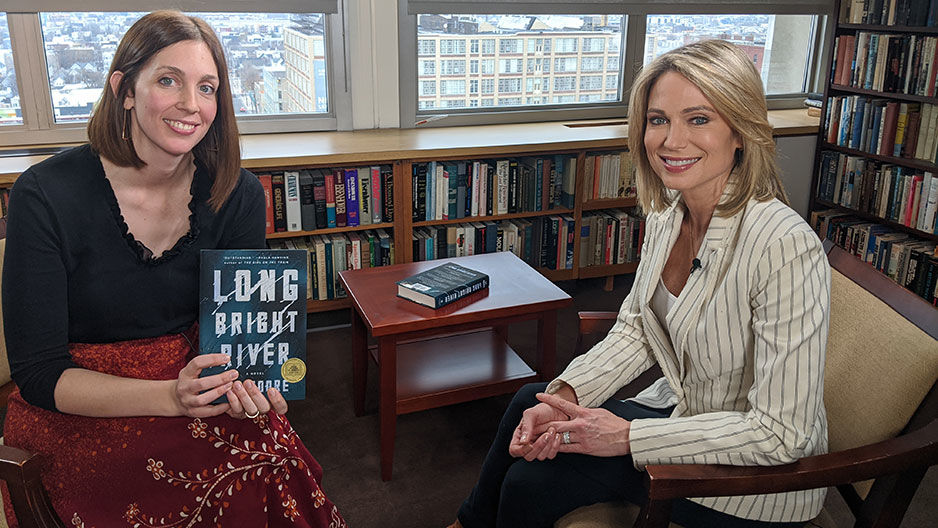 It's not every day that a newly released novel is hailed as one of the most anticipated novels of the year by the media. But that's exactly what College of Liberal Arts English and Creative Writing Associate Professor Liz Moore accomplished earlier this month with Long Bright River.
Long Bright River, Moore's fourth novel, released earlier this month, was met with high praise from publications including the New York Times, the Philadelphia Inquirer, the Wall Street Journal and the Washington Post. Readers have also responded positively, propelling the book to the top 10 overall in fiction on the New York Times Best Sellers List, and to No. 6 on the hardcover fiction best sellers list as of Jan. 22. 
Some have even predicted that the book will attain as wide a readership as books like Gillian Flynn's Gone Girl and Paula Hawkins' The Girl on the Train—perhaps because, like those novels, Long Bright River is a crime drama with a propulsive plot and a female protagonist. 
On Friday, Jan. 24, Moore appeared on Good Morning America in a segment filmed on Main Campus and in Philadelphia's Kensington neighborhood, where the novel is set.
Author @LizMooreBooks talks about our #GMABookClub pick "Long Bright River", an emotional novel exploring addiction and family: "I think 'Long Bright River' tells a story that a lot of people can relate to, for better or worse." https://t.co/5KlVpfiWCW pic.twitter.com/C0e0VzbKSn

— Good Morning America (@GMA) January 24, 2020
In her Good Morning America interview, Moore talks about the book's long journey from idea to reality. Writing a novel usually takes her four years from conception to completion. It's now been two years since she sold Long Bright River to Riverhead Books, and the novel has since been optioned by Hollywood for a film adaptation. 
Releasing the book to such high praise and media attention has been a happy but hectic experience for Moore.
"I've got two little kids. I teach full time," she said. "I feel good in this moment, and I also always have this other awareness that the book is about the pretty serious subject of addiction and all the things that go hand-in-hand with that. Also I feel a little bit subdued when I think about what the book is about, and so I kind of swing back and forth between those two emotions."

Read more about Moore and Long Bright River.