Journalism professor starts endowed scholarship fund to honor dog's life
Mookie, Associate Professor George Miller's Shih Tzu, was a well-loved fixture on campus, especially at Klein College of Media and Communication.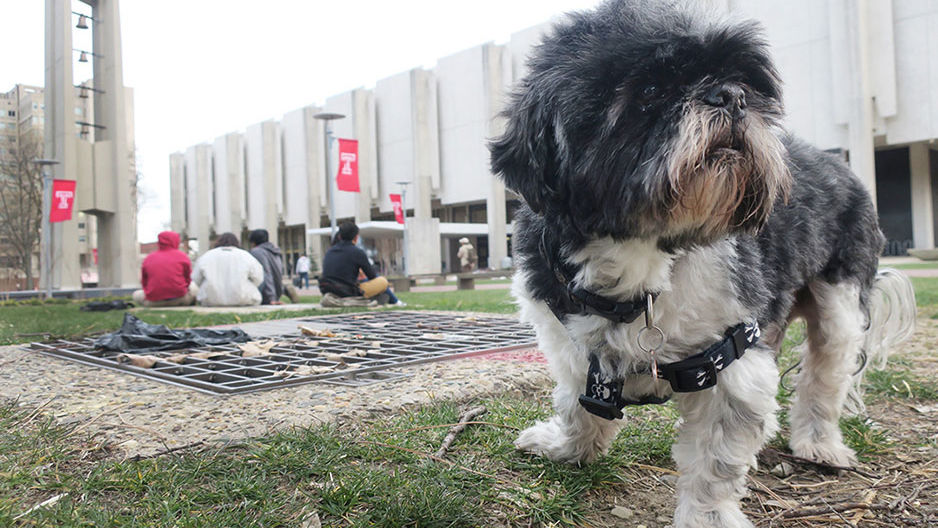 When students and fellow faculty members would see Associate Professor George Miller on campus, they'd often look down toward his feet before they'd say hello to him.
They were searching for Mookie, Miller's beloved sidekick, a black and white Shih Tzu, whom Miller had in tow so often that he became a fixture on campus, especially in Annenberg Hall—home to Klein College of Media and Communication—since Miller joined the faculty at Temple in 2007.
"Most people greeted him before they would greet me," said Miller, who is currently on leave from his role as an associate professor of practice in the Department of Journalism while serving as the associate dean for academic affairs at Temple University, Japan Campus.
In August, Mookie, who was nearly 17, passed away, setting into motion an idea Miller had been mulling for several years: an endowed scholarship fund that would enable students to study abroad. When Miller finally started the fund this fall, he named it for his four-legged companion.
"He really was part of the institution, so I just wanted to do something to memorialize him," Miller said. 
The Mookie Miller Fund for Adventure in Education will provide scholarships to students within Klein College who have financial need to support study abroad opportunities. Miller said he's been thrilled to see so many former students, journalism industry professionals and colleagues—all who undoubtedly knew and loved Mookie—make gifts to support the scholarship in the fund's first few months in existence.

Mookie would often greet students during Miller's office hours at Annenberg Hall. (PHOTO: George Miller)
Miller has a deep passion for international education and travel; before he took on his current post at Temple Japan, he taught internationally at Temple-affiliated programs in Northern Ireland, Italy and London. His goal with the Mookie Miller Fund is to help as many students as possible to study abroad.
"When you go out and see the world, it changes your perspective on everything," Miller said. "I think everybody should do it, and I think college is the perfect time to do it … most people may never again have the opportunity to go live in a place for three to four months at a time."
Wherever Miller went when he lived in Philadelphia, Mookie typically wasn't far behind. He worked as a photographer and reporter at the Philadelphia Daily News when he adopted Mookie, so the pup even spent time racing through the halls of the famed old Daily News/Inquirer building at Broad and Callowhill—a fitting place for a dog who would later essentially become an honorary staff member in Temple's journalism school.  
"He would go to my meetings with [Klein College Dean] David Boardman," Miller said. "I ran a music magazine, so he went to concerts. He went to the haircut place and to the pharmacy. He's been to the houses of all my friends…. He was everywhere."
Miller fondly recalls times when Mookie would sleep behind the podium while he taught and surprise his students midway through class, offering a moment of comedic relief. 
"Most students didn't even know he was there, and he would wake up while I was lecturing and start wandering around," he said. "All of a sudden, you'd hear the students squealing and laughing."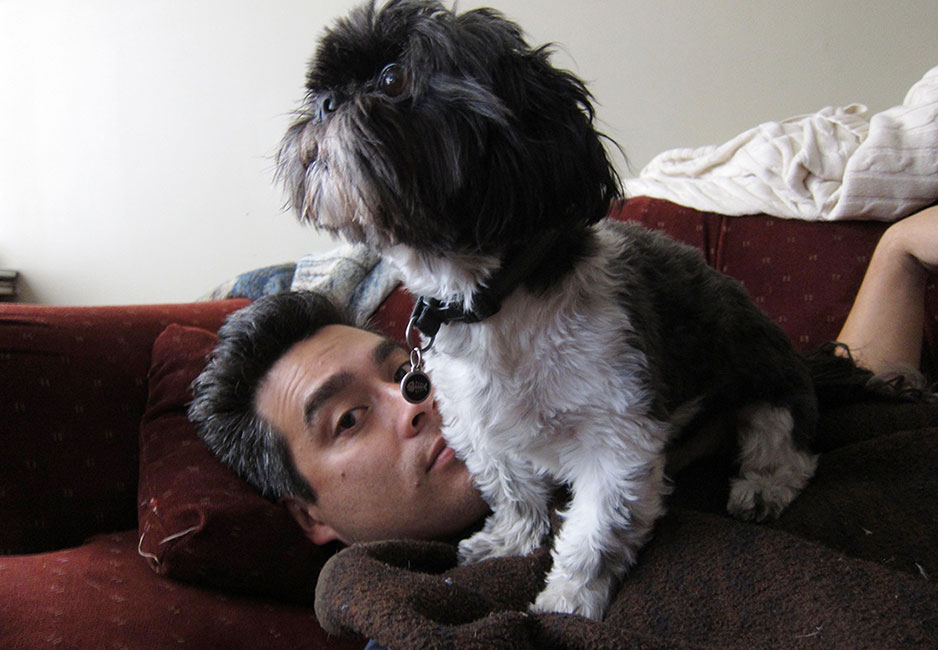 Mookie and Miller
Make a gift to the Mookie Miller Fund for Adventure in Education.