Student and faculty musicians are Grammy hopefuls
More than 90 musicians, including faculty members Terell Stafford and Dick Oatts, performed on a Grammy-nominated record composed by superstar artist Vince Mendoza.
Video Production:
Gina Poulos
Temple's Boyer College of Music and Dance is hopeful that come the Grammy Awards on Jan. 26, its recipe of more than 90 musicians, 50-plus hours of rehearsals, a 12-hour recording session and one superstar composer will turn to Grammy gold for the Temple University Studio Orchestra and the college's record label, BCM&D Records.
In November, BCM&D received its fourth and fifth Grammy nominations for "Love, A Beautiful Force," one of three movements that appears in Constant Renaissance, arranged specially for the Temple University Studio Orchestra by six-time Grammy winner Vince Mendoza. Boyer commissioned Mendoza to compose the piece to be performed by the orchestra featuring Terell Stafford, director of Jazz Studies and chair of Instrumental Studies, on trumpet, and Professor and Artistic Director of Jazz Studies Dick Oatts on alto saxophone. 
"It features the entire Temple Orchestra with the Temple Jazz Big Band, and it was quite an incredible process to bring together," Oatts said of the movement, the stunning result of an uncommon marriage between classical and jazz musicians. "Great composing always makes for great performances because you can hear the inspiration."
"Love, A Beautiful Force" is nominated for Best Instrumental Composition and Best Arrangement, Instrumental or A Cappella. Constant Renaissance is an homage to Philadelphia jazz legends John Coltrane, Dizzy Gillespie and Billie Holiday. BCM&D Records also received Grammy nominations in 2010 and 2012. 
The Grammy nominations, a rare achievement for a university-based recording studio, are part of Boyer Dean Robert Stroker's vision to keep the college on the leading edge of the music world. 
"We started this record label to better prepare our students for the professional world, and I'd say we're doing a pretty good job, thanks to our terrific faculty and staff," Stroker said. "When you look at these categories, it is important to realize that we are competing against the top professional musicians in the world. There are no collegiate categories. It would be like a college baseball team competing in the World Series."
 
Led by Stafford, Oatts and Mendoza, nearly 100 students at various levels of study in the orchestra and jazz band rehearsed the piece, performed it at the Kimmel Center, and then recorded it in a massive daylong undertaking at the Temple Performing Arts Center. Associate Professor of Music Technology David Pasbrig, engineer for the Boyer Recording Studio, served as the recording engineer. 
"It was really incredible for me, when we did the performances at the Kimmel, to turn around and see some of these students we've taught for four years and to see us making music with them as opposed to just leading them through music. It's a beautiful thing," said Stafford, also a Laura H. Carnell Professor of Jazz.  
"Love, A Beautiful Force" is nominated alongside the symphonic suite from Star Wars: Galaxy's Edge, among other noteworthy pieces.
"It is an inspiration for us to work with superstars like Terell Stafford, Dick Oatts and Vince Mendoza," said Azer Damirov, BYR '11, '14, who is studying violin performance in the Doctor of Musical Arts Program and performed on the record.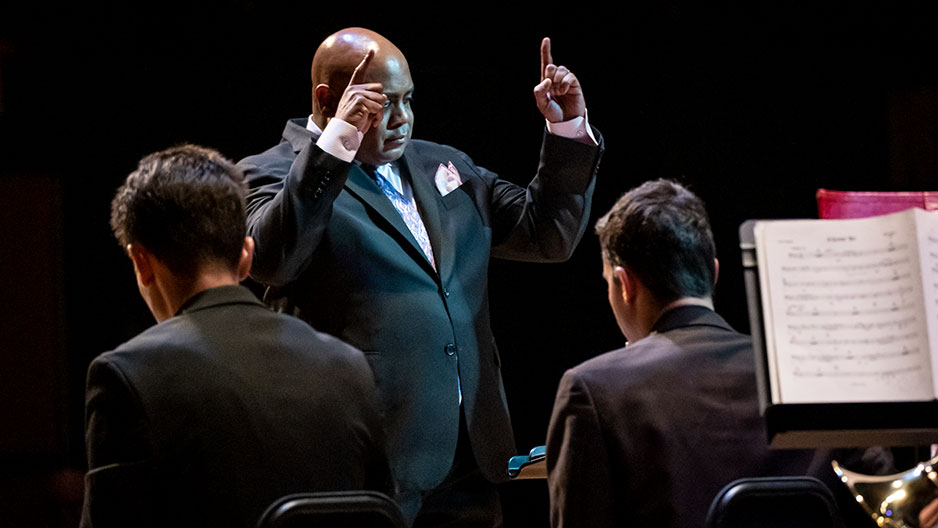 Stafford conducts the Jazz Band during a performance in December 2019. (PHOTO: Joseph V. Labolito) 
For students, participation in this project, the opportunity to receive instruction from and play a piece penned by Mendoza, and the subsequent Grammy nominations are all significant achievements that will undoubtedly influence their future in the music industry. 
"When you have a person like Vince who can come in and conduct and lead and explain, it adds a different perspective to the music and adds a different layer of education to what students can get at this college," said Stafford, a Grammy Award winner himself. "It's really unique to have that, and it's really unique to have faculty who perform with the students."
Brooke Mead, BYR '18, a student in the Master of Music Performance Program who played viola on the record, said the experience will be an invaluable addition to her portfolio as she sets out into the professional world.
"When you put on a resume that you've recorded, that's one thing," Mead said. "But when you put on a resume that you've recorded something modern, you played a 21st century piece or arrangement, worked with a composer and that it's nominated for a Grammy, it opens so many doors."
Both Stafford and Oatts praised Stroker, Boyer's dean, for his dedication to keeping the music program ahead of the curve by commissioning an artist like Mendoza to not only arrange and compose a piece specially for the Temple University Symphony Orchestra, but also to come to Temple to work directly with students and faculty on the piece.
"It was a learning experience for all, and it's very unusual for colleges to do this, especially to have an artist of his magnitude come for a whole week," Stafford said.
For Oatts, working on a piece like "Love, A Beautiful Force" represented the realization of a dream more than 40 years in the making.
"This has always been a dream of mine, to play with such an amazing conductor and composer, and with an amazing trumpet player," Oatts said. "I've been given this gift at Temple University, and it's such a beautiful project to be a part of."