The best of the decade: Temple edition
If anyone knows how much can happen in 10 years, it's us. These are Temple's top moments, from campus developments and incredible student and faculty feats to some sillier happenings.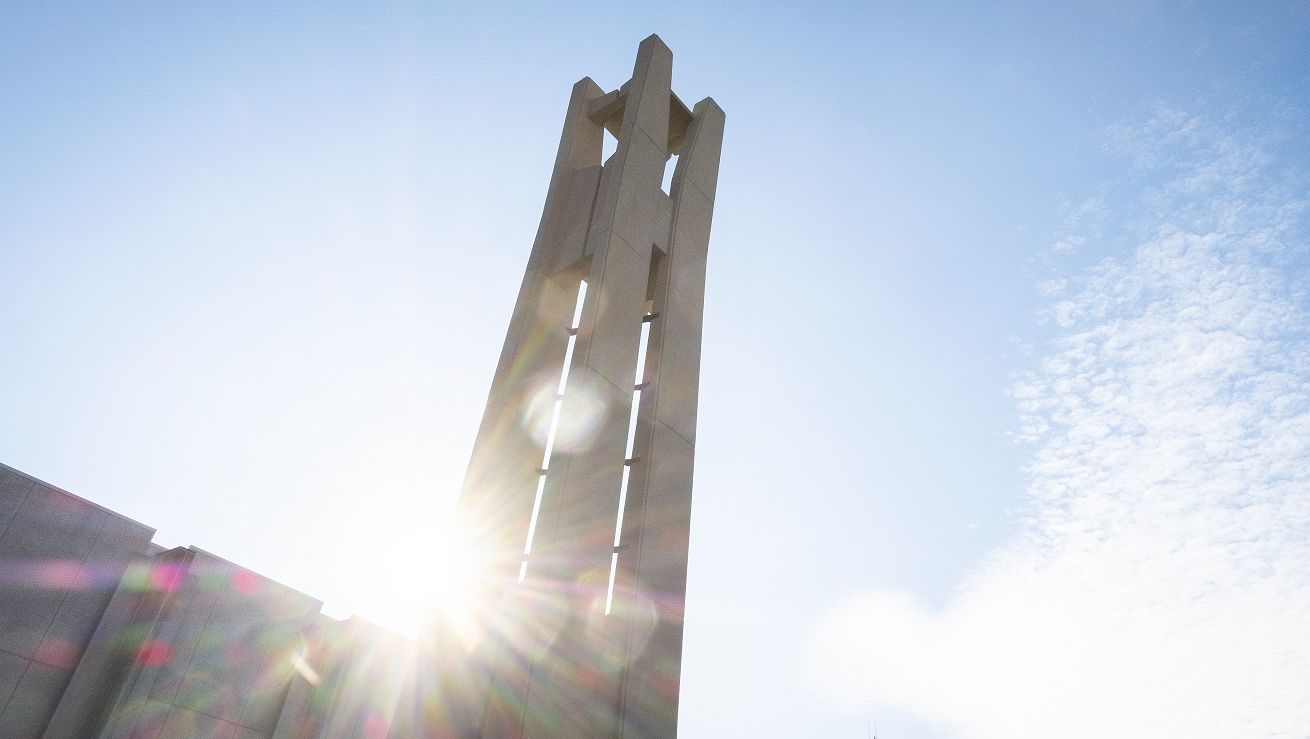 Over the past decade, our campuses have transformed.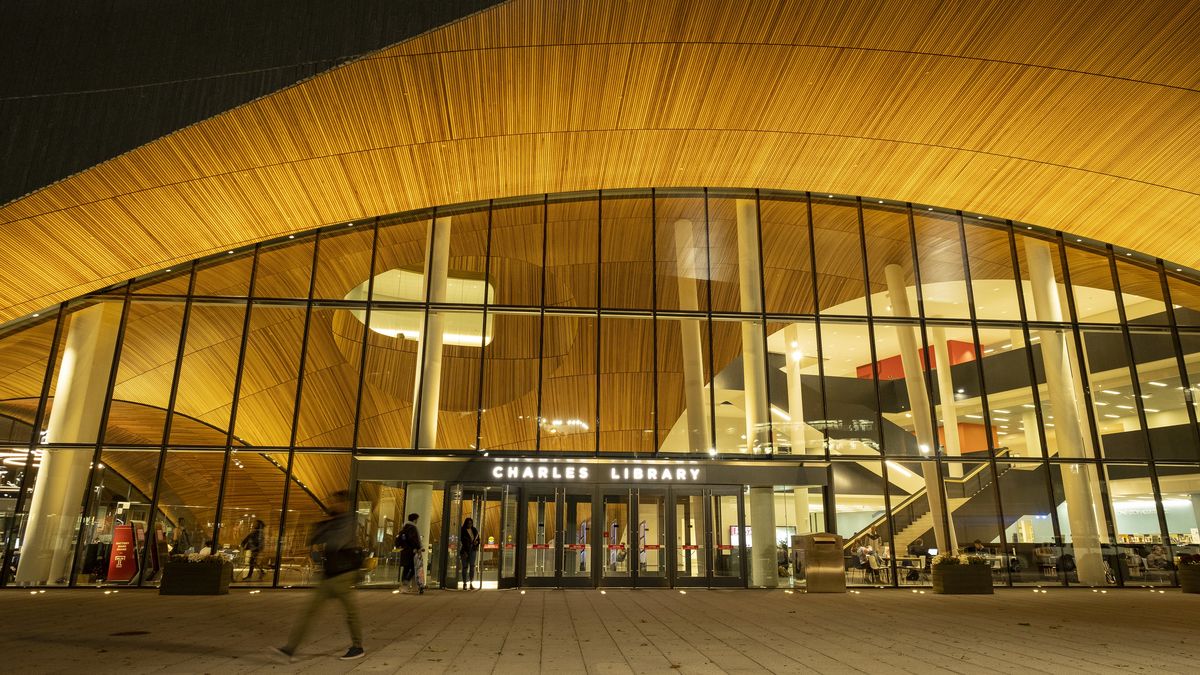 Charles Library opened at the start of the fall 2019 semester. Photography by: Joseph V. Labolito 

So much of what we have today began in the Baptist Temple, now the Temple Performing Arts Center, on North Broad Street. Built in 1891, the historic building reopened after significant renovations in 2009, revealing the beautiful stained glass windows that had been hidden for more than 30 years. Mitchell and Hilarie Morgan Hall opened its doors in 2013, and with it we were finally able to insert a Temple "T" into the Philadelphia skyline. The Science Education and Research Center redefined what research is at Temple in 2014, and in 2017, we welcomed the Aramark Student Training and Recreation (STAR) Complex (and that Jamba Juice!). Also in 2017, we met a new Owl statue to take selfies with, and Founder's Garden and the Bell Tower at Lenfest Circle got a makeover, becoming even brighter and more picturesque. 
And 2019 holds two major milestones: Temple University, Japan Campus relocated in Tokyo and finally has a true university setting, and after years of patiently (and not so patiently) waiting, Charles Library officially opened. 
Our students' successes reminded us all that perseverance conquers in the classroom …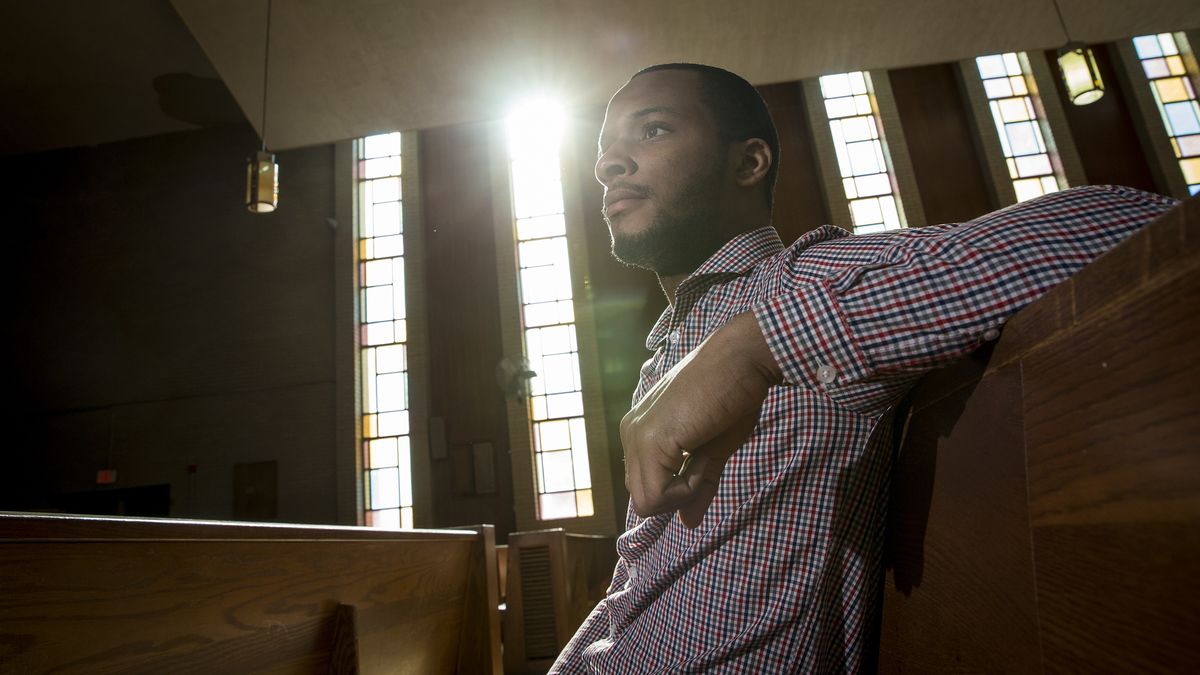 Hazim Hardeman, KLN  '17, at Graterford Prison, which he focused on in his Rhodes Scholarship essay reflecting on his experience with Temple's Inside-Out Prison Exchange Program. Photography by: Joseph V. Labolito 

Hazim Hardeman being named our first-ever Rhodes Scholar in 2017 is more than a standout moment of the decade; it's a moment that will forever be a part of our story—our history. Hardeman's not the only history-maker we've seen this decade. Marcus Forst earned the distinction of being Temple's first Goldwater Scholar in 2018, and also became our first Knight-Hennessy Scholar in 2019. Just a year after our first, we had a second Goldwater Scholar, Mitchell Young, and we continue to be a top producer of Fulbright Scholars.
… on football fields and basketball courts, in gymnasiums and even on the water.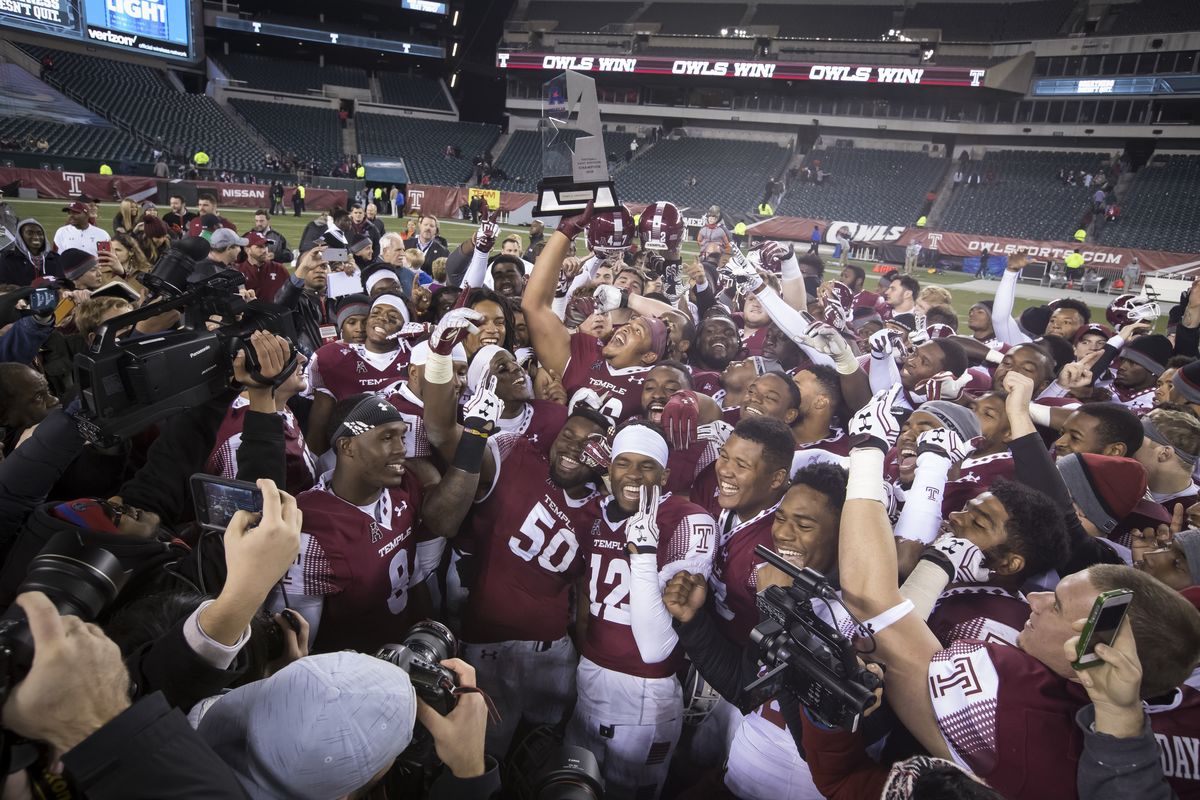 In 2016, Temple football secured the American Athletic Conference East Division Title, beating East Carolina 37-10. Photography by: Betsy Manning 

Over the past decade, our Owls have played at six bowl games—five of them consecutive from 2015 to 2019, setting a university record. And we do still like to think about our 2016 American Athletic Conference win, as well as the legendary (LEGENDARY) victory over Penn State in 2015. Our men's basketball team entered March Madness six times, and the women's team three this decade. Women's gymnastics, for the first-time ever, brought home an Eastern College Athletic Conference championship title, and our crew and rowing teams competed in the internationally renowned Henley Royal Regatta in 2018. 
We've had breakthroughs, discovered more than ever, and the world noticed.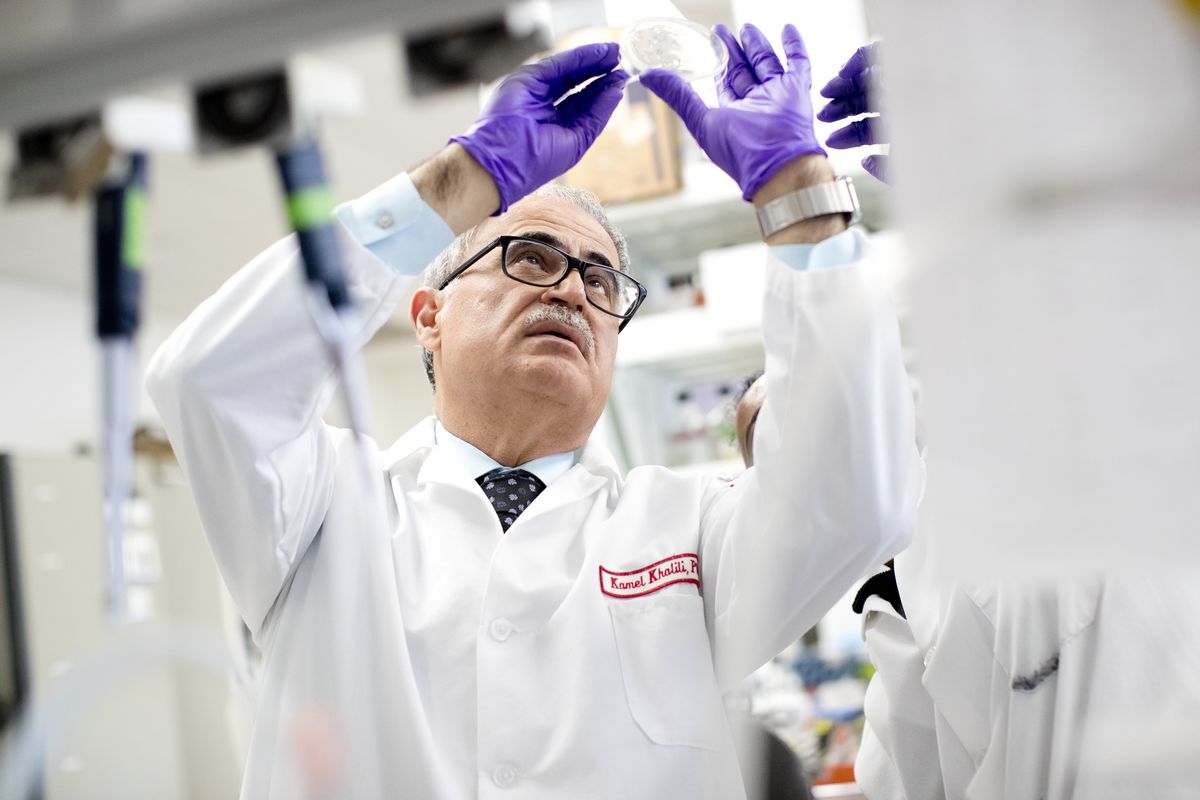 Laura H. Carnell Professor and Chair of the Department of Neuroscience Kamel Khalili (pictured) and his team at the Lewis Katz School of Medicine have been dedicated to moving HIV research forward for years. Photograghy by: Ryan S. Brandenberg

In 2016, we were elevated to an R1, or "highest research activity" Carnegie Classification of Institutions of Higher Education. This status places us among the top 4 percent of all four-year institutions in the nation, which makes sense: A research team lead by Kamel Khalili, Laura H. Carnell Professor and Department of Neuroscience Chair and director of the Center for Neurovirology and the Comprehensive NeuroAIDS Center at the Lewis Katz School of Medicine, continues to lead the search for a cure for HIV and has made several major breakthroughs over the last decade; Professor of Physics Jeff Martoff was awarded Temple's first ever W. M. Keck Foundation grant to investigate dark matter; and Sara Goldrick-Rab, professor of higher education policy and sociology, as well as a relentless advocate for college access, landed a multimillion dollar grant from the U.S. Department of Education's Institute of Education Sciences. Goldrick-Rab also won Temple's first Andrew Carnegie Fellowship for her scholarship and activism around food and housing insecurity among college students. 
And through it all, there was still time to joke around, throw an Owl wedding and get a little messy for a good cause. 


We mocked up what "significant changes" to our Temple "T" would look like as part of our 2018 April Fools jokes. Rendering provided by Temple University

In 2018, we told everyone we were changing our logo to be a lowercase "t"—and it was the greatest April Fools joke of all time. We're still not sure what was funnier: the prank itself or the reactions. Our "T" is iconic and not to be messed with, and the same goes for Stella, who became our official live Owl mascot in 2013, though it feels like she's been with us forever. Sherlock, her husband, probably feels the same—the two very real, very live Owls got hitched at the Elmwood Park Zoo this past Valentine's Day. And finally, a sweet and sticky moment: In 2016, we broke the Guinness World Record for the most peanut butter and jelly sandwiches made in one hour, all to be distributed to more than 15 food banks in the Philadelphia area. 

Thanks for an incredible decade, Owls! Here's to what 2020 and the next 10 years will hold for us. 

-Samantha Krotzer