A million-dollar gift shines a spotlight on the Schneck Anatomy Lab
The Schneck Gross Anatomy Lab gives Temple students practical experience in anatomy and imaging technology.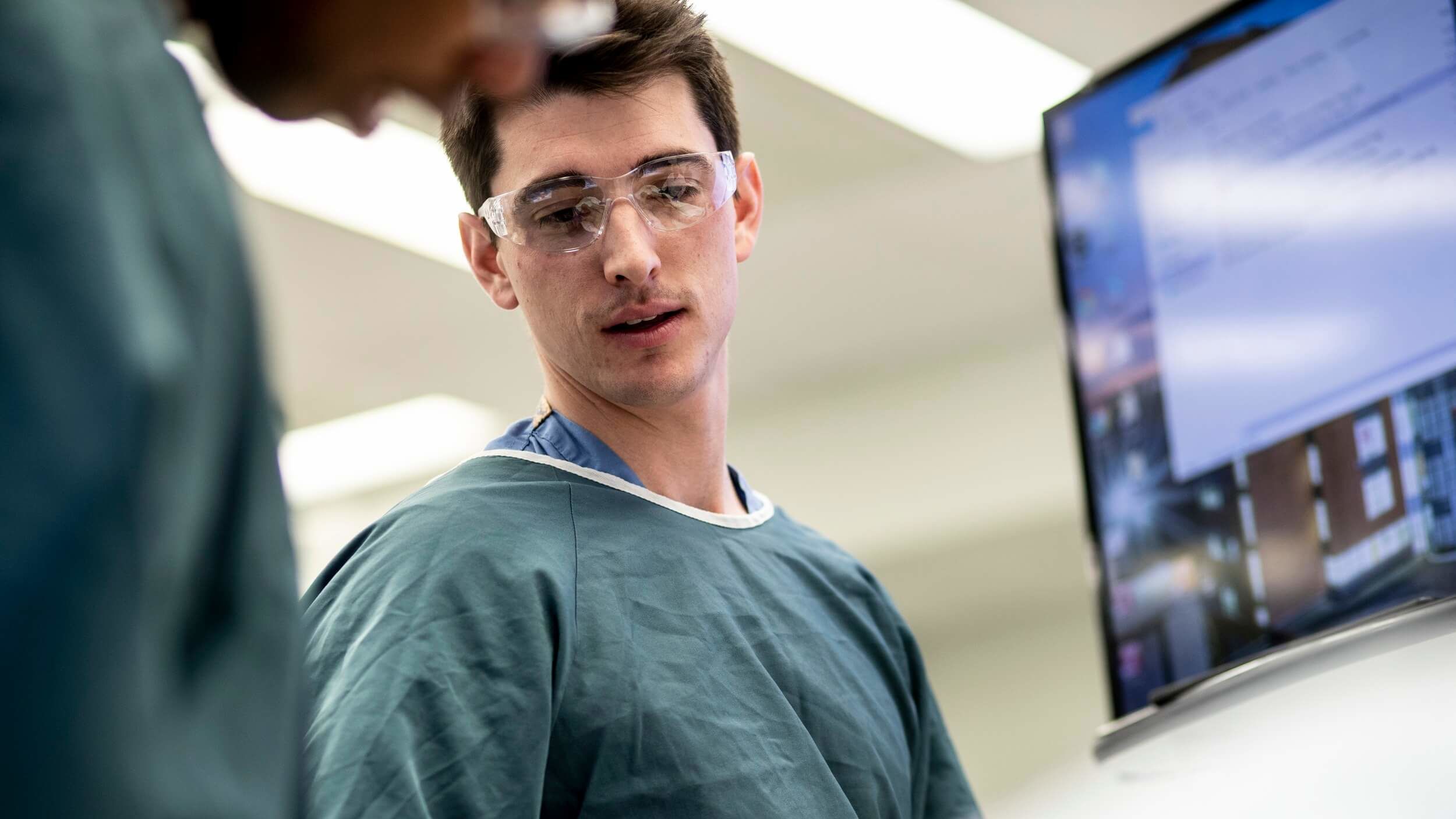 The right class inspires you for a lifetime. That's how S. Jay Hirsh, MED '70, feels. It's why he donated $1 million to the Schneck Gross Anatomy Lab at the Lewis Katz School of Medicine—a gift to the school that helped shape his career as a doctor.
His donation will create the S. Jay Hirsh, MD Endowed Anatomy Lab Fund, which will help ensure students in the lab always have access to the most sophisticated environment and tools for teaching and learning.
Named in honor of Carson D. Schneck, MED '59, '65, who taught at the Katz School of Medicine for five decades, the Gross Anatomy Lab—gross in this sense means large—is home to the first course medical students take at Temple and serves as their introduction to medical school as a whole. 
Every day, for seven weeks, first-year students work their way across the human body in stages, from the limbs to body cavities to the head, dissecting specific regions one at a time. 
There are no lectures. Instead, professors lead conferences in which students discuss medical cases that help put the anatomy they have studied into a clinical context.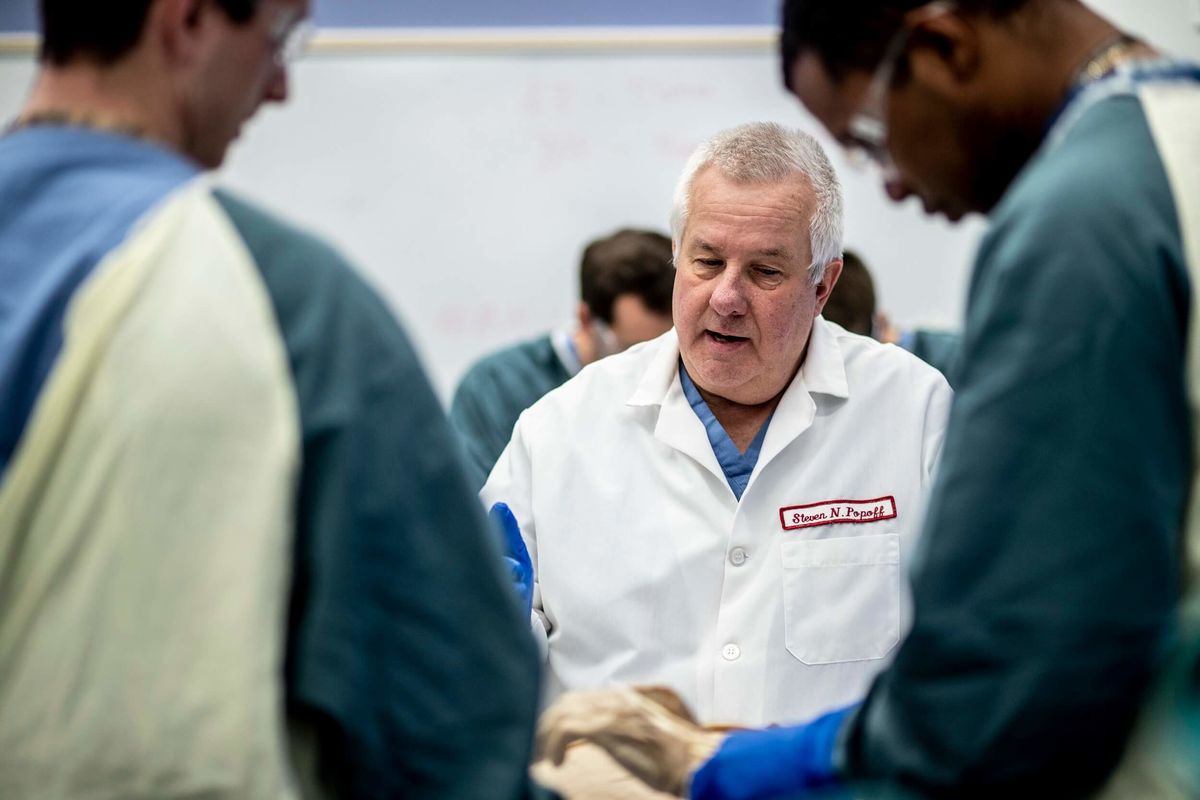 Popoff teaches students in the lab. (Photo by Ryan S. Brandenberg)
"We teach an anatomy course here that is really taught strictly from the basis of clinical correlation," said Steven N. Popoff, the John Franklin Huber Chair of Anatomy and Cell Biology at the Katz School of Medicine, who teaches in the lab. 
Clinical correlation is an approach that encourages students to make diagnoses based on a combination of physical examinations, clinical findings, medical history and imaging results. Students dissect the head and neck, for example, then discuss diseases or injuries which affect the function of specific cranial nerves. 
"They're not just memorizing structure without having any context to put it in," Popoff said. "They're learning anatomy that's then put into some form of clinical context."  
Students receive a study guide and dissection manual developed by Temple's faculty, and electronic copies of the Schneck Notes: More than 400 pages, written mostly by Schneck, that focus on the clinical relevance of the anatomy they study.  
They are also taught how to look at anything from a simple X-ray to an MRI scan, becoming familiar with the imaging technology they will use as practicing doctors. 
With imaging and computer programs an increasingly important part of teaching anatomy, Hirsh's gift will support the lab's investments in new technology and ensure it's always ready to serve the next generation of students. 
"For a first course," Popoff said, "[the lab] certainly gives them a real taste of medical school that sets it apart from previous educational experiences they have had."
Students consult electronic copies of their study guides and dissection manuals as they work. (Photo by Ryan S. Brandenberg)
Besides being their first class, the lab is also the first contact most students have with cadavers. "I know a lot of students are timid at first—I definitely was—to pick up a scalpel and make that first incision," said Harrison Davis, a first-year medical student. 
They're worried they might harm the body in front of them, even though the person isn't alive.
"Not everybody wants to be a surgeon. Some people really love it. Every day they load the scalpel with a blade and they get right to it. And other people, that's not their thing," Davis said. "A lot of students have to go past their comfort zone."
"The cadaver is your first patient," said Anne Coyle, a second year. Working on one in the lab encourages you to figure out how to "learn and get what you need from them and also make sure to respect who they are or were." 
For Coyle, her hands-on experience in the lab was the turning point for her deciding to become a surgeon. "Everything was so tangible," she said. "The things in anatomy are things that I'll never forget learning."
The lab also changes the way students see the human body, a biological wonder we often take for granted. 
Take the heart. "It's pumping every single second of your life. But then you're actually seeing it in a person's body and holding it," Coyle said. "For me it just takes it to a whole other level of connection."
No two bodies are completely alike. "Every cadaver is different. Every person's anatomy is different," said Justin Ly, also a second-year student. "They all have similar structures, but how they look on different body types is completely different."
For some medical students, anatomy class is a rite of passage. (Photo by Ryan S. Brandenberg)
In their fourth year, students can choose to go back into the lab for a refresher on what they've learned and to specialize in the anatomy that interests them. 
"Everything else that you do in medical school, I think there's really not many instances where you don't think back to the organs in the body, or just the anatomy," said Anthony Coppola, a fourth year. 
"It's almost like a rite of passage," he said. "When you're doing anatomy you feel like you truly are a medical student because you're doing something so different, something that not many students are privileged to get to do."
Working in the lab taught Hirsh a great deal besides anatomy. "It taught me that I was now part of a group of very special men and women who were on a long journey to becoming a doctor," he said. "It taught me companionship. It taught me family values," and "it taught me to respect the body that we were working on."
He remembers all his teachers fondly, but Schneck, who had just begun his teaching career when Hirsh met him, stood out. "He was an extremely brilliant gentleman who loved his work," Hirsh said. "He knew how to teach, he knew what to teach. And he was like an encyclopedia."
Hirsh had wanted to make a significant gift to the Katz School of Medicine for a long time. "It wasn't something new. It was something I always wanted to do," he said. "Because Temple, this institution was the first institution that really made me believe that I was part of their family."
"That's something that got me through medical school, being, feeling like I was part of that place. It meant so much to me."
Make a gift to support the excellent medical education, research and clinical care at the Lewis Katz School of Medicine by visiting: giving.temple.edu/givetomed. 
—Edirin Oputu