Boyer student lifts her father's spirits with music
Allie McCrea, studying for her graduate degree in music therapy, turned to music to help her father heal.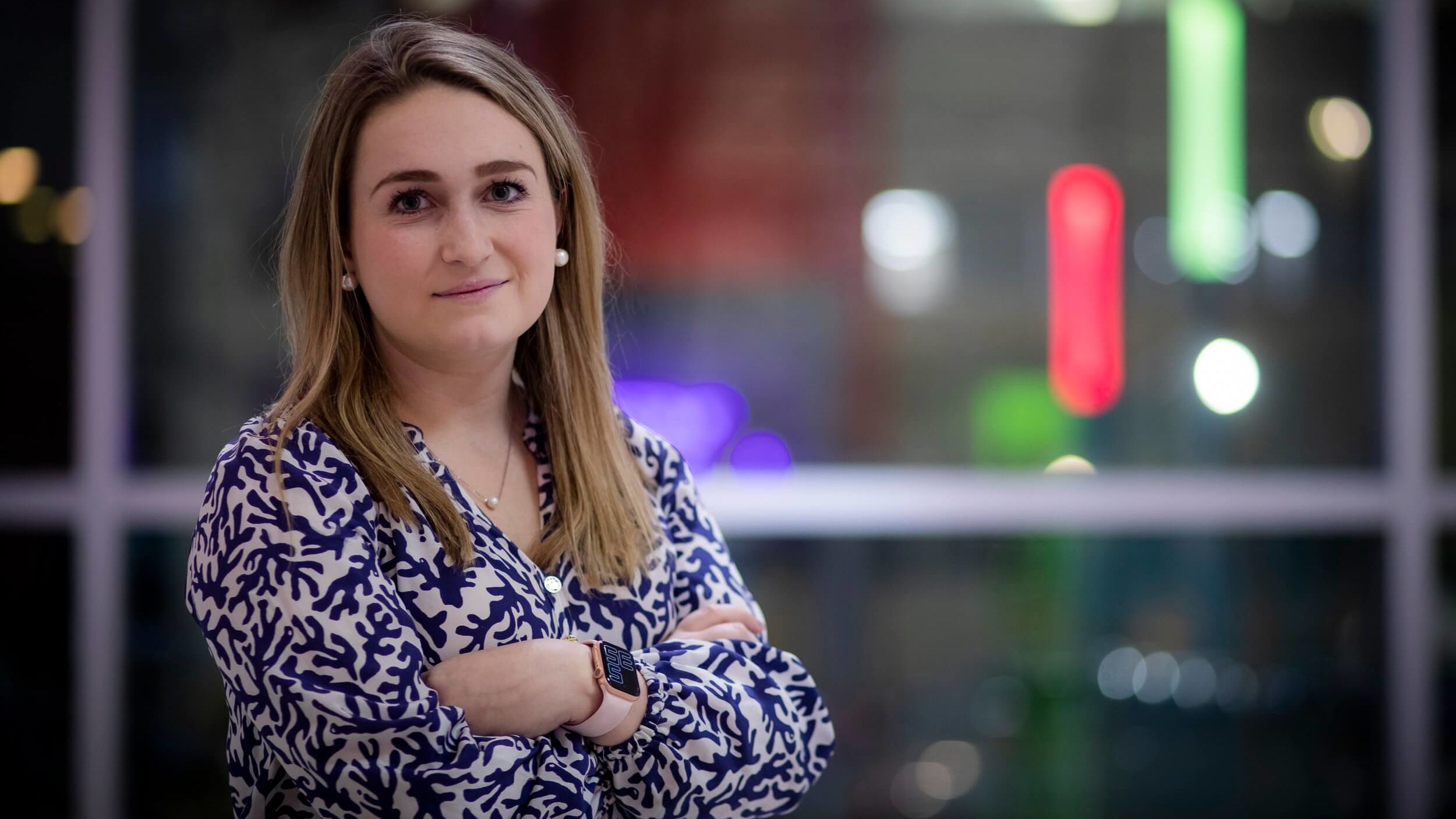 When Allie McCrea chose to study music therapy, she never imagined one of the people she would end up helping would be her own father—or that a video of the two of them singing together would go viral.
Last April, her father, Kevin McCrea, CLA '88, an Army veteran and a Temple graduate, went into the hospital for spinal reconstructive surgery. Three days later, he suffered two cardiac arrests—the beginning of a months-long ordeal that also included stints on a respirator and several bouts of pneumonia. 
Kevin was injured in an Army paratrooper training exercise in 1983 and honorably discharged. After leaving the military, he studied criminal justice at Temple before moving on to law school. But his health gradually deteriorated: He eventually suffered another back injury, partly as a result of the first during training.
As his hospital stay grew longer and longer, he needed a boost, and his daughter was determined to lift his spirits. 
"I just wanted to do what I could to help him," Allie said. So she used what she knows: music.
In September, Allie sat by her father's hospital bed and got him to sing along with her to "Up," by country music singer-songwriter Thomas Rhett. Her mother recorded the moment so they could share it with Allie's twin younger siblings, seniors in high school who couldn't make it to the hospital that day. 
My dad, am Army vet, has been in the hospital for over 7 months-just trying to get home. He's always been so positive but recently he has been more depressed & anxious. This vid was taken a few months ago. @ThomasRhett can u give him so well wishes?!? Twitter do ur thing!!!! pic.twitter.com/VYjqcYjGpe

— •allie mccrea• (@allie_do_is_win) December 4, 2019
Allie later shared the video on Facebook, to mark her father's sixth month in hospital. After Kevin's health declined and he spent Thanksgiving in intensive care, Allie shared the video again, this time on Twitter. 
"I posted it because I was looking for any kind of positivity to come our way," she said. "I never expected it to blow up the way that it did."
The response was overwhelming. The clip has now been viewed more than 600,000 times on Twitter, and Thomas Rhett responded personally with a video of his own. His record label also gave Allie $10,000 toward her tuition, so she can concentrate on finishing her degree.
"It brought us a lot of light in a really dark time. And it uplifted us in a way that I don't think really anything else could have," Allie said.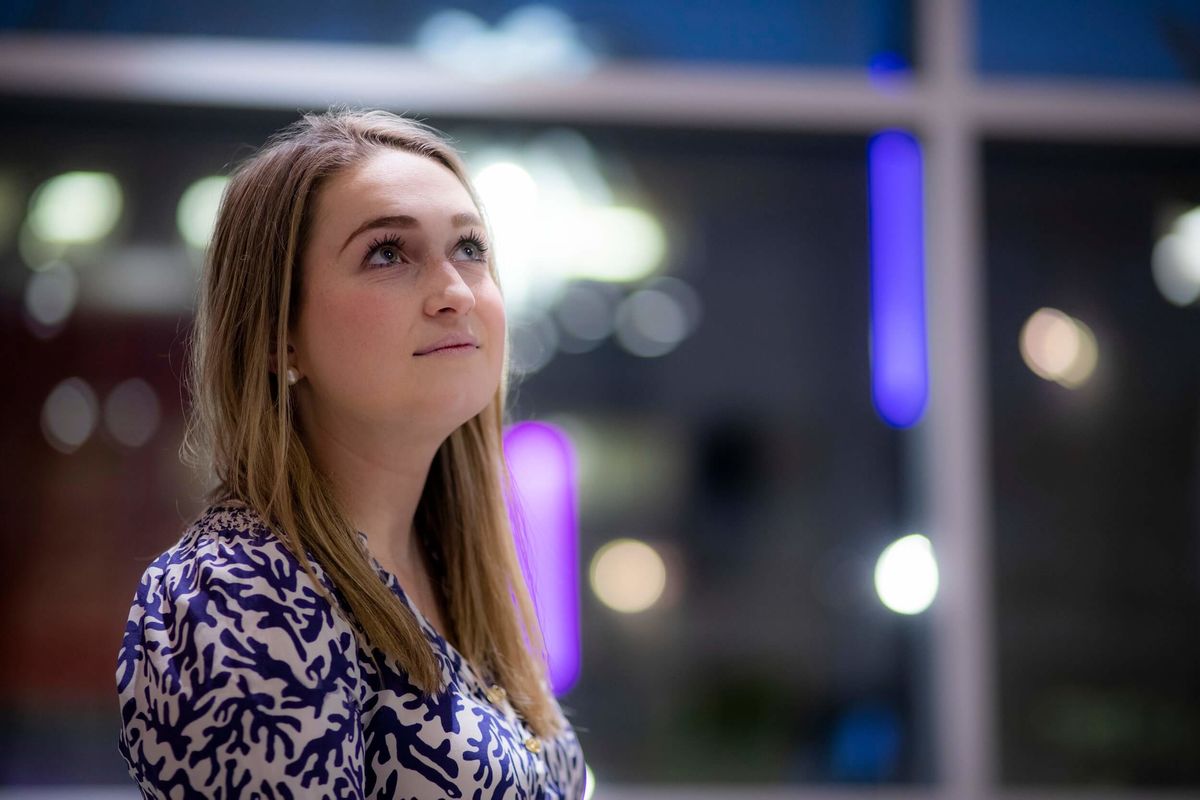 Allie McCrea believes music can help people heal. (Photo by Ryan S. Brandenberg)
People have been in touch from all over the world. 
"So many people have reached out to me and said they were going through a rough time, and seeing the video of my dad made them feel optimistic about things getting better," she said. Her father has always been an optimist, but being able to inspire hope in others has been a real gift.
"Nothing has ever gone his way and he has never complained about it," Allie said.
Her father's enduring optimism helped inspire the song Allie chose for him. Kevin is a big country music fan, and Rhett's song is all about staying afloat when life threatens to engulf you. 
"When I first heard it I said, "This is Dad,'" Allie said. She played it to him that day. 
"He loved it. He resonated with it," she said. Her father is the sort of man who sees every struggle as a chance to learn and treasures every joy even more because of it. "That song embodies how he lives his life."
Kevin is also one of the reasons Allie chose to study at Temple. He loves the university, and becoming an Owl was a way of sharing something precious with him. 
"He always felt that Temple gave him a lot of hope in his education. I'm feeling the same way," she said. "It's just been an incredible community to be with and have all this happen. I just can't imagine being anywhere else."
Allie and her father's story has also been featured by NowThis and on Fox 29.
—Edirin Oputu