Sophomore becomes actor of 'Importance'
Theater studies major Audrey Ward is seizing an opportunity to perform at the city's famed Walnut Street Theatre.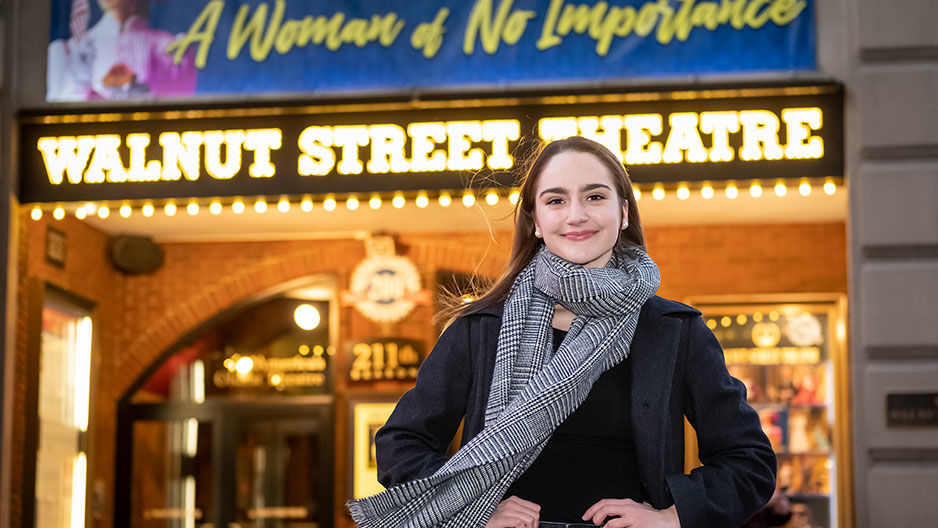 When sophomore Audrey Ward finishes a full day of classes and studying, most days of the week, she grabs her bag and hops the Broad Street Line bound for Center City to head to the famed Walnut Street Theatre. 
Ward is performing as a paid professional in a key role in Oscar Wilde's A Woman of No Importance on the Walnut's Mainstage. The play began with previews on Jan. 10 and runs through March 1, and Ward appears in seven to nine shows a week, depending on how many matinees are scheduled. 
It's an opportunity few students have, given the depth and breadth of the professional actors who grace the Walnut's stage every season and its esteem as the country's oldest continuously operating theater. Ward is working alongside Mary Martello, considered one of the most established and accomplished professional stage actors working in Philadelphia right now.  
"It's a prominent role, and Audrey's character is integral to the story" said Daniel Lopez, KLN '18, the Walnut's communications and public relations manager and a Temple graduate himself. "She has done a fantastic job playing Hester."  
Five other Temple Owls are involved at the Walnut and this production: Tyler Ivey, TFM '18, plays the role of Farquhar; Maura McErlean, TFM '19, is an understudy for the role of Mrs. Allonby; Peter Schmitz, an adjunct assistant professor in the School of Theater, Film and Media Arts (TFMA), plays Archdeacon Daubeny and serves as the production's dialect coach; Christian Marshall, TFM '10, is a stage management apprentice; and Shon Causer, TFM '06, teaches on Lighting at TFMA and is master electrician and lighting technician at the Walnut.
In the play, Ward's character, Hester Worsley, is the sole American navigating a cast of characters exemplifying Victorian England's aristocracy and the gossipy, restrictive, rules-driven ways of the time, which Wilde, an Irish playwright, chronicled and lampooned throughout his career. 

In her theater arts major with an acting concentration undergraduate coursework, Ward is currently taking Acting III, studying Shakespeare, Intellectual Heritage, and a Race and Diversity course with well-known Temple TFMA professor Kimmika Williams-Witherspoon, a published poet and playwright and expert in African American theater.
 
Fortunately, Ward's professional role at the Walnut qualifies for a three-credit internship course.  She noticed that internships can qualify for course credit, but learned these were typically not paid acting jobs. She approached TFMA Associate Department Chair Peter Reynolds to be sure it would qualify, and he helped her ensure it would.

"One of the requirements [of such internships for credit] is keeping a journal, and I am so glad," said Ward. "It's really in my best interest. I'm sure I'll be glad I did."

It's something of a common theme in Ward's student experience, connecting with mentors and professors and getting to know them one-on-one and learn from them. Temple prides itself on encouraging students to be bold enough to try new things and challenge convention just as Ward has this semester.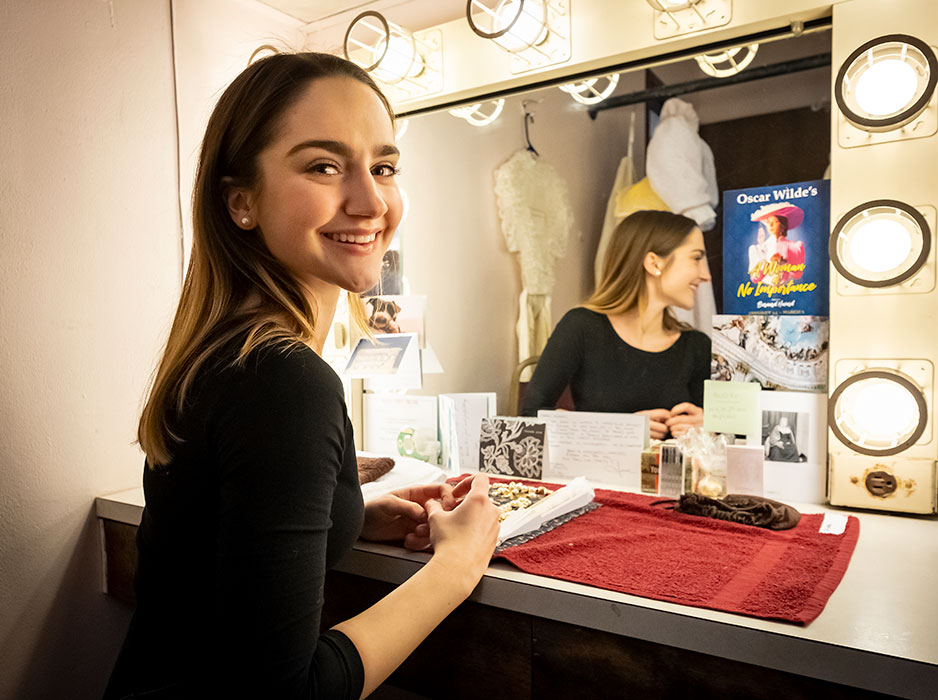 Ward prepares for a performance in her dressing room backstage at the Walnut Street Theater. A Woman of No Importance, in which she is performing, is running now through March 1. (PHOTO: Joseph V. Labolito)
Marcus Giamatti, an associate professor at TFMA, directed Ward in the fall 2019 Temple Theaters production of Henrik Ibsen's An Enemy of the People. Giamatti also directs Temple's master of fine arts in directing program and teaches acting courses. He spoke about Ward's talents, both as an actor and a student.

"She's wise and professional beyond her years," said Giamatti. "She conducts herself so professionally.  

"She's all about the work," he continued. "About digging deeper. About getting better at her craft.  It's not about her ego. Some people can acquire that, or can learn one way or the other just how important that is. Not everyone has that just instinctively like Audrey does."

The technical requirements, the hours, her studies, the commitments she has on the board of Side Stage, Temple's student-run theater organization, may seem like a lot to ask of a college sophomore. But Ward's mentors aren't concerned.

"If anybody can do it, she can do it," Giamatti said. "She's just rigged for the whole thing. She's such a breath of fresh air."

For Ward, the opportunity to perform at the Walnut and be at Temple and in Philadelphia to study and refine her craft is especially exciting.  

"At some point in middle school, I just knew I wanted to be an actor. I fell in love with it," she said. She grew up about eight hours away, in Erie, Pennsylvania, and initially looked at schools with programs known for musical theater. "Then I came to look at Temple, and saw what TFMA had to offer, and I knew this was it."

Standing below the Walnut marquee lit at dusk, she marveled at the history and her opportunity to be a part of it.

"My absolute favorite playwright is Tennessee Williams, and Marlon Brando perfected the role of Stanley [Kowalski, the lead of A Streetcar Named Desire] on this stage," she said. "It's such a thrill."

Learn more about Temple University's Theater Program.

—Gale Morrison