Temple doubles its Goldwater Scholars with neuroscientist and vascular scientist recipients
Leah Deflitch and Daniel Jovin are the first woman and first medical research track student, respectively, to earn this prestigious scholarship at Temple.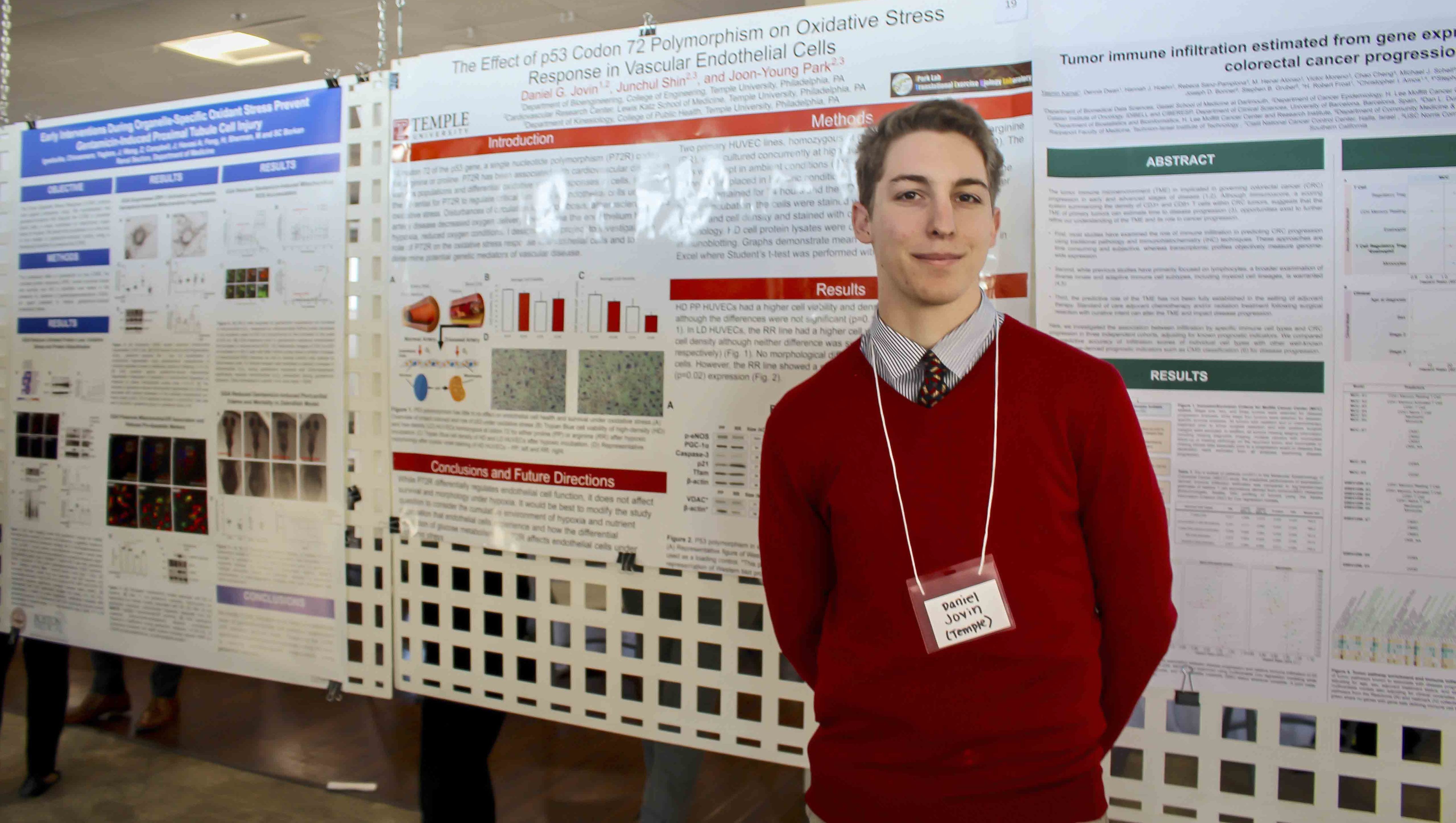 Two high-performing Temple students in the Class of 2021 are breaking new ground in student achievement as they pursue scientific discoveries in brain and vascular health. 
Leah Deflitch, a neuroscience student in the College of Science and Technology, and Daniel Jovin, a bioengineering student in the College of Engineering, have each been named Goldwater Scholars, the most prestigious undergraduate scholarship in the science, technology, engineering and math (STEM) fields. 
This is the first year in which Temple has earned multiple recipients.
"We just keep hitting new firsts," said Barbara Gorka, director of scholar development and fellowships advising at Temple. 
In recent years, she noted, Temple has seen its first Rhodes Scholar, a doubling of its Goldwater Scholars and a record number of Fulbright applicants and awardees. 
This year, Deflitch has become the first Temple woman to earn the Barry Goldwater Scholarship, and Jovin is the first Temple recipient on the medical research track. Temple's first and second awardees were in 2018 and 2019. 
"I think Leah and Daniel's selection as Goldwater recipients demonstrates a growing awareness that Temple students are nationally competitive for this type of recognition," Gorka said.
The Goldwater Scholarship Foundation named 396 recipients nationally in 2020 from a pool of 461 institutions that submitted applicants. As awardees, Deflitch and Jovin will each receive $7,500 for tuition, housing and fees for their senior year as they continue their research.
Both students stand out as scholars and researchers with a significant list of accomplishments rarely seen by college juniors.
Leah Deflitch
Deflitich, a Pittsburgh native, has been conducting neurobiology research at Temple's Bio-Life Science Building since her freshman year. 
"My lab has been very conducive to undergraduate-led research, and we basically look to understand the underlying molecular and genetic mechanisms of abrupt memory deficits, like delirium," Deflitch said. "It's been a great experience."
In her scholarship application, Deflitch talked about her participation in the Temple's Science Scholars Program, her college's Undergraduate Research Program, the Frances Velay Fellowship for women in STEM and the Diamond Research Scholars Program, where she had the opportunity to take on a project begun by a postdoctoral student examining potential genetic markers of delirium.
She has also presented her findings for two consecutive years at the annual meeting of the Society for Neuroscience, the world's largest neuroscience conference drawing scientists and physicians from more than 80 countries.
Deflitch said the cognitive decline associated with delirium can be a precursor to dementia and Alzheimer's. She said she's excited by the potential her work can have for people suffering from these common degenerative ailments.
Deflitch said she was both ecstatic to earn the award and gratified to make her advisors and mentors proud. 
"It was very clear from the start that Leah would do well; she is exceptionally bright and intensely curious, and she is possessed of a voracious enthusiasm for research," said Susan Patterson, a professor in the Department of Biology and head of the neuroimmunology laboratory where Deflitich has worked for more than two years. "I'm really glad to see a young woman win it, too. We don't always have enough models of what female success looks like in the sciences."
Deflitch is the co-president and founder of the Temple chapter of Scientista, an organization encouraging the participation of women in STEM, and she said she thinks that awarding fellowships and scholarships to women is essential to allow more women to rise to the highest levels in these fields.
"A huge problem in research is that in most cases as an undergraduate you don't get paid to work in a lab," Deflitch said. "That's why the availability of fellowships and scholarships is super important for me and for students who have to choose between lab work or an outside job." 
After she earns her degree in 2021, Deflitch plans to pursue a PhD in neuroscience with the eventual hope of becoming a professor and principal investigator of her own research laboratory. 
Daniel Jovin
Growing up in Richmond, Virginia, Jovin always had a knack for science and math. He was drawn to Temple's bioengineering program by the prospect of combining those talents and the potential to create real-world medical devices and technologies to replace diseased organs and tissues. 
"I've become more and more fascinated with medicine and cell and molecular biology while at Temple," Jovin said. "Specifically, my main bioengineering interest is how blood interacts with different biomaterials to cause clotting and inflammation."
Jovin's Goldwater application was notable in that he's already been published multiple times and he's the recipient of a Creative Arts, Research, and Scholarship (CARAS) Program grant.
"Daniel is a very talented, hardworking and well-rounded young scholar, and I have no doubt that he has great potential to be successful in his future career as a physician-scientist," said Joon Young Park, an associate professor in the Department of Kinesiology in the College of Public Health and the principal investigator of the lab where Jovin conducts his research. "I am so excited to watch him fulfill his bright future and academic endeavors."
Jovin is also the president of the Temple Biomedical Engineering Society and the president and a founding member of Temple's American Physician-Scientist Association chapter. He aspires to earn his MD and PhD to become a physician and research scientist.
"I want to specialize in cardiology or benign hematology to inform my research questions so that I can hopefully work as the primary investigator of my own lab someday, researching answers and discoveries to improve patients' lives and global healthcare," he said.
Jovin became aware of the Goldwater Scholarship through two friends who previously won the award, Marcus Forst and Mitchell Young.
In 2018, Forst became Temple's first ever recipient of the Goldwater Scholarship for his work in physics. In 2019, Young became Temple's second recipient with his work in physics and mechanical engineering. 
"Their success," Jovin said, "made me consider applying and made the prospect of winning even seem possible."
—Andrew Lochrie and Eric Horvath