Perseverance under pressure
Five Owls show us how they leaned in to a new normal with grace and grit.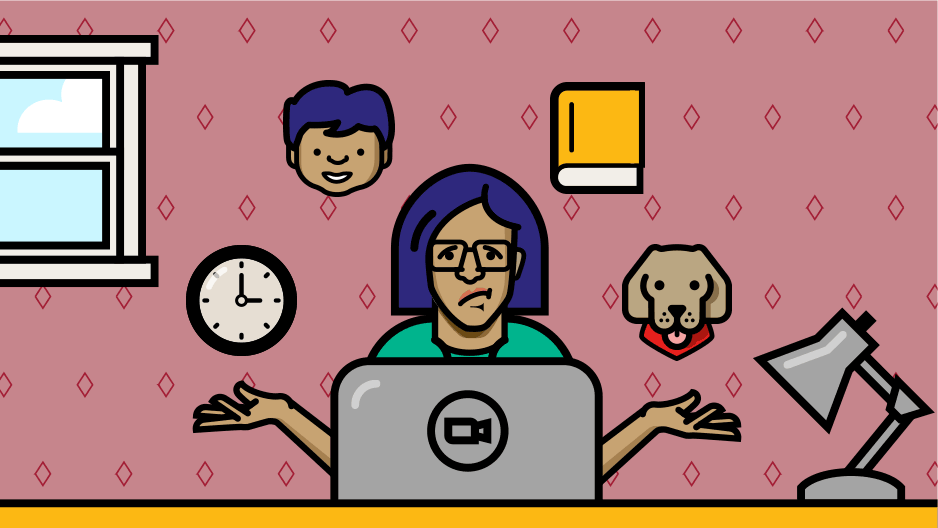 When in-person classes moved online at Temple last month, many Owls found themselves in unfamiliar territory—teaching, working and learning in new ways and from new spaces that were doing double and even triple duty, sometimes serving multiple age groups and multiple purposes simultaneously and at all hours. 
But as expected, students and professors alike have responded to the situation with resilience and flexibility.
We asked five Owls how they are doing. Here's what they told us.
"I feel like I'm juggling eight things at once." 
That's Cassy Beckowski. She's in her second semester pursuing a doctorate in policy and organizational studies in the College of Education. While taking three classes, she also works part time in Temple's Office of the Provost and parents her two children, an 8-year-old and a 4-year-old, who are now being schooled from her Ambler, Pennsylvania home.
What works: Color-coded schedules. She front-loads her days by doing schoolwork and educational activities with her children in the mornings and then giving them independent work to keep them occupied in the afternoons, which is when she turns to her own studies until it's time to make dinner. Often, she returns to her classwork after her kids are in bed.
"My husband is at home, too, but he has to work traditional hours for his job, whereas some of my work involves listening to recorded lectures or completing readings, which is a little more flexible," she said.
In addition to creating a structure for herself and her kids, Beckowski finds it's helpful to give herself space and permission to feel overwhelmed or anxious once in a while. "I recognize that this is not 'business as usual,' and I allow myself to be okay if things aren't perfect, and to be realistic."
An avid runner, Beckowski also makes it a priority to maintain that activity despite the fact that races are canceled. She gets up at 4:30 a.m. to run and take the dog out while everyone else in her house is still sleeping.
What do her children have to say about all this? "My second-grader is happy to have us all home together; he's doing great," she said.
"It's a little bit of culture shock."
So explains second-year neuroscience major Samantha Lorenzo. As a resident assistant responsible for overseeing the welfare of 50 students in Temple Towers, Lorenzo had her own apartment all to herself before the closure of the residence halls.
"The last week on campus was extremely busy; the staff really stepped up," she said. "I was on-call for like five days straight, all while still attending my own classes. The students had so many questions, but I was happy to help." 
Now Lorenzo is home with her brother and her father, living in her family's Northeast Philadelphia house where she grew up. "In the blink of an eye, I'm back at home, except, I have college courses to complete," she said.
"Mostly I work in my room, in my bed, which isn't the greatest because it's easy to fall asleep that way," she admitted. "My brother was on his spring break from CCP [Community College of Philadelphia] when I first got home, so all he did then was play video games. Now, I sometimes have to negotiate with him on who gets to use the kitchen table for a Zoom session, but it works out."
"But, Mom, that's how I do it when I'm in my own apartment."
Tariq Kanu, a senior double major in public relations and theater, is quick to point out some of the difficulties that arise when a college student moves back home. "Whenever my mom sees me, she immediately asks me to do something, like take out the trash, and I have to explain that I can't; I have class in a couple of minutes," he said. "Or, she'll say 'why are you in the kitchen eating at 1 a.m.?'"
When in-person classes moved online, Kanu initially hunkered down with some high school buddies who had all been attending different universities. But when his home state of Maryland announced its stay-at-home order, he moved back in with his mother and sister.
According to Kanu, his online theater class is presenting some challenges. "But I'm getting really good at monologues," he said with a laugh. "There really isn't any easy way to do a scene with other people over Zoom, and you do not want to see my mom act," he said, again with a laugh.
And explained Kanu, it's also hard not to switch to just completely relaxed summer mode. "Since I'm at home it feels like it's summer time, when I typically would be home but wouldn't have any school work to do," he said. 
On top of that, Kanu recently learned that a job offer was put on hold due to a hiring freeze at the employer, but he is keeping his chin up and going with the flow. "That's all you can do right now," he said.
"So suddenly we had an 11-hour and a 13-hour time difference, respectively, to overcome."
Chris McAdams, assistant professor in the Department of Architecture and Environmental Design, explained one of the biggest new challenges he faced this semester when two international students in his senior capstone course returned to their homes, one in South Korea and the other in Cambodia. 
"Because the transition to remote teaching had been unexpected, it took a little extra effort to figure out how to handle the different time zones, but we were able to find times when we could meet," said McAdams. 
He said that from the beginning of the semester his group of seniors were all very committed to their capstone projects. "As a result," he explained, "even after in-person meetings ended and we had to make some adjustments to the assignment, I have been so happy to see the students continue to nurture and grow their designs at a high level." 
 
On what it's like working from home: "I am lucky to be in a new house with my fiance in Philadelphia's Francisville neighborhood that we were able to purchase recently with help from Temple's Employee Home Ownership Program. He works in administration for a health network in New Jersey and is very busy at this time," said McAdams. "I am in our home office and he is working out of the guest room; we meet for coffee in the kitchen periodically throughout the day or the night—since we're both now working around the clock." 
"I know I'm extremely fortunate to be able to do the teaching part of my job from home."
That's the first thing Ann Valentine, professor and associate chair in the Department of Chemistry, says when asked about her experiences with working and teaching remotely. Although she reluctantly adds that she misses being able to conduct research in her lab which is now closed.
"Teaching online has been a little bit of a scramble, because it is something I was not familiar with," she said. "I've had to reformulate my classes in order to make them work online."
Like Beckowski, Valentine homeschools her three children, ages 12, 8 and 5, during the first part of the day. "Then I'm often up until 1:30 a.m. preparing my lectures," she said. "I use two devices for teaching: one for the Zoom cast and the other is an iPad that I'm writing equations on." 
"I share the iPad with my children," she added. "And they're not just using it for schoolwork: my daughter has Zoom ballet classes." 
Her advice: Take it easy on yourself. Be mindful that what's happening is truly unprecedented. Be humane.