A Guide to Women's History Month events at Temple
From performances to author talks to film screenings, here's how we're commemorating women's accomplishments on our virtual campus.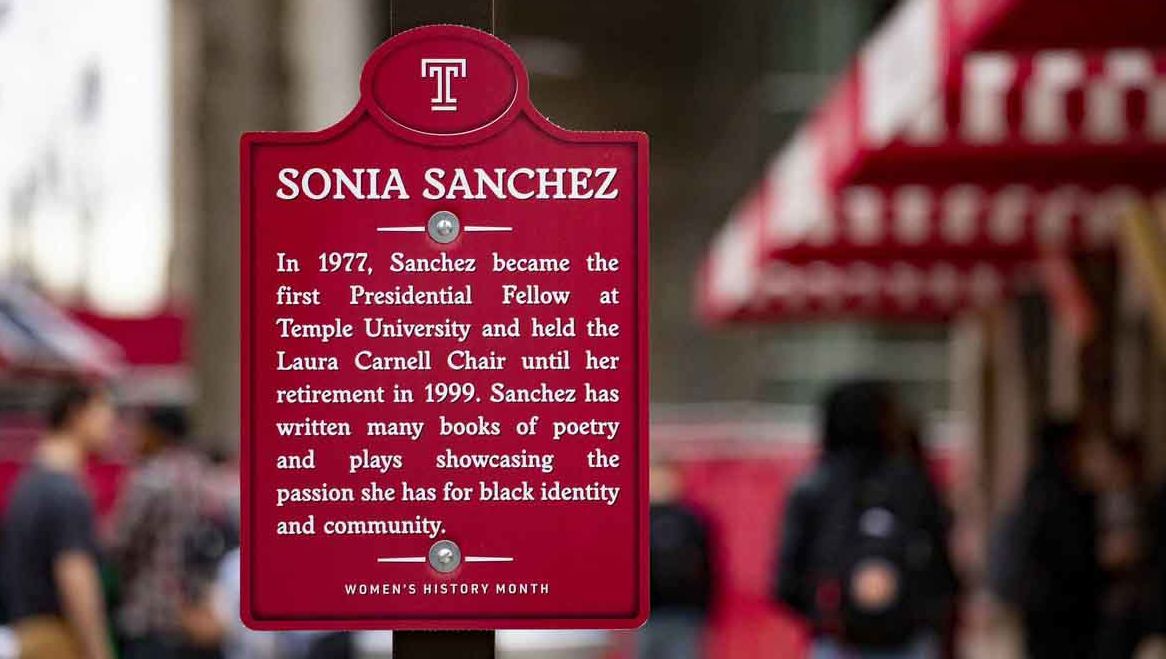 Temple is recognizing women's history month with a variety of happenings including concerts, dance performances, panel discussions and more. These virtual events celebrate the experiences and contributions of women in history, culture and society … and one is coming to us from Temple Rome.

Tyler's Critical Dialogue: Jean Shin  
Meet artist Jean Shin, who creates monumental installations by transforming large accumulations of everyday objects into expressions of identity and community. Recalling collective memories, desires and failures, her works reveal capitalism's excess in an increasingly unsustainable reality and the ecological collapse produced by our consumer-driven culture.
Wednesday, March 3, 5:30 p.m.
Storyville: The Warrington Tapes screening and discussion with Karen Warrington
At this screening and discussion of The Warrington Tapes with Karen Warrington, KLN '92, learn about Warrington's contributions as a local historian and Philadelphia native who has been reporting, documenting and capturing the cultural legacy of our city for nearly 40 years. This program is part of the Black Lives Always Mattered! public program series at the Blockson Collection, which has been supported by The Pew Center for Arts & Heritage.
NOTE THAT THIS EVENT HAS BEEN POSTPONED

Looking Back on Arthur Hall and the Ile Ife Black Humanitarian Center
Join us as we celebrate the recent donation of the Arthur Hall Collection to the Special Collections Research Center. Hall was a choreographer and founder of the Arthur Hall Afro-American Dance Ensemble, which operated for years out of the Ile Ife Black Humanitarian Center on Germantown Avenue in Philadelphia. Hear from Nana Korantemaa Ayeboafo and Germaine Ingram about the center, its history and impact, Arthur Hall, and more. Ayeboafo was an ensemble member for nearly two decades and Ingram's career in arts and culture spans more than 25 years. The event will be moderated by Brenda Dixon-Gottschild, professor emerita of dance.
Monday, March 8, 3 p.m.
Cocina y Activismo: Una Conversación Con Cristina Martínez y Benjamin Miller
Noted chef and immigrant activist Cristina Martinez and her husband Benjamin Miller will discuss their philosophy of food, social justice and engagement with the media. Together, the couple owns two Philadelphia restaurants: South Philly Barbacoa and Casa México. Martinez received a service award from the Mayor of Philadelphia, told the story of her life for an award-winning Univision podcast, and has been featured on David Chang's Ugly Delicious and Chef's Table. 
This event will be in Spanish and English.
Tuesday, March 9, 4 p.m.
International Women's Day
Celebrate International Women's Day by joining Temple Rome and the Konrad Adenauer Foundation for an online book discussion of Women, Policy and Political Leadership: Regional Perspectives.
Wednesday, March 10, 9 a.m. 
BLAM! Docuseries The Path Forward: The Journey of Black Philadelphia: Jannie L. Blackwell
At this inaugural Black Lives Always Mattered! docuseries event, Jannie L. Blackwell will share her life journey and personal experiences with prominent Black Philadelphians from her era. Blackwell is the vice chair of the Philadelphia Democratic Party and a former member of the Philadelphia City Council. She represented the third congressional district, which covers much of West Philadelphia and Southwest Philadelphia, from 1992 to 2020. This program is part of the Black Lives Always Mattered! public program series at the Charles L. Blockson Afro-American Collection.
Wednesday, March 10, 2 p.m.
MFA Thesis Concert III: Kaitlyn Miller and Muriel Peterson  
The Boyer College of Music and Dance brings us virtual performances of original works by graduate students Kaitlyn Miller and Muriel Peterson, including Ballet Dropout and Tapping into My Shoes. Tickets are free but registration is required. 
Friday, March 12, 7 p.m.

Where we Gather: Bookshops as Community Spaces
Join this conversation with Ariell Johnson, FOX '05, of Amalgam Comics & Coffeehouse; James Darren Hillyard Jr., of Black and Nobel; and Jeannine Cook, of Harriet's Bookshop, on their experiences as local bookshop owners and how their establishments became staples of the Philadelphia community. 
Tuesday, March 16, 12 p.m. 
Annual Celebration of Women in Horticulture: Abra Lee
This year, Abra Lee will serve as the keynote speaker for Ambler Arboretum's annual Celebration of Women in Horticulture. In her presentation, The Invincible Garden Ladies, Lee will share the stories of women who made an impact on American horticulture history, including the ways they used plants as a language to express pride in community and self.
Tuesday, March 16, 6 p.m.
Gender Mainstreaming in the Upcoming G20: Martina Rogato
As part of its ongoing Spotlight Series, Temple Rome presents human rights activist and sustainability advisor Martina Rogato. In 2020, Francis Pope nominated her as one of the international changemakers contributing to create a more inclusive and sustainable economy. In 2019, she presented a TED Talk in Catania in Sicily, Italy. 
Wednesday, March 17, 11 a.m. ET
Women's Month: Artist Edmonia Lewis
Born in upstate New York, African American sculptor Edmonia Lewis came to Rome to work alongside a number of other 19th-century American female sculptors who put down roots in the Eternal City, finding it both a repository of ancient, Renaissance and Baroque sculpture as well as a haven for minority artists who struggled for acceptance at home. Educator, artist and art historian Mary Beth Looney will lead this Temple Rome presentation.
Thursday, March 25, 12 p.m. ET 
 
The Poets & Writers Series: Kiley Reid
New York Times bestselling author Kiley Reid will read from and discuss her debut novel, Such a Fun Age, a story about race and privilege. The book takes you on the journey of a young Black woman who is wrongly accused of kidnapping while babysitting a white child, and the events that follow the incident. It is currently in development by Lena Waithe's Hillman Grad Productions and Sight Unseen Pictures. 
Thursday, March 25, 5:30 p.m.