College of Public Health student discovers opportunity amidst the pandemic
Temple student Daniel Costello describes the influence of the coronavirus pandemic on his studies and future career in epidemiology.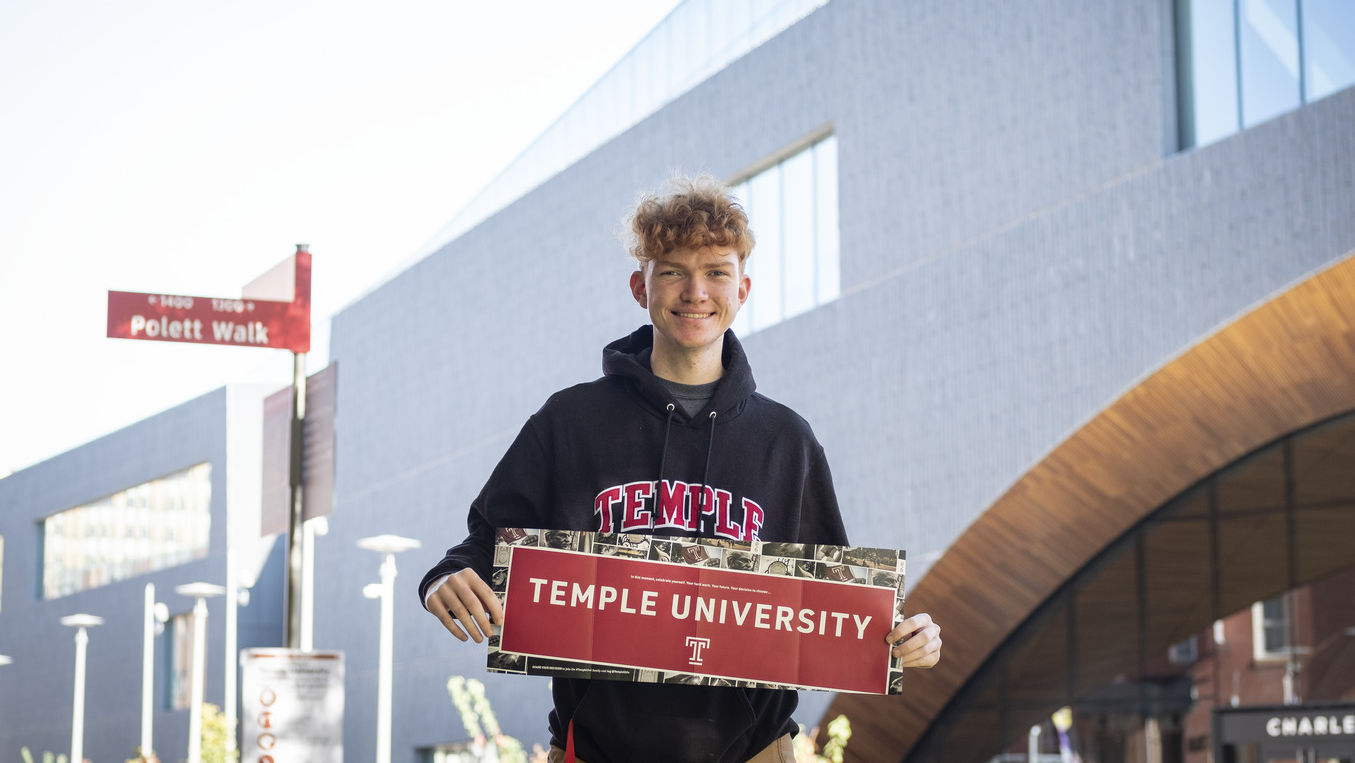 The coronavirus pandemic has created a unique experience for Temple students studying public health. Lessons learned inside the classroom—from disease prevention and control to preparedness and community response—have become central to everyday life. For one student, watching a global pandemic unfold has sparked an interest in a crucial aspect of the field: epidemiology.
Daniel Costello, Class of 2023, always knew he wanted to work in health care, but his initial plan to attend medical school has evolved over the last year. Costello has since shifted his attention to the larger picture at play, one that has become more clear since the onset of the coronavirus pandemic.
"I was interested in medicine, but the pandemic totally changed that because I didn't realize how important epidemiology was," he said. "It's a more holistic approach to medicine—you're going after the system, not just the symptoms."
A public health major in his second year at Temple, Costello hopes to go on to obtain a master of public health degree in epidemiology and work as a field epidemiologist, rapidly responding to health threats around the world.
"I always knew I wanted to study diseases more than anything else," Costello said. "I'm fascinated by how things spread and how one thing has a butterfly or domino effect, and that's the root of epidemiology."
For students like Costello, the coronavirus pandemic has created opportunities to explore public health in new and unique ways. It has permeated many aspects of Costello's coursework, from disease prevention and control to impacts on nutrition and substance use, as well as effects on the environment and technology. Students have also been able to watch what they learn play out in real time, as topics discussed in class can be seen on the news or around the city.
"My professors would bring something up and then later that week I would see it on the news, or they will say to go on a walk after class and you'll see different things, like hand washing stations, and that's something you wouldn't see without public health," Costello said. "So this one thing [COVID] has rippled across almost everything and it's really cool how you can see one event lead to another, and it's majorly publicized."
Of all his courses, Costello is most interested in Disease Prevention and Control, which frequently incorporates information about the pandemic—this year's decrease in flu cases could be linked to COVID-related prevention measures, for example. The course introduced Costello to field epidemiology, a career path he is exploring with guidance from Assistant Professor Jeni Stolow. A professional in the field, Stolow is currently working with the World Health Organization to respond to the coronavirus pandemic and has studied disease risk and prevention in countries around the world. 
"She's given me pointers on how to move on and what to study so that's been helping me out a lot, and I wouldn't have known any of it if I didn't come to Temple and take her class," Costello said. 
In addition to forging connections with his professors and using the resources available at Temple, Costello is also pursuing potential internships with the Chester County Health Department, near his hometown, as well as with the Philadelphia Health Department. 
"My professors always talk about how their previous or current co-workers are working with COVID, and if I wanted to I could reach out to them and they would gladly give me a hand," he added.
Costello, who is an Owl Ambassador, has also noticed a difference in how people react to conversations about his academic experience and interests, notably epidemiology. 
"Whenever I told people I was interested in epidemiology before last year they had no idea what it meant, but now everybody knows," he said. "So it's been brought to the forefront and it's easier to explain why I went into it."
This shift in perception, with public health under the spotlight now more than ever, continues to allow Costello to see an impact firsthand.
"It makes me see how important public health is and how everything works together." he said. "It's a huge and broadly encompassing topic that plays a part in everything. It's bigger than you think, and bigger than I would have ever thought."
—Tori Addison