A balanced life: Nikki Franke, 'fencing legend'
Longtime Temple women's fencing coach and retired College of Public Health faculty member Nikki Franke, one of the most revered figures in her sport, reflects on mentoring generations of young women.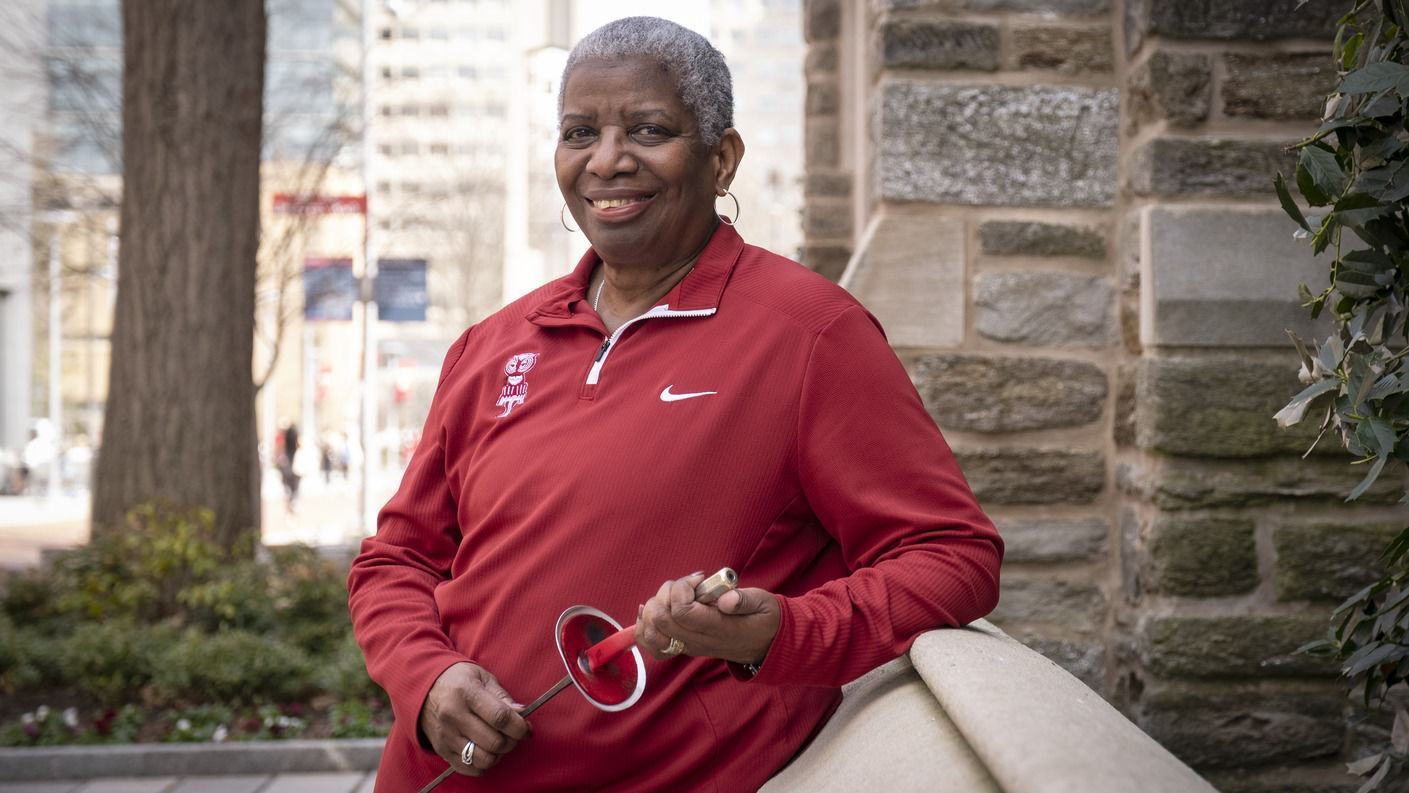 As an athlete and as a coach, it's hard to imagine a resume more glittering than Temple women's fencing Head Coach Nikki Franke's. 
She was a member of the 1976 and 1980 U.S. Olympic fencing teams and a two-time U.S. Fencing Association national foil champion. She launched Temple's women's fencing team from scratch, building what had been a club team into an NCAA Division I powerhouse. She was the first Black woman ever to coach an NCAA fencing team (and remains the only Black woman to do so). Her Temple teams have earned 874 victories in NCAA competition, making her one of the winningest collegiate coaches in the sport. She coached Temple to an NCAA championship (a women's foil team championship in 1991–1992). She co-launched a nonprofit organization, the Black Women in Sport Foundation, to encourage more Black women to become leaders in the world of sport at all levels. And after nearly half a century of coaching, she's still pushing Temple fencing to new heights. Just last season, Temple fencing defeated top-ranked Notre Dame on the way to achieving a No. 5 national ranking, the highest in team history. 
"That's all we can ask for as coaches—that we've made a difference in their lives in a positive way."
-- Nikki Franke, Temple women's fencing Head Coach
Nikki Franke, CPH '78, '88, the woman that ESPN called a "fencing legend," is proud of the wins and the firsts. Yet as she approaches her 49th season as a head coach, she's just as proud of being a teacher and mentor who has achieved a sense of balance in her life—and who has passed that sense of balance to generations of young women.
"Mentors and teachers can change the trajectory of your life," Franke said. "If it hadn't been for strong women in my life who guided me in many ways, I wouldn't be where I am today. That's something that's really important to me—to give back to the young women who come into our program, to be that guide to help them into the next phase of their lives."
A tennis, basketball and volleyball player as a teenager growing up in New York City, Franke took to fencing immediately as a high school senior when a teacher brought the sport to her school. She changed her college plans and went to Brooklyn College to fence under influential coach and future Olympic teammate Denise O'Connor. At Brooklyn, Franke also began to pursue her other calling: becoming a health teacher.
"I never grew up wanting to be an Olympian," Franke said, "but I always wanted to be a teacher."
Franke has been coaching fencers for nearly five decades. (Photo by Joseph V. Labolito)
The prospect of pursuing a graduate degree and teaching courses in public health while simultaneously coaching fencing was one of the factors that lured Franke to Temple. She earned a master's degree in public health at Temple in 1975 and her doctorate in 1988. In 1978, she became a full-time faculty member, teaching a full load while coaching (her primary area of interest is community health programs) until 2017. As long as she was a member of the U.S. national fencing team, her busy schedule also included rigorous training and competing. It was a lot to manage, but her wide-ranging passions turned out to be a lifesaver when the U.S. boycotted the 1980 Summer Olympic Games in Moscow—a crushing blow for athletes who had been training for years.
"I've always had balance in my life, which I think is really important," Franke said. "I've never been one to have all my eggs in one basket. That was one of the things that helped me deal with the 1980 boycott. Losing the Olympics was devastating, but it wasn't my entire life."
That perspective has benefitted the hundreds of Temple fencers and public health students whose lives have been touched by Franke—perhaps none more so than Kamali Thompson, CST '12, a fencing star at Temple, a member of the U.S. national fencing team and a 2021 Olympic hopeful who's now balancing life as a medical student at Rutgers Robert Wood Johnson Medical School with her training as an elite fencer. Even now, a decade after graduating, Thompson speaks often to Franke and sees her at competitions. They talk about school, family, life, training—and about the possibility that, like Franke, Thompson might lose her chance to compete as an Olympian because of factors that have nothing to do with sports (in this case, a potential cancellation of the Tokyo Olympic Games because of the COVID-19 pandemic).
"Our relationship has not changed at all—she makes sure I'm in a good mental state and feeling good about myself, but she also gives me a little push if I need it," Thompson said. "As a coach, she was very tough but also very supportive. She knew how to balance both, which is really important. Some people needed more love; some people needed a little bit more toughness. She gives everyone what they need, in fencing and in life."
In nearly 50 years as a coach, much has changed in the world of women's intercollegiate athletics. Women's sports get more exposure now, Franke says, and the level of training is much better. Title IX has opened up opportunities for young women to play at a higher level and earn athletic scholarships, and coaches of women's teams now have equal access to facilities and equipment. Yet progress has stalled in other areas. Franke laments that opportunities for women in coaching are still limited. The number of women coaches is declining, she says, not increasing.
That troubles Franke, because she knows that there are qualified women who haven't had the opportunity she has had at Temple to experience one of the greatest joys of coaching at the intercollegiate level: seeing young people blossom.
"Teenagers come here, and four years later they're leaving as young women and going out into the world to make a difference," Franke said. "That has been my great pleasure. My hope is that their time here at Temple and in our fencing program is something that they will always cherish as a meaningful part of their lives, and that they feel I helped them to become the women that they are. That's all we can ask for as coaches—that we've made a difference in their lives in a positive way."
—Hillel Hoffmann