Temple alumna Capricia Washington shares a photo of her Great Aunt Annie's Temple ID card from 1941
Capricia Washington, KLN '12, felt a connection that she belonged at Temple and years after graduating found her Great Aunt Annie's Temple ID card from 1941.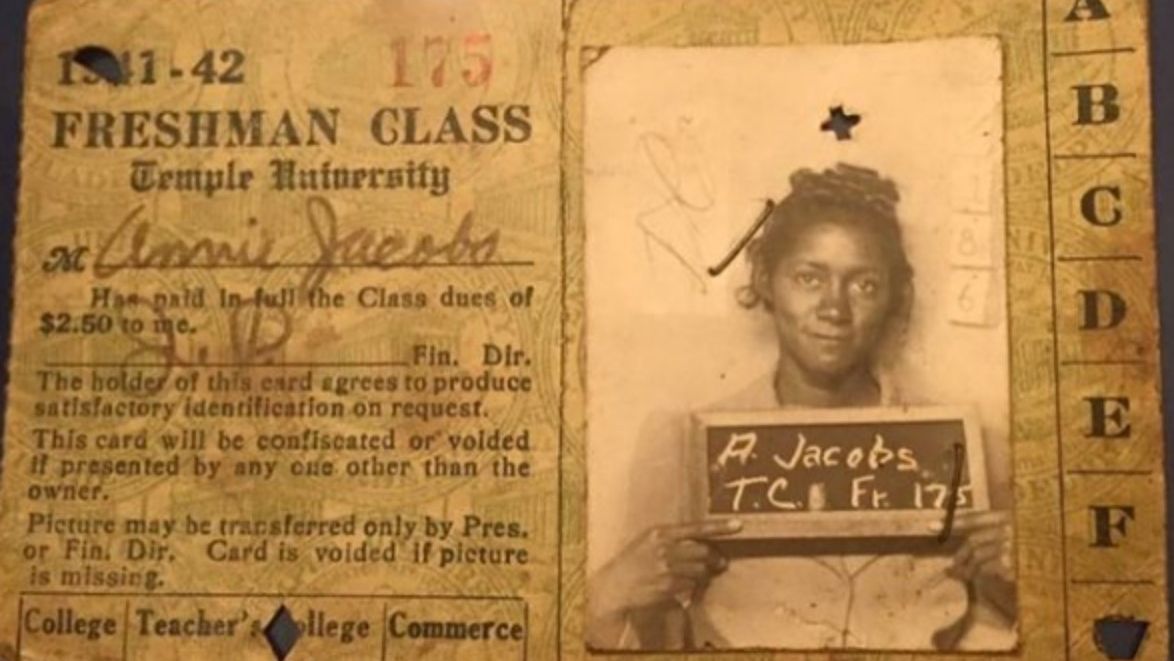 Capricia Wasington, KLN '12, felt an undeniable connection when she took her first steps onto Temple's campus. Temple was the last college she visited. In fact, she had already committed to another school. However, during her visit she felt such a strong vibe that she belonged at Temple that she ended up choosing the cherry and the white. 
A few years after earning her bachelor of arts degree in strategic and organizational communication, she experienced a memorable moment at her grandmother's house where suddenly the Owl connection grew stronger.  
As Washington explored some old items at her grandmother's house, she discovered a hidden gem of Temple history—her Great Aunt Annie Louise Jacobs' Temple ID card from her freshman year in 1941. 
"I was in shock, I did not know that my Aunt Annie went to Temple," said Washington. "I started Temple in 2008 and then in 2015 I found my great aunt's Temple ID card from 1941 and I thought wow, so I really did belong here."
Another shocking discovery for Washington was to read on the Temple ID card that her Great Aunt Annie's class dues cost $2.50, in addition to the roughly $200 she paid in annual tuition at the time. 
"When I look at my Great Lakes balance, there is definitely a big difference between the two," Washington laughed in comparing her own annual tuition to her great aunt's school fees from 1941. "The ID almost looks like a library card." 
Jacobs was studying at Temple's Teachers College (now called the College of Education and Human Development) and Temple President Robert L. Johnson was in his first year as the university's third president. 
Growing up in Harrisburg, Pennsylvania, Washington would occasionally visit her great aunt during the summers in Philadelphia. She recalled Jacobs having such a love for animals that she once cared for 20 dogs in her Mount Airy home.
Although time spent with Jacobs was not as frequent as Washington had hoped, she did have conversations with her and heard stories from family members. "She definitely was very encouraging, a really powerful woman, like most of the women in my family, " said Washington. "Everybody in my family always called her a character. She was definitely very strong and education-minded." 
With education being at the forefront of Jacobs' life, she earned her bachelor's degree from Temple and master's degree in education at Cheyney University. After graduating, she had a career as both an elementary school teacher and as a business owner, investing in real estate to buy properties that she transformed into day care centers for kids and homes for seniors in order to support communities.
"Whenever she would come around kids, she would always give them educational gifts. She was extremely warm and caring," said Washington. "She cared about the progression of people learning and growing. Achievement was very important to her." 
"When she would inquire about me or my cousins, it was always geared toward education and how we were doing in school, so she was definitely fiery too," the Temple alumna laughed. 
Jacobs' legacy of having a go-getter mentality and passion to educate rubbed off on Washington. She is currently a manager of business management at Publicis Health Media in Philadelphia and the host of her own podcast, Itspridestined the Podcast. She described the podcast as being "about all things love, Black and mental wealth through knowledge, encouragement and laughter … inspiring others to live their best lives."
"As a Black woman I felt like it was important to put my voice out there because in a lot of spaces our voices aren't heard," said Washington. "I try to [cover] topics that will educate and make people feel heard." 
While a student at Temple, Washington was the president of the Black Student Union and spent extensive time at the Charles L. Blockson Afro-American Collection, so she takes pride in her Great Aunt Annie being a Black woman and a part of Temple's history. 
In celebration of Black History Month this year, Washington posted an image of her Great Aunt Annie's Temple ID card on Instagram. 
"She's a part of Black history," said Washington. "It was hard to break barriers, so if she could do all of that in 1941, I can do anything I put my mind to in 2021." 
In her spare time, Washington has coached high school cheerleading at Preparatory Charter School in South Philadelphia for the past four years. Similar to her Great Aunt Annie, Washington takes pride in bringing the community together and serving as a role model to young women, teaching life lessons and watching them grow. 
"Our desire is to be role models for the people around us, and to elevate the people around us," said Washington. 
Jacobs passed away in 2015, at the age of 96. 
For Washington, finding her Great Aunt Annie's Temple ID card from 1941 strengthened their connection, and she hopes to continue her aunt's legacy.