Brand campaigns celebrate Temple's alumni and faculty
This spring, the university launched two major campaigns: one focused on engaging with parents of prospective students and the other positioned Temple as a leader in diversity and inclusion.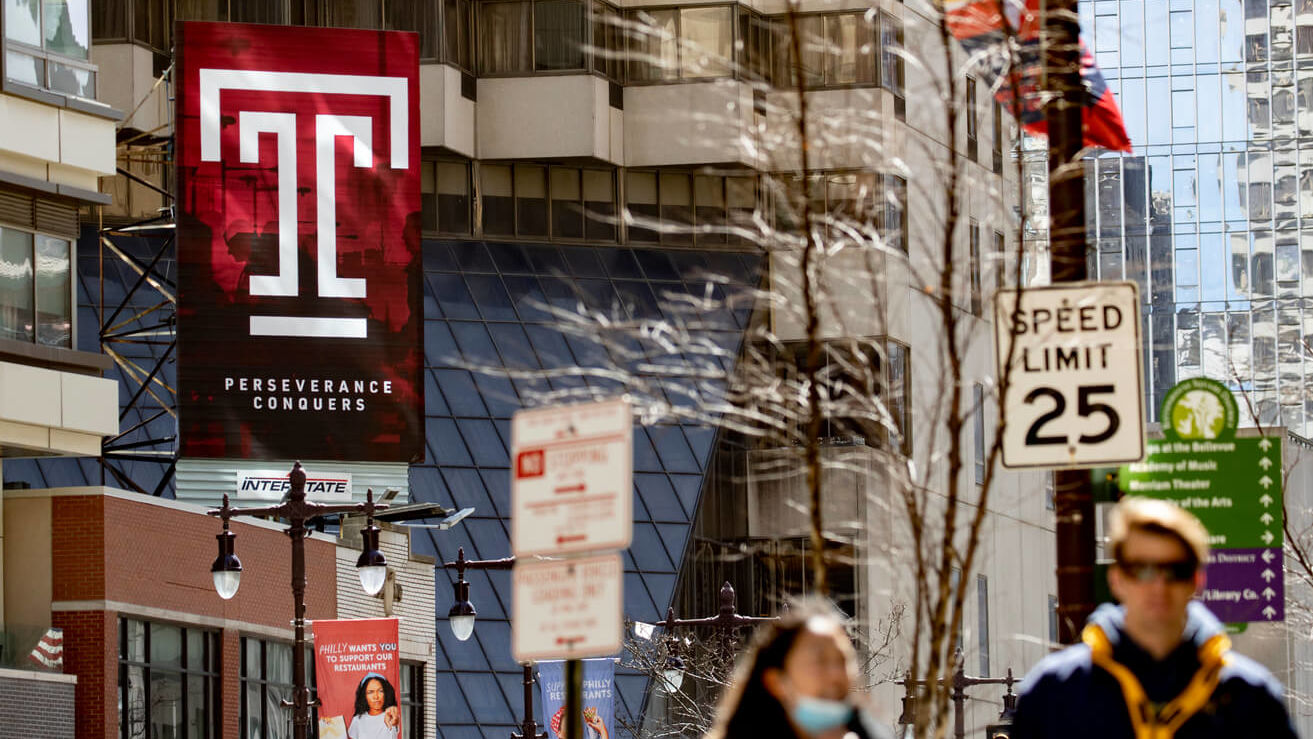 This spring, as Temple responded to the coronavirus pandemic and national conversations on race, the university also launched two brand campaigns that celebrated the strength, ambition and resilience of Temple's community: one focusing on parents of prospective students, the other on diversity, equity and inclusion (DEI). 
The parent campaign was developed in response to audience research commissioned by the university. "Perception research shows that we're known for a lot: being Philadelphia's only public university, our commitment to the city, being a research powerhouse and providing an education that truly prepares students for their careers," said Samantha Krotzer, KLN '11, associate director, marketing content strategy at Temple's Strategic Marketing and Communications Department. 
Yet while prospective students see the university this way, many of their parents don't. In their minds, Temple is still tied to its reputation in the 1980s and 1990s, when some considered it a backup for students who weren't admitted to universities perceived to be more prestigious. "There was a need for us to better communicate our value and our reputation in a very positive light," said Francesca Reynolds, senior director, marketing. 
The university also wanted to increase awareness of Temple's reputation outside the northeast of the U.S. Krotzer and her colleagues considered, "how do we expand our reach so that more parents, who are critical student application influencers, know who we are and what we're about?" she said. "We want as many people as possible to know, and tell their friends and families, that Temple is one of the best schools in the U.S."
Enrollment and recruitment strategies are planned months in advance; the pandemic proved a major disruption. "We had to act pretty quickly to nuance any messaging for admissions," said Emily Spitale, associate vice president, communications. "We're continuing to monitor where that's going and how that's potentially changing behavior."
The DEI campaign was another response to the current climate. While many institutions grappled with how to react to protests against racial and social injustice, Temple has been involved in anti-racism education for years. The university's investment of more than $1 million in anti-racist efforts last September became a springboard to discussing its DEI resources in greater detail. "It gave us an opportunity to talk about what we are in a very real and direct way," Spitale said. "This is a space that we need to be in all the time."
Content strategies outlined key messaging for both campaigns. "All of our content strategies are rooted in research," Krotzer said. "We dig into that research, which spans everything from perception studies, industry white papers, direct audience feedback and more, to surface what our target audiences care about, what they want and what they need."
Both strategies were also developed with close attention to brand alignment, which is crucial for an institution of Temple's size. The university encompasses 17 schools and colleges, each with its own distinct personality. But Temple's overall messaging strives to present a unified identity. "Having an aligned strategy and message and having people play off of it is really important," Reynolds said, because "our external audiences get a better understanding of who we are."
For the parent campaign, the team worked to connect the themes of innovation, academic quality, alumni successes and Temple's legacy. "It became clear pretty quickly that the throughline here is the university's history and legacy," Krotzer said. "What kept coming to me over and over was our motto: 'Perseverance Conquers.' Our community truly embodies that sentiment and it shines through in so many stories. And during the pandemic, I think we've looked to it for strength more than ever."
Four stories that expressed that spirit: Amy Caples, KLN '85, a journalist and professor at the Klein College of Media and Communication who has been teaching her students via a telepresence robot; Erinn Corbett-Wright, CLA '14, who manages TD Bank's charitable foundation program; Kamel Khalili, a professor and researcher at the Lewis Katz School of Medicine who is leading a team working to cure HIV; and Marcus Forst, CST '19, a Goldwater and Knight-Hennessy Scholar.
Developing the design strategy for both campaigns was a collective process. "We are a very collaborative team," said Lael Troupe, associate director, design. "We work closely with the content team as we consider ways to interpret these messages visually."
Bringing the parent campaign to life, Troupe and her team were excited to draw attention to "Perseverance Conquers." "[It's] so innate to who we are at Temple and I think especially at this moment, when everyone has been hit so hard by the pandemic, it really resonates." 
On buses and billboards, the designers used an image as background texture, "an abstract city shot, so that we weren't distracting from the message, but to give a sense of motion, maybe even hinting at that idea of momentum or forward progress," Troupe said. And for bus shelters and social ads, where there is more time to engage with the audience, large portraits that highlight the subject and their achievements were used. 
While Temple has run several iterations of the parent campaign, the DEI project is brand new. "We're trying to convey what role the university plays in creating a learning environment that's inclusive and empowering and how our faculty, staff and students take such ownership over that," Krotzer said.
Four stories were chosen to demonstrate this: Kendall Stephens, CPH '21, a trans advocate; the Cecil B. Moore Scholars Program, which supports high school students in North Philadelphia; and Molefi Kete Asante and Tara Tripp, professors at the College of Liberal Arts. The latter two are drawn from the ongoing Temple Thought Leaders series. "That series showcases the talent and expertise of our faculty, as well as the work they're doing to create the empowering learning environments we want to promote," Krotzer said.
The designers selected black and white portraits and a palette of cherry, black and white. "Our strategy there was to help the thought leaders shine," Troupe said. "I think the black and white imagery does two things. It creates a nice balance with our primary palette that's so bold and it also helps the viewer focus on the subject."
Working on both campaigns simultaneously demonstrates strategic marketing and communications' strengths as a department. "It's an example of the kind of agility or flexibility, the nimbleness of our team across the board," Spitale said. "We built the team this way purposely."
The two campaigns complement each other. Parents looking at the DEI campaign see a modern university that takes diversity seriously; anyone who looks at the parent campaign sees alumni and faculty working to improve the world around them.
"Ultimately we're telling the Temple story," Spitale said. "We're just [showing] nuances depending on who we're talking to and what we want that outcome to be."
Neither campaign exists in isolation from information audiences receive about Temple from other sources. "Your brand is how people feel about you," Spitale said. "It is not what you think you are. It is not what you think they should feel. It is how they feel about you."
The marketing team hopes the campaigns not only engage with parents and position Temple as a DEI leader, but also encourage people to keep going. "I want them to be seen as a source of inspiration," Troupe said. "I think people have had a very challenging and difficult year."
Ultimately, the parent and DEI campaigns pay tribute to Temple's community and those who have found a home here. "People who are truly capable of anything trust Temple not just with their education, but with their passion," Krotzer said. "And that's the story it's so important to tell—the value this community has and the impact they're able to make with Temple empowering them every step of the way."
—Edirin Oputu