Nicole Jordan, the Philadelphia Orchestra's principal librarian, became a music librarian almost by chance.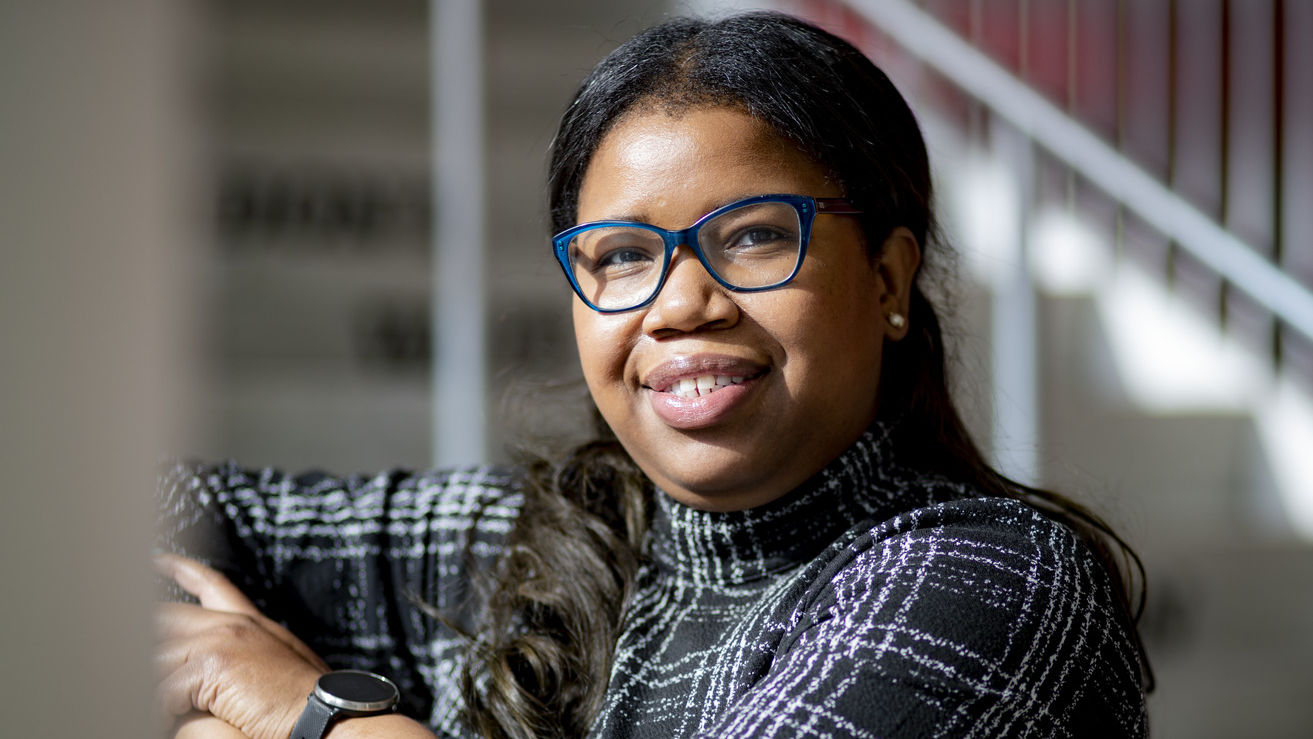 Nicole Jordan, BYR '10, speaks three languages and is picking up two more. She knows the range of multiple musical instruments, what they can play and what they can't. She can add bowing directions to sheet music for string players and fix awkward page turns. And she can analyze the structure and form of a piece of music, placing it in its historical and cultural context. 
She is the Philadelphia Orchestra's principal librarian and its first female Black member. 
Jordan stepped into the world of librarianship almost by chance. In her final year studying music performance at the University of Minnesota Duluth, she was invited to be the librarian for the summer music festival there. They needed someone who was organized and could get all the musicians and sheet music onto the stage on time for each performance. 
"I didn't really know that this was a profession," Jordan said. "In the music world, you're a performer or you're an educator and there's not much knowledge going through school about the background jobs that make these organizations work."
She did so well the university asked her to return the next summer, even though she had already graduated and begun her master's degree at Temple. Intrigued, Jordan decided she needed to hone her skills and sought advice from Vocal Arts Coordinator Leslie Cochran, who was the ensembles coordinator at the time and had worked in the Philadelphia Orchestra's library. 
The opportunity to have expert guidance was a major reason she'd chosen Temple. "Temple has the best professors. A lot of them are really prominent in their field of study," Jordan said. "For me to be able to go to a school with teachers of that caliber, who are writing and contributing to the books that people study, it was a really easy decision for me to apply."
Cochran suggested she look into an internship at the Philadelphia Orchestra's library. Jordan applied and got the job. "That was pretty much when I discovered this new world and profession," she said. "I thought, 'Oh, this is what I want to do.'"
A music librarian is the linchpin of an orchestra. "The simplest explanation [of what we do] is making sure that the right music is in the right place at the right time, with the right person," Jordan said. Librarians research and compare different editions of scores, paying close attention to the composer's additions and revisions. They are also expected to be comfortable with multiple languages: alongside English, Jordan is fluent in Spanish and Italian and has picked up some French and Turkish. 
She enjoys having the constant opportunity to learn. "My job is doing a lot of the same things but in different combinations. And there's no one way to do it or find an answer," she said. "It's a lot of creative thinking. You're always evolving your skills, learning where you need to serve, finding anything you can that enables you to be as efficient in your job as possible."
After graduating from Temple, Jordan was a member of the Atlanta Symphony Orchestra for nearly a decade, rising from assistant principal to principal librarian. Then she heard about the opening at the Philadelphia Orchestra and decided to apply.
Postions like Jordan's at the Philadelphia Orchestra are rare. (Photo by Ryan S. Brandenberg)
The audition process was rigorous. First, Jordan had to demonstrate a thorough knowledge of the instruments the orchestra plays. "Even though you're not playing a physical instrument, you have to know how to play those instruments, because you're preparing music for every single instrument that is on the stage. You have to understand their notes, their ranges, what they can do," she said. 
With the advent of computers, composers sometimes forget that just because the version of an instrument that appears in composition software can play a specific note doesn't mean the real instrument can as well. "They could write something and it can be the greatest thing ever," Jordan said. "But if the instrument they wrote it for can't play it, because it's too high or too low, I have to be the person that understands that, sees that right away and corrects it before it gets to the stage."
Next, Jordan faced a budgeting exercise, in which she was given a list of pieces and a venue and asked to estimate how much it would cost for the orchestra to perform there. Librarians create budgets by considering myriad factors—from whether the music is under copyright and has to be licensed to whether the orchestra's performance will be recorded—and a solid budget is crucial for an orchestra's leadership as they map out a season.
Jordan also went through several rounds of interviews, with both musicians and administrative staff. "A librarian services an entire organization," she said. "Not only do we get music ready for people that have to play it, we have to provide a lot of information to pretty much every single department within an orchestra for them to do their job." 
After all of that, Jordan completed a test she calls the musical equivalent of a bar exam and attended more interviews before finally getting the job. Positions like hers are rare and the competition is fierce. "There's no school that teaches any of this, so it's all pretty much self taught and volunteer based," she said.
Starting work during the coronavirus pandemic meant adapting to performances with smaller ensembles and virtual audiences. "It's the same but it's different in a lot of respects," Jordan said. She tries to think of the final goal for each performance and works backwards, supplying everything the musicians and conductor might need. Take sheet music. Musicians still need it but contact has to be kept to a minimum. "You prepare it, you let it sit it and [when] it goes to the person, they're responsible for it," she said.
Flexibility is key. "You can't work early because everything is changing so rapidly. You don't have one to two years. No one had one to two years to plan for COVID," Jordan said. She often shares music digitally while the print version is being prepared and does her best to troubleshoot any issues. "For people that are used to the tactile feel of a piece of paper and being able to write with a pencil, there's a lot of adjustment," she said. 
She and her colleagues are also working hard to support the orchestra's community initiatives, including "Our City, Your Orchestra," a series of free online concerts performed at venues throughout the Philadelphia area. "We've spent a lot of time making sure that, despite this being such an abnormal time, we can still play a strong role in our community," Jordan said. "We're presenting so much new music. It's not just Beethoven or Mozart. You're hearing a lot of new composers, living composers, women and people of color. And we're supporting those voices."
If there's one thing Jordan wishes people knew about orchestras, it's how collaborative they are. "There's a lot that happens behind the scenes and I think it's important for people to know that," she said. "If you go to a concert and you're amazed, just take a step back and think about the number of people behind the scenes that made that experience for you as well and send them a silent thank you or positive energy. Because it takes a village."
Her personal mission is to encourage more young people, especially African Americans, to become passionate about classical music. "I want to show people that look like me, Black girls and Black boys, that it's cool to do this," Jordan said. "I want to show people that the only box that exists for you is the one that you allow yourself to stay in."
—Edirin Oputu