Katz School's Class of 2025 receives a special gift
As part of their official welcome into the medical profession, students in the Lewis Katz School of Medicine were gifted a point-of-care ultrasound device.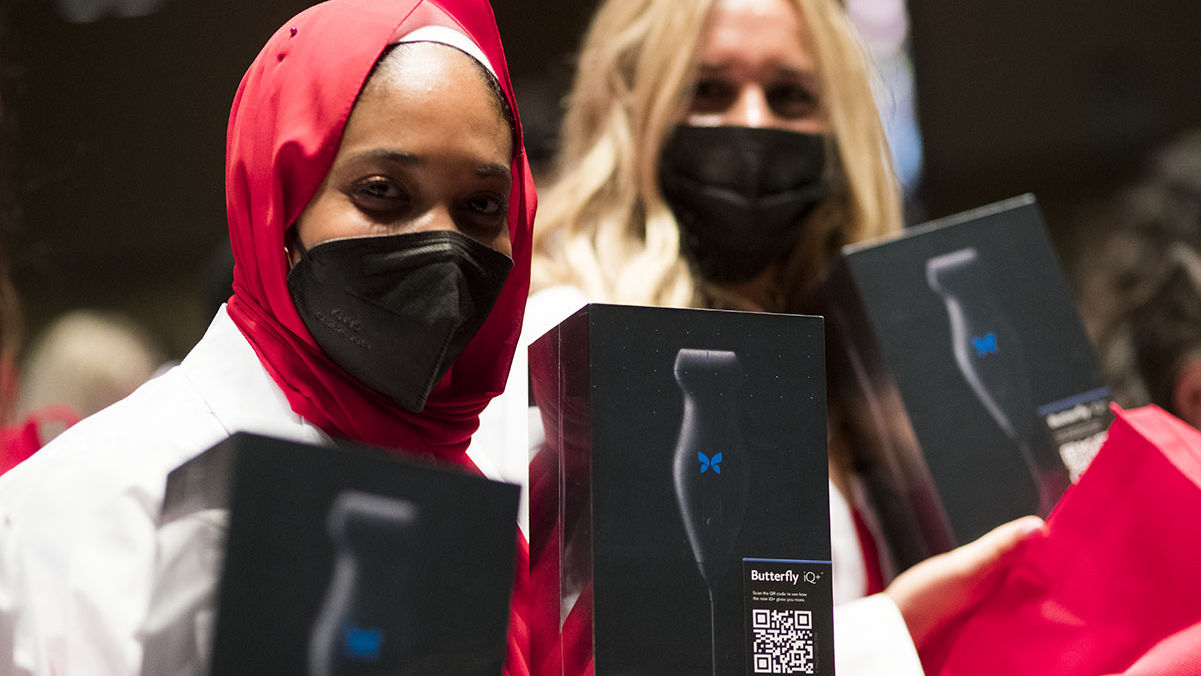 At the Lewis Katz School of Medicine's White Coat ceremony, held Aug. 6 at the Temple Performing Arts Center, the Class of 2025 was welcomed into the profession after receiving a unique gift—a Butterfly iQ+ ultrasound device. The Class of 2025 students are the first in Philadelphia and on the East Coast to begin school with their own point-of-care ultrasound devices. 
"Ultrasound is undergoing amazing innovation right now, and Temple is setting the pace for medical education in Philadelphia—in fact, across the country—by incorporating the technology into our MD program curriculum," said Interim Katz School Dean Amy J. Goldberg just seconds before announcing the gift. "The future of medicine is right here at Temple—right now—and you, Class of 2025, are about to hold it in your hands!" 
The students will begin learning how to use the Butterfly iQ+, an advanced, hand-held assessment tool that plugs into a mobile device and allows the user to evaluate patients at the bedside, during their first semester, with a basic introduction to ultrasound and then hands-on sessions in the classroom. As students make their way through anatomy, physiology, cardiology, and other courses, they will learn to incorporate ultrasound in various clinical contexts.
This high-tech gift—which was made in tandem with Temple-branded stethoscopes presented  through donations from alumni, faculty and friends—was made possible by Katz School alumnus and Board of Visitors past president Ronald Salvitti, MED '63. 
This year's ceremony also served as the first official speaking engagement of Temple University's new President Jason Wingard.
"One of the things that attracted me to Temple is its status as best-of-class in education, research and health," Wingard said. "The Butterfly iQ+ ultrasound is a path-breaking gift that will introduce our medical students to advanced medical imaging as they begin their coursework, creating a solid foundation for them to become leaders and innovators in medicine."