Independence Blue Cross and Temple collaborate on a new scholarship program for nursing students
Independence Blue Cross and Temple University are collaborating to establish the Independence Foundation Healthcare Scholars Pipeline Program, a four-year academic scholarship that creates a pathway to nursing for students of color.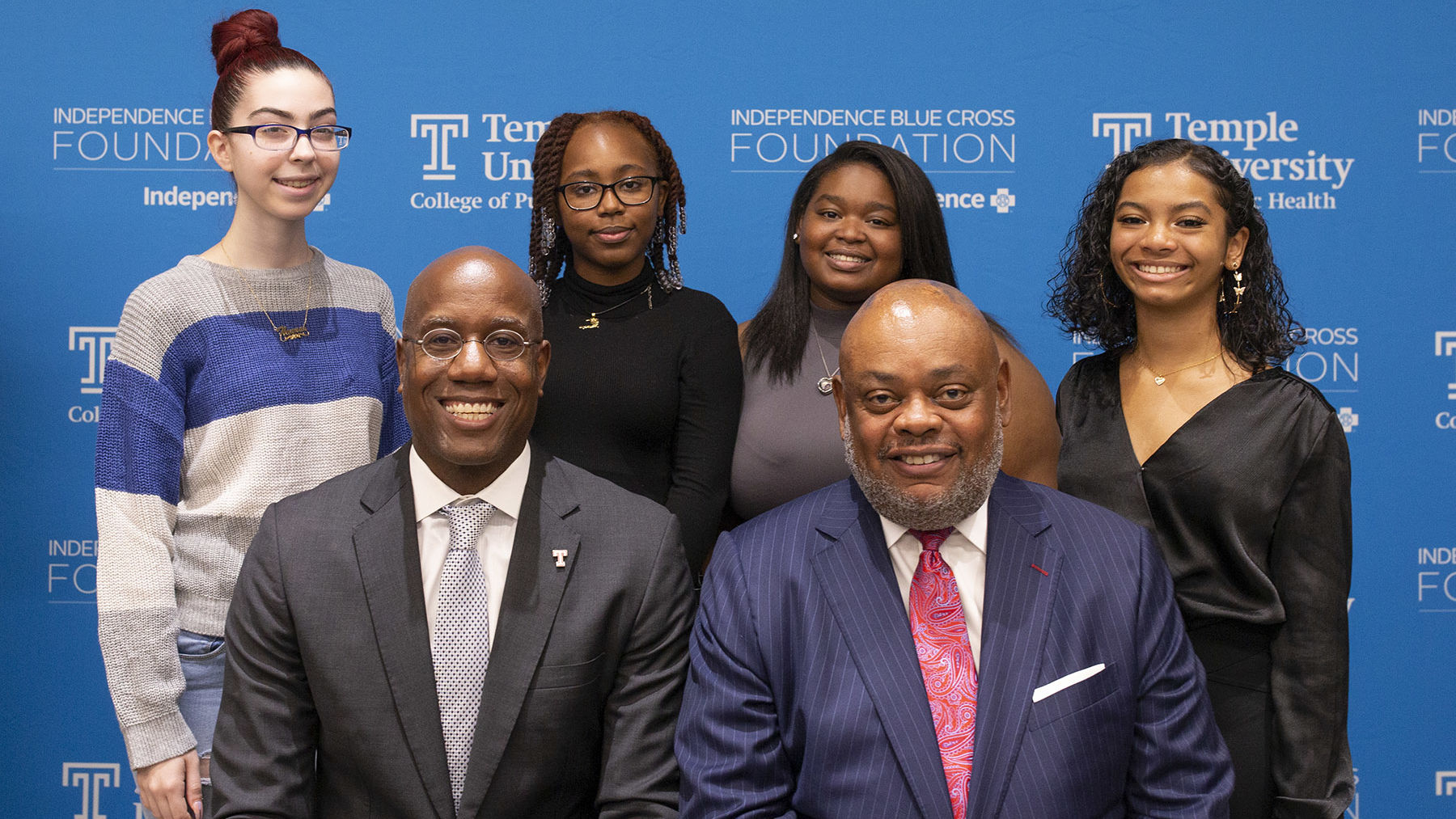 A new pathway for students of color to pursue a nursing degree was celebrated during Tuesday morning's press conference at Charles Library. The Independence Blue Cross Foundation announced a $750,000 grant funding a new scholarship program, in collaboration with Temple, to create a direct pathway for students from underrepresented communities to move from high school to college and into nursing. 
The Independence Foundation Healthcare Scholars Pipeline Program will provide a four-year academic scholarship that will cover tuition and educational expenses for up to 20 students to pursue a nursing degree at Temple's College of Public Health. 
Justine Jones, Class of 2025, a first-year Temple nursing student and graduate of Cristo Rey Philadelphia High School, was the cohort's speaker at the press conference. 
The North Philadelphia native said that she is grateful for the Independence Foundation scholarship program because it is giving her the opportunity to reach her goals of being a trauma nurse and giving back to her community. 
Independence Foundation Healthcare Scholars Pipeline Program recipient Justine Jones speaking during a press conference at Charles Library. (Photo by Ryan S. Brandenberg) 
"I chose nursing so that I can make a difference in people's lives. I believe that you can change a person's view on life during one encounter," she said. "By receiving this scholarship I will be able to have more time to dedicate myself to my studies and ensure that I'm getting the training I need to be a successful nurse."
After receiving a bachelor of science in nursing, Jones plans to continue her education by getting a master's in science and nursing that focuses on research centered around African American health and women's health. She also intends to obtain a doctor of nursing practice degree to teach others and help facilitate healthy life choices. 
"The best way that I could give back to my community is by helping them emotionally and physically get through the things that are happening in Philadelphia," she added. "I intend to use my life to impact others, be of service to my community and contribute to the welfare of others."
The other Independence scholar recipients are Hannah Mahler, Jamirah Branch, Sahira De Los Santos-Tapia and Sakeesha "Keke" Similien. 
Temple President Jason Wingard said the partnership with Independence provides an opportunity to satisfy the university's mission of serving students in the community and helping them secure jobs that will enable them to give back to their communities as well.
"This type of program will reach into the community and establish a pipeline of students who otherwise wouldn't have this kind of opportunity and then we bring them into Temple University to get degrees and training through an innovative curriculum in nursing," said President Wingard. "This is phenomenal."
"It's important for us at Temple University to make sure that the students we are training and preparing are able to meet the demands of the workforce, so they can get jobs, be prepared to do those jobs well and stay gainfully employed for their careers," he explained. 
Gregory E. Deavens, the president and chief executive officer of Independence Health Group, said the company is proud to support Temple in providing the scholarships.
"We're excited to work with Temple on nurturing the next generation of nurses, right here in Greater Philadelphia," said Deavens. "This is one way that we are taking aim at racial and economic disparities that need to be reduced or eliminated so that the American healthcare system can reach its full potential."
"If we have a diverse healthcare workforce that recognizes the humanity of all patients they serve and delivers culturally competent care, we will be a step closer to creating true health equity," he added. "We have to make sure that economic hardship does not stand in the way of any young person who wants to pursue a career in nursing."
Deavens noted that throughout the company's 20-year journey to support nursing initiatives, it has invested more than $26 million in nursing education and other programs.
Jennifer Brown, assistant professor of nursing at Temple, is leading the initiative. Brown, who was a first-generation college student, said her role in the College of Public Health is motivated by her passion to promote positive outcomes for vulnerable populations both in communities and schools, and to help prepare the next generation of public health nurses. 
She said the new Independence Foundation program will help change the trajectory of students' lives. 
"This pipeline program will enable these students to focus their time and efforts on their studies. It will help to reduce their financial stresses, build secure futures and reduce unemployment in their communities," she said. "Most of these students are the first in their families to attend college. Their success will be transformative."
 
She added that the Temple Health System will also provide internship and employment opportunities for nursing students toward the end of their junior year and upon graduation. 
"The program reinforces that Temple is committed to providing opportunities that will create social change," she added. "It will help change the landscape of nursing and include diversity in the healthcare organization in Philadelphia and beyond."