100 years of accountability
The Temple News, the student-run newspaper of Temple University, is celebrating 100 years of responsible reporting.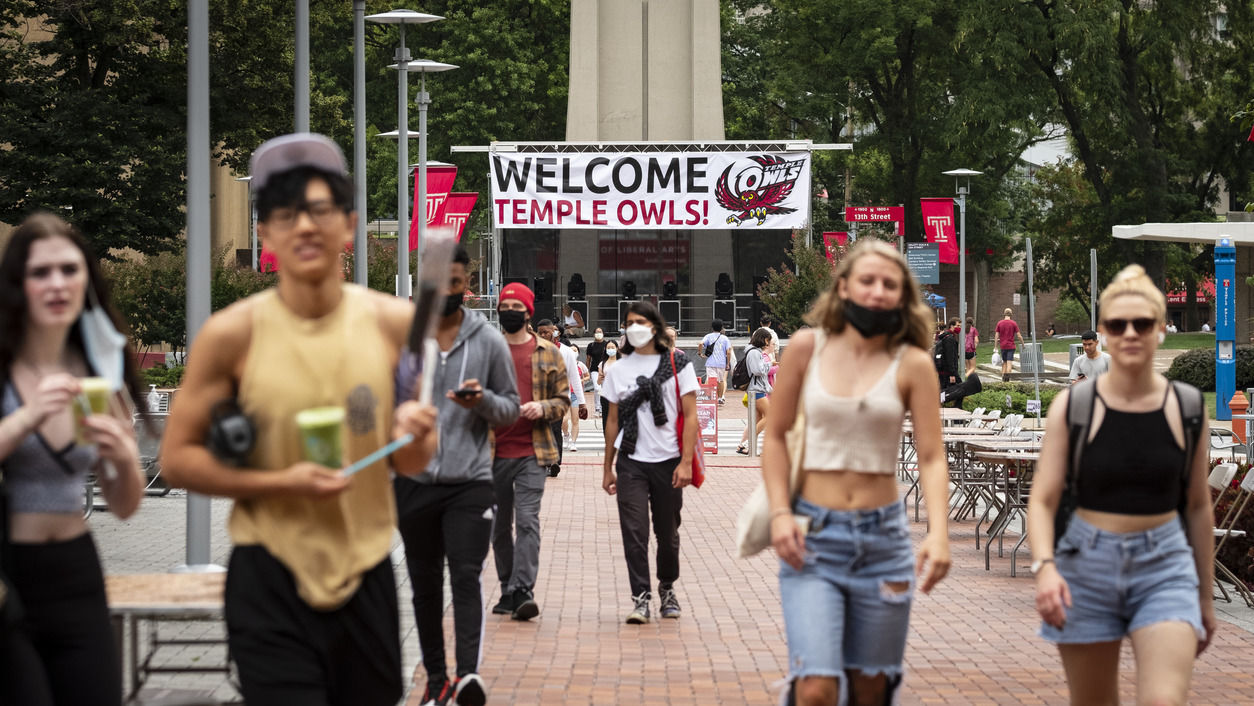 Groundbreaking research discoveries, culture-defining thought leadership, international policy reforms, worldwide events and so much more: The Temple News has been there through it all. For the past 100 years, The Temple News has covered everything that's affected the university—from community meetings to the rise of a global pandemic.
Thanks to Owls like Lawrence Ukenye, Class of 2023, and John DiCarlo, KLN '98, '06, that's not changing.
All the news that's fit to publish
Ukenye is the latest in a long line of editors-in-chief who've managed to find a way to excel academically while also juggling the seemingly endless responsibilities of directing the reporting of a news outlet on a major college campus, within a major media market.
From former editors Madison Karas, Class of 2022, to Kelly Brennan, KLN '20, and beyond, Ukenye has plenty of examples for how it's been done, and done well, even in the most trying of circumstances. 
"People who've come before me have had to take on similar and sometimes greater challenges so I definitely don't feel like anything I'm faced with is impossible," said Ukenye.
These days, The Temple News has moved to a mostly online presence, led by Ukenye who is, in turn, advised by DiCarlo. But there's still a print version published bi-weekly on Tuesdays, with 2,000 copies distributed to Temple campuses across the Delaware Valley.
Quite the change for a paper which first began circulating on Temple's Main Campus in 1912, at a time when it was known as Temple University Weekly.
DiCarlo doesn't go back that far, but he's certainly got a unique perspective on the publication and its role on Temple's campus. DiCarlo was the sports editor for The Temple News for a time during the late '90s. Combined with his current role as managing director of student media, providing insight and guidance from a faculty perspective, the experiences afford him a glimpse of the News shared by few others.
"[The Temple News workers] have so much on their plates and I'm in awe of all the work that they do because they're really doing professional work on a college student's schedule," said DiCarlo.
"The news cycle never stops for them."
Of course, changes have been steady over the years; various print schedules, evolving faculty leadership, not to mention the aforementioned global pandemic unintentionally ushering in an even newer, even more fast-paced world. Add in the recent installation of Jason Wingard as Temple's newest president, and it's easy to see why DiCarlo and others, including current Klein College of Media and Communication Dean David Boardman, hold Ukenye and his staff in such high esteem.
"Over its 100-year history, The Temple News has consistently served, informed and empowered students," said Boardman. "In doing so, it has also served as a superb training ground for journalists who have gone on to stardom at major news outlets across the nation and the globe, winning Pulitzer Prizes, Emmy Awards and other recognition for their outstanding reporting.
"Temple University is fortunate to have had this quality publication for a century."
But the centenary is also about much more. It's about the soul, the very ethos of the place that has remained throughout the years, that guides Ukenye and his fellow Temple News workers through these unprecedented times on Temple's campus and beyond.
"I feel somewhat at peace, knowing that there were students who covered Sept. 11 while balancing quizzes and exams," said Ukenye. "I feel like taking all that into consideration makes me feel a lot more comfortable about how I go about my day-to-day job."
A century of content and accountability
Responsibility. Accountability. Transparency.
Talk to Ukenye long enough and you'll hear these words peppered into the conversation. And while it's clear in talking to the current editor-in-chief that these notions are long-standing elements of his very self, it's also clear that they've been written into the ink of The Temple News' pages since long before he or DiCarlo came to the university as students.
"You're part of a special place and you're part of a special tradition," said DiCarlo of what it means to work at the publication. "I don't think [current staff] truly get it until they see people from the '60s, the '70s, the '80s, the '90s, early 2000s come back and say, 'You know, working at The Temple News changed my life.'"
The Temple News occupies a unique position on Temple's campuses. Located at the intersection between the university, its students and the local community, finding a balance and holding the correct parties accountable is often the rule of the day, even if it's not always easy to discern.
"Being in this position makes me realize how big things are in a lot of ways," said Ukenye, relaying a story about reporting on President Wingard's appointment. It's not just attending a press conference and writing a story; it's listening to President Wingard's words, his voice, providing a perspective on him specific to the average Temple student.
In that sense, it's easy to see how planning the centenary means more than just an alumni meet up or two.
There was an in-person element of course; a table on Tailgate Row for the Homecoming football game against Memphis on Oct. 2, where Ukenye and his team handed out print copies of the 100th anniversary edition. Beyond that, there will be a series of virtual speaker events plus a handful of seminars, with a focus on topics such as political and sports reporting.
News of the future
Celebrating a century of responsible reporting means reaching back into the annals and unearthing some of the News' most impactful reporting: the War in Vietnam, the Civil Rights Movement and COVID-19.
It also means reaching out to alumni, hosting those panels and other events and providing timely reporting on it all.
Ukenye believes his staff is up to the challenge.
"Our motto is 'A watchdog for the Temple community since 1921' and I feel like that's perfect," said Ukenye. "As students, we all love Temple, but I feel like a key part of loving Temple is holding it accountable when things go right and when things go wrong."
Ukenye has spent the past few months poring over prior issues, delving deep into The Temple News' historical reporting.
Different names. Different dates. Different events. Same heart, soul and goal; responsible reporting and accountability for the Temple university community. Certain fundamental elements may change, but with Ukenye and DiCarlo at the helm and a bevvy of committed Owls at their back, you can be sure the beliefs that guide The Temple News won't.
"Our main job is to be honest and transparent about what is happening here," Ukenye said. "Whether it be an illustration of student life or what's going on with faculty, we always strive to be accurate, timely and relevant in our reporting.
"I don't think that will change regardless of whatever circumstances we find ourselves in."