Inside REFINE, a magazine written for and by Temple women
The magazine's current and former editors-in-chief talk about the magazine's mission, winning a national award and publishing an issue during the coronavirus pandemic.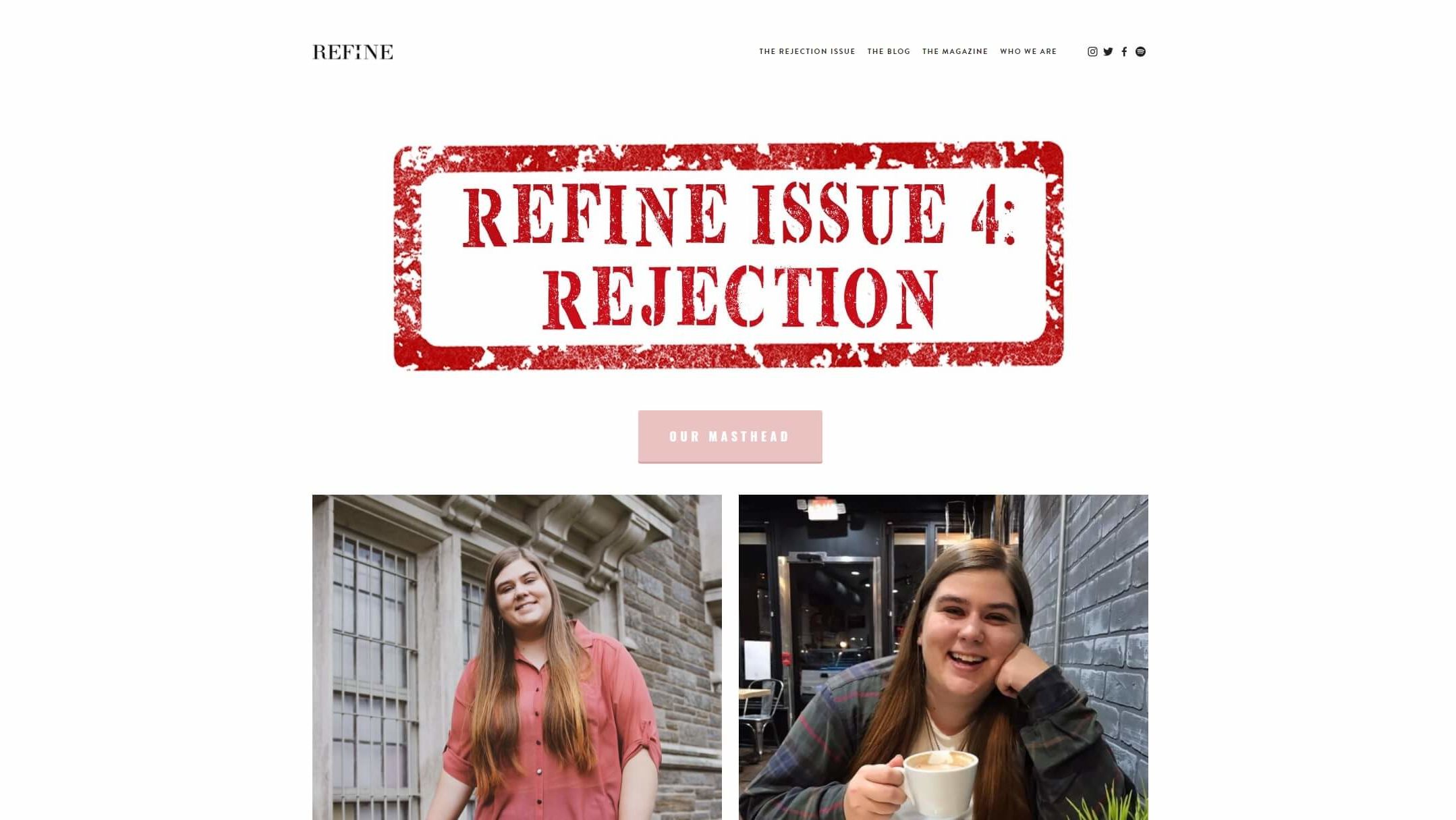 "Pressure Creates Diamonds." That's the tagline of REFINE magazine, Temple's first lifestyle magazine written by and for women. Fully independent and student-run, it recently won the nationwide prize for best student magazine at the Society of Professional Journalists' (SPJ) Mark of Excellence Awards—a remarkable achievement for a magazine with only four issues under its belt.
Founded two years ago by Sarah Madaus, KLN '19, REFINE aims to challenge its readers by looking at campus life from new angles. It offers "an outlet and ways to overcome certain challenges or learn that other people experienced the same things as you," said Francesca Furey, KLN '20, CLA '20, a founding member and REFINE's former editor-in-chief. 
The magazine is also a way to highlight the work of students others might not have heard about. "Our mission is really to make sure that we're covering all the bases and all the experiences of women at Temple University, making sure that we're not just pushing one narrative, but really getting the collective voice of Temple women," said Rebekah Harding, Class of 2022, the magazine's new editor-in-chief.
REFINE publishes issues twice a year. The editorial staff meets at the beginning of the semester to discuss ideas for the issue's theme and articles, then sends out a pitch list to writers, who choose what they would like to cover. 
Last December, Furey was looking at the SPJ student awards site when she noticed the magazine category. REFINE's Sustainability issue—featuring stories on everything from thrifting to climate education—had been published in the fall and the entire staff was proud of it. "We got amazing feedback," Furey said. "[I thought] I might as well just shoot my shot. I did not think anything would happen. I just submitted it and never thought about it again for two months."
She was in an airport over Spring Break, checking her phone between flights, when she received a wonderful surprise: An email from the SPJ, informing her that REFINE had won best student magazine in the Mid-Atlantic region (region one). 
REFINE was automatically entered into the national competition and pitted against several big-budget, institutionally-supported publications. "Winning region one was already icing on top of the cake. So when I got the email that we won the national award, I was over the moon," Furey said. "I didn't really know what to say because it was unexpected, but really well-deserved I think. Especially for the staff and for how hard we worked."
The coronavirus pandemic meant the REFINE team had to move their celebrations online, with Zoom calls and social media standing in for an in-person party.  
It also drastically altered production on the Rejection issue, which the staff were working on in the spring. REFINE usually creates a 90-page digital, flip-through magazine. "We left campus at a really critical point in our editorial process," Harding said. "It was going to be really difficult for us all to collaborate in person and create this huge magazine."
They decided to try something different: a landing page that presents all the stories at once. "You can just revisit it whenever you want, click through the stories, browse through it," Furey said, "instead of flipping through everything and trying to find a specific story." The new format is more accessible for REFINE's audience during the pandemic and "kind of catered towards our minds now." 
Harding feels REFINE has given her real newsroom experience. "All of our roles definitely aligned with what they would be like in a magazine at Condé Nast or Hearst," she said. "You're really getting a feel of how it would be like to work in a magazine postgrad." 
And REFINE has taught Furey a great deal as well. "I'm someone that really lives by organization and I don't like surprises sometimes," she said. "It really taught me to lessen my need to control things," and "let things blossom as they are."
She is proud of the magazine and what its staff has accomplished. "The fact that we've gotten this far and have so many readers, and so many people that are impacted by our work is really touching—and fuels the fire for what the new senior staff will do," she said.
—Edirin Oputu